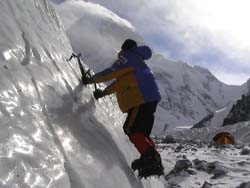 Gia Tortladze - on the ice wall at ABC. K2 - on the background. Photo by © Monika Rogozinska
Each day brings the alpinists closer to the summit of K2. Within two days, they have secured 600 meters of the 4 km high Northern Pillar with fixed ropes
Yesterday's team that was working at the Pillar, consisting of Denis Urubko and Vassilij Pivtsov, has been replaced today by Dariusz Zaluski/Maciej Pawlikowski and Piotr Morawski/Marcin Kaczkan. They mounted another 100 meters of lines.
"We will be securing the route with fixed ropes up to a height of 7900 m", says Krzysztof Wielicki, head of the expedition. "It's going to take us around a month. Then we can think of attacking the summit. At this time of year, when it isn't covered with fresh snow, the mountain looks particularly threatening and bleak. The sun hardly ever reaches the upper base. It's only here that we see what we risk. An important task is also moving up all bases and connecting them into one, common base. We'll try to carry out such a shipping action in one week's time."
The last days in the lower base (3900 m) were exceptionally beautiful, warm and quiet, considering it is winter. It was only yesterday that the weather changed. The wind, though stirring up dust, also provides us with energy - Bogdan Jankowski fixed a fan that is charging the accumulators essential for keeping phone and computer communications with the world.