K2 Tragedy: Siberian climbers are missing in avalanche.
Serguey Bogomolov:
" Only the Mount knows what's happened"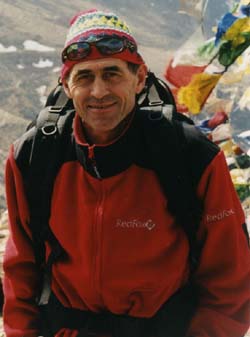 Names of those, who is recognized the avalanche's victims by Pakistan authorities, are already known. They are the leader of Kuzbass team Yuri Uteshev , the team coach Alexander Fojgt, Piotr Kuznetsov and Arcady Kuvakin. Kuznetsov, Foigt and Uteshev were considered as aces of the Russian mountaineering. They have in total 12 successful 8000-ers climbs for three persons.
Early yesterday the correspondent of Sport-Express Andrey Afinogentov take an interview with Sergey Bogomolov. (who was on K2 with the team, and descended to BC among five climbers, who stay alive)
We have already been close to our goal - there were only two hundred meters, when the avalanche struck above us , - Serguey told.- Is has happened at altitude of 8350 meters, right after the hardest part of a route, so-called " the Bottle Neck ". The summit was already clearly visible. Two more hours of the climb - and the team would touch the highest point of Ê 2.
And what kind of an avalanche it was?
It was an enormous piece of the frozen snow and ice, 120 x 80 meters size. It has simply swept guys away from a crest with the wild speed and behaved as an avalanche: having fell downwards, it has dragged off people behind itself. But there're no usual characteristic sounds. If the snow begin to start to fall , it always the noise is audible to everyone who is near the mountain. But here all has happened almost silently. We all has not heard, how and when this snow "board" has struck.
Did you have turned back at once?
Not at once. We've tried to find guys, but - unsuccessfully. We saw avalanche traces below till 7800 meters, and then traces was divided in two parts. I have gone down on hundred meters below via Cesen route, having used ropes fixed by Japanese expedition. No results..
How it was possible to survive to other members of the climb?
The snow and ice has caught all of us. But we went by three groups. The first - Bielorussian climber Victor Kulbachenko with Alexander Gaponov.(from Kemerovo). Then, along a crest, - Foigt, Uteshev, Kuznetsov and Kuvakin. Irish Bannon, me and Pole Teler are in the tail of this caravan. Personally I was saved by two circumstances - ice-axe, with which I was fixed, immediately when having noticed an avalanche, and the shape of a crest. Near the top it is bent, like a comma.
Were the groups of the Pakistan army searching of the missing climbers?
- ATP company wanted to ask for the helicopter, but the advantage of such operation would not be great enough . Heli is capable to rise only up to 5500 meters. Besides, the weather after August, 13 has finally deteriorated, and now the fog lies even in the base camp, .let alone higher altitudes... Authorities has decided to consider the missing climbers as died. Now we are waited with procedure of official registration in Islamabad, other sad formalities.
You spent eleven days at altitude of 6700 meters and more, began the summut push twice, but haven't reached the top, have lost friends, partners...
We had a fantastic team. Probably, the strongest which was possible to create today in Russia for 8000-er climb. Ê 2 is a terribly and difficult mountain, with very whimsical weather, not starting up people on her top. But Foigt, Kuznetsov, Uteshev were aces in high altitude mountaineering. I climbed Lhotse, Makalu with them, and now had spent six days in Camp2, expecting the acceptable weather.
We decided, that a deadline would be August, 13th. To this term even the food in tent have ended. But that day the sun appeared. There was an overcast below, under us, and was clear above. And we have decided to go to the top, considered, that such weather is an award for our improbable work and persistence. There was an improbable spirit in out team . All other teams have abandoned their work, have refused many days ago, but we went and went forward, upwards. As Russians do usually. (Climbers in mountains name "Russians"everyone who speaks Russian, not dividing Ukrainians, Kazakhs, etc).
Probably, we made a mistake, having made a decision to go to the summit by such big group. When we went down, the guys, who climb first, spoke, that would hear crackled snow under their foots. But it only the guesses more similar to searches of any explanation of happened... Only the Mount knows what's happened. But she always keeps silence.
When are you going to return home?
The tickets are taken for August, 29th. I hope, we shall have time to make all formalities in Islamabad, and go away from the shok slightly. .
Source: www.sport-express.ru
Translated by Elena Laletina
www.Russianclimb.com