Boris Korshunov: Everest 2006
Interview for Russianclimb.com
Expedition chronicle
15 May 2006. Serguey Surmonin called: We're at the Base Camp.
14 May 2006. SMS â 3-20 p.m. : We climbed till 8300. There're no free place for the tent, so we set the depo and descended to 7800. Today we're at ABC, tomorrow we'll go to BC.
12 May 2006. SMS â 4-15 p.m.: yesterday we reached 7800 m, today tried to 8300, but the strong wind turned us back. We spent night at 7800.
10 May 2006. SMS â 2-30 p.m. : yesterday we went up till ABC, today - till North Col, tomorrow we'll go to 7700.
7 May 2006. SMS â 3-00 p.m.: We're resting. Our computer doesn't work. We need weatherforecast for 10-15 May.
5 May 2006. SMS 5-20 p.m. (Moscow time): "We set the camp at 7800 m, spent a night and descended to ABC. The weather's extremely bad. Tomorrow we'll go down to the base camp".
26 April 2006. SMS 3-20 p.m. (Moscow time): We set camp at the North col.
24 April 2006. The team has reached ABC today.
23 April 2006. Fresh problems: Tibetian porters demand extra fee for logistics to ABC - more than signed the the contract. The team, which has small budget, and has already extra payed for the chopper to Chinese border, is in the difficult position now, the same for the Byelorussian small team. The borth team's planes are in danger - they need to acclimatize too fast (and so in case the weather'll be acceptable).
21 April 2006. Team leader Nickolay Totmjanin sent us very sad letter: we're the fifth day without our warm clothes, without all our equipment - Chinese authorities hasn't provided our loads logistics to BC yet. We're cold, especially at nights, and it's not so comfortable. And the maim inportant - we 're losing the climb time and broke our program - and it's too serious. When we went April, 17 to BC through the pass - there're no snow. But Chineses decided to wait some more loads addition to our not so large loads - and waited too long - and now they say that deep snow covered the pass.
20 April 2006. Serguey Surmonin, SMS 3-30 p.m.(Ìoscow time): Chinese promise that our loads will be here tomorrow.
19 April, 2006 Alexey Bolotov: We're OK. The Byelorussian 4-persons team arrived to BC. There're no our loads yet.
17 April, 2006 Serguey Surmonin: today in 3 p.m. (China time) we arrived to Everest BC. We had two nights - on 1800 and 3700. Hope, our luggage will ariive tomorrow. Greetings. Korshunov's team.
15 April, 2006 Serguey Surmonin from KTM: we have some problems because of King's opposition here. All roads are closed, and we have to take heli to the China border. Nobody knows how long this situation will last...Probably, we'll have some problems with Internet. So, write short SMS to us.
13 April, 2006 Nick Totmjanin : We're in Kathmandu and will start to Tibet Apr, 15.
12 April, 2006 A hour ago the team led by Nickolay Totmjanin started from Moscow to Himalaya. The members are: Boris Korshunov, Serguey Surmonin and Alexey Bolotov. The goal - to set age record at Everest (North classic route), without Sherpas. Boris Korshunov born August, 31, 1935.Today, in Space Day April, 12 Boris was awarded special medal - 45 years ago, when Gagarin's flight was preparing, he was in the special research team, and than worked (and works now) in Space Industry.
About the team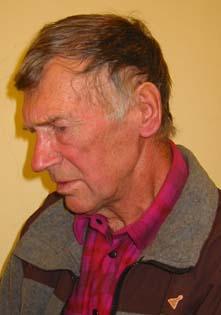 Every member of this small team has own interesting biography. It seems nobody won't stay calm when read the resume such climber as Boris Korshunov. He was born August, 31, 1935 in Moscow. Lives in Zelenograd - not far from the capital. After the graduation from the High Aero School named after Chkalov he became the student of Avia-Industry Institute - there he began to train in athletics, ski maraphon and mountaineering. His first climb was in 1954, but he became Master of Sports already in 1964, Master of Sports of International Level - in 1970. He did a lot of famous climbs in teams led by Igor Yerokhin, Lev Myshljaev, Kirill Kuzmin - they were mountaineering "stars" ot these years in USSR. Boris did Ushba traverse, Nansen peak, Engels peak, Dzhigit peak, Chatyn Wall and Communism peak (South-West Face).
He climbed more than 70 peaks higher than 7000 m, and among them Pobeda peak - the very extremal 7000-er of our planet - he climbed 7 times! Boris is 7-times Snow Leopard - the only person who has such result in the history of the "Snow Leopard" project, which became so popular in the World.
For the first time he went to Himalaya in 1999. In 2004 he climbed Annapurna Central. On the new route at Baruntse North Face 68-aged Boris worked as much as young Denis Urubko and other international team members (Simone Moro and Bruno Tassi). He had never use the supplementary oxygen.
He worked as mountain guide in international mountaineering camps at Pamir and Tien Shan. Took part in ski maraphones (50- 100 km), rock climbing Championships. In 2004 he became tha Champion of Russian among veterans in mountaineering.
Boris during all his life works in Space Industry as engineer. Today, in Space Day, he was awarded the special medal for his contribution in Soviet and Russian achievements in Space.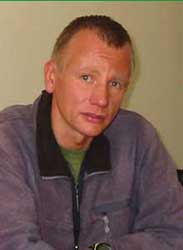 Organizer of this expedition - Serguey Surmonin (born 1968), one ofthe best friends of Boris. He lives in Moscow, but two years works in Tashkent (Uzbekistan). He's maraphon skier, takes part in 100-km maraphons. He began to climb mountaines only in 2001 - first he climbed Khan Tengri (7010), then in 2002 - Lenin peak (7154 m) with Vladimir Suviga, a year after he took part in Khan Tengri speed ascent at the Second Khan Festival - ittook him 11 hours to reach highest point ofthe route (6600m) and descent back to BC. In 2004 he climbed peak Korzhenevskoy and Communism peak with Boris Korshunov, in 2005 - he climbed Korzhenevskoy peak with Vladimir Suviga - without acclimatization. Manytime Serguey was Prizer in othespeed ascents in Tien Shan.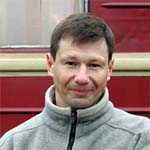 Alexey photo - from www.alpclub.ur.ru
Alexey Bolotov (born 1963 ) has already climbed Everest twice (1988, 2002)- with oxygen and without it.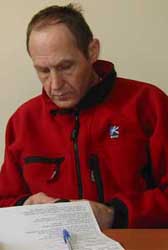 Nickolay reached the summit in 2003 - the only person who summited w/o in that season. Borth - Alex and Nick - were members of Jannu North Face team, borth has Piolet D'Or (Alexey - two), both have wonderful biography in high-altitude mountaineering. Alexey in Lhotse Middle expeition was in the first party, which summited in May 23 2001. And he climbed 15-m rock under the very summit - he had to wear off his mittens at altitude more than 8000 to climb it.
Nickolay (1958)- five times Snow Leopard. He became the Honoured Master of Sports in November, 2005. He's great mountantain guide. "Kolja (Nick) - turbo" - this name given him by his clients.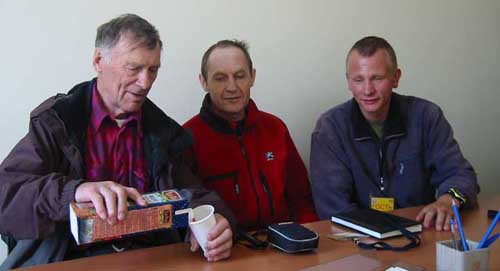 In Moscow, before the departure to Nepal. Photo Russianclimb