The worker, who was on an audience at the Queen.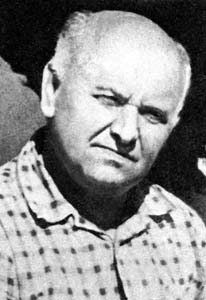 The event devoted the 100th anniversary of Eugeny Beletsky - the famous Russian climber - was held in Saint Petersburg Nov, 28. This extraordinary man was a great part of national mountaineering.

Eugeny Beletsky (1908 - 1979) was born in the small town Sedlets not far from Warsaw. He lived in Ukraine till 1925, then - in Leningrad (now Saint Petersburg). During all his life he worked here at the famous Kirov factory, being the highly skilled turner, the author of some great articles in that field and some unique machine tools, he was awarded by the Order of Labour Red Banner.
In 1939 together with other climbers he fought as a volunteer in the USSR - Finnish Army conflict. In 1942 he was at the II World War in special group on Caucasus, where he was engaged in the preparation of mountain groups. Then taught mountaineering at the School of military mountaineering  on the Transcaucasian front. In February, 1943 as a member of special group of army mountaineers he climbed Elbrus for the removal the fascist flag from the West top. Then he was at war in Romania, Hungary, Austria and Czech Republic.  He has finished war in the Far East. He was awarded the Order the Red Star and a medal and other awards.

Eugeny began mountaineering in 1932 ã., and was one of the first Russian high-altitude climbers.
His main climbs:
1935 -  Elbrus Winter climb, Ushba North via the North Face
1936 - Peak Dzerdjinsky (6717 m) traverse, the first climb
1937 - Peak Lenin, Peak Communism. He was a first who climbed two Pamir 7000-ers
1938 - Bezengi Wall traverse (from East to West)
1939 - Chotcha West traverse
1940 - Ushba traverse to the South
1946 - he was a leader of the Pamir expedition, Pathor (6080 m) and Peak Marks (6723 m) first climbs
1956 - the head of the Russian-Chinese expedition in the West China (Kashgar). That was the first Soviet expedition abroad. Muztag Ata (7546 m) first climb was done by 19 Russian and 12 Chinese climbers. Kongur II (7595 m) climbed by 8 members.

He worked as a coach and mountaineering instructor since 1934, was a leader of annual training climbers camps near Almaty, led some mountaineers schools, expeditions, took active part in preparation of 1959 Russian-Chinese Everest expedition. Together with Kovyrkov and Filimonov he went to Tibet in 1958 for the reconnaissance the route to Everest. The Russian climbers couldn't take part in Everest climb in 1959, because of political situation between two countries, so Chinese climbers, prepared by Beletsky, did the climb by themselves in 1960. Then, Chinese authorities in 1962 awarded Eugeny by Gold medal devoted Everest climb
1960 - was a head of Rescue Team in Jubilee International Climb Peak Lenin.
1961 - Beletsky was ranked as the Honourable Coach of USSR in mountaineering.
The Queen of Great Britain invited Eugeny to the audience - she wanted to meet with the famous mountaineer. Tensing Norgey had a meeting with him.
Many years Eugeny was a head of Leningrad Mountaineering Federation and belonged to the Board of Russian Mountaineering Federation. In all his expeditions he was not only a climber and a leader, but a scientist too. We wrote great articles for the Russian Geographic Society. Was an author of many books about mountains. The glacier near Korjenevskaya Peak named after Eugeny Beletsky. The peak 6071 m was named after Beletsky in 1951. Leonid Zamjatin published a book "Beletsky Peak" in 1987.
Now Saint Petersburg Mountaineering Federation stated the Medal in honour of Beletsky - it'll be awarded for the great success in mountains. (photo by Serguey Shibaev)