Himalayan Double: Dhaulagiri and Annapurna
Spring 2006
Sponsored by Kazakhstan Mountaineering Federation
May, 2 guys summited about 4-00 p.m.
Part II. Annapurna.
19 May 2006 Summit! Kazakhstan climbers Maxut Zhumayev & Vassily Pivtsov summited Annapurna via French route today at 9-20 (Moscow time). They climb in Alpine style in 5 days. Started at midnight, the weather was great! Too much snow, they had to trail deep break to the summit. This's 10th 8000-er for Max and Vassily.
18 May 2006 Camp 4. We started at 5 a.m. from Camp 3. Climbed 1 pitch on the ice and began to climb left upper icefall. At 7 a.m. strong wind began, then snow, clouds and low (20 m) visibility. We set Camp 4 at 7315 m. Were obliged to trail break. We're fine and hope for fine weather tomorrow.
17 May 2006 Camp 3. SMS 14-45 Almaty. Crossed icefall and set Camp 3 under the serak at 6650 m. A lot of dangerous crewasses.
16 May 2006 Camp 2. SMS 13-25 Almaty. We managed a reconnaissance under the icefall. Crossed it early morning, when it cold yet. Now we sit in the tent. There's hot outdoor. Set Camp 2 at 5700 at the snow plateau.

15 May 2006 Camp 1. Began to climb. Crossed the icefall. We're resting at 5050 m. We set Camp 1. There're a lot of crewasses at the firn field around.
14 May 2006 Today we need to do the reconnaissance the way through the icefall to Camp 1. Here're only we, nobody else.
13 May 2006 We reached ABC (4154 m)
Part I. Dhaulagiri.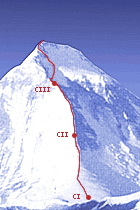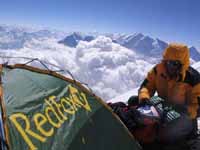 May, 4 2006 Maxut called from the BC: We descended to the Base Camp yesterday evening, very tired. Our bagpacks were 25 kg, we had to fixed all ropes from Camp 2 till the top. We carried many ropes, but it wasn't enough - we had to dig out some old ropes from the snow, and to bring them up and to fix in difficult sites. Now the whole route at the West ridge is fixed.
Our camps:
1-st 5800 m
2-nd 6600 m
3-rd 7200 m
4-th 7400 m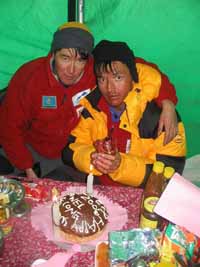 Our summit push:
We left Camp 4 (7400) at 00-30 a.m. and reached the top of the West ridge about 1-00 p.m. - there we catched the extremely bad weather with very strong wind and a thunder-storm. At the top we were about 4-00 p.m. and descended to our tent at 7400 in 7-00 p.m. It appeared that our tent is copletely burried by the snow, we had to dig it out. Only about 9-00 p.m. we finished the work and could to enter the tent.
Now we are going to gp down to Marpha, and futher do the trekking to Annapurna Base Camp. If the weather'll be good enough, we hope to reach BC in 10 days. Greetings to all!
May, 3 2006 Maxut and Vassily descended to the Bace Camp. They catched the strongest thunder-storm - lightnings beat directly on the summit. Thanks God, all was OK. They're save and sound in the base, and going to continue their project.