Everest Rescue Team 2007 project
The Task.
A lot of words were spoken during last month about accidents on Everest that occurred at spring 2006. Of course it is very important to clear understand all situations and make some conclusions for future. I write this article because I want to turn this discussion in more constructive direction. For the beginning - at a level of ideas. I hope that in the course of discussion there will be a number of interesting opinions and offers.
Corpses on a route - a good example and a reminder that is necessary to be more cautious on Everest. Each year more and more climbers come for this climb, and on statistics rules each year will appear new dead bodies.
BUT it is necessary to change something; Everest must not turn to a Cemetery!!!
But we can not also to transform it into a field for test of moral qualities of climbers . Everyone on Everest should be concentrated on his own condition. Instead of to think, how many victims he will meet on route and what he should do. Each of climbers has only one attempt, one chance and it is wrong, that it can be spoiled because of someone's wrong actions.
When I told people in my country about Everest story of this year, most of 'normal' people said me that they never think that Everest is so dangerous. People usually ask me about dead bodies: "Is it true, that whole route to summit is full of dead bodies".
I answer: 'yes'.
Usually next question is: "But why nobody brings them down?"
And I try to explain about high altitude problems and impossibility to bring down anybody from this Death Zone.
But: After this season I am sure:
It is possible!!! Really possible!!!
That is a question of money, wishes and supplies.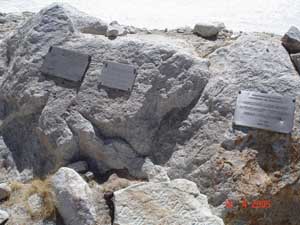 I think it is time to start a program of transportation dead bodies from a route. Then, if families have desire, it is possible to transport victims home, or to organize a burial place in Tibet . It is abnormal to climb, maneuvering between corpses and to pretend, that it in the nature way of things.
And the second, probably, the most important task - how to provide more safety on Everest.
The Experience
Unique rescue operations which our company (" 7 Summits-Club ") successfully could carry out this year, having lowered completely motionless Lincoln Hall from the height of 8800 meters, has proved, that such rescue operations are possible.
Other question, the cost of this operation:
- Descent from altitude 8800 m down to ABC (6400m) proceeded 3 days, during which Lincoln first was declared the victim, and then due to Dan Mazur and his team again revived.
- During these three days, 19 persons carried out rescue and transportation works (17 high-altitude Sherpas under management of Mingma Gelu, plus cook Dawa and doctor of expedition Andrey Selivanov).
- Some of Sherpas had insignificant traumas
- Dan Mazur and his team had refused continuation of climb
- For rescue operations it was spent 49 cylinders of oxygen.
- On mountain the camp 8300 ì was left with plenty of equipment.
- The quantity of spent nerves of organizers of rescue operations cannot be estimated
It is the price of one rescued life!
I am happy, that we managed to do it!
It is not to forget, that such big rescue operations became possible only because a head of expedition had enormous resources of Sherpas and equipment. This accident had taken place at the end of season when all climbers who wanted and could, have already made an ascent. So plans of other members of expedition had not suffered in any way.
In a similar situation, a small commercial or sports expedition, what they could make? Probably nothing!
You see, the first day of rescue operations has proved, that even with a presence of four Sherpas which lowered Lincoln from under the top, for 9 hours of wearisome and dangerous work (from 10 a.m. till 7 p.m.) they managed to lower him only from 8800 m on 8650 m. Usually Everest climbers , hoping for good luck, climb in support of one Sherpa, or even alone. The risk of such ascent is clear. The reason is obvious - lack of money resources, even for maintenance own safety.
And even a large expedition having necessary resources, could it manage a realization of rescue operations on a route without reduction of safety of other clients?
It is very much a question at issue.
The Proposition.
So, that is what I offer:
In the majority of mountains of the world, especial in popular, frequently visited by climbers areas, RESCUE SERVICE is established.
They are not fastened on servicing and have no commercial obligations to concrete people. They will carry out rescue operations FOR ALL.
Success of rescue operations depends on different factors:
Weather
The early notification of rescued group about accident
Disposition of rescuers
Preparation technical and tactical of rescue team
Presence in a command of a doctor and necessary knowledge of medicine at all rescuers
equipment
Sufficient operational experience
Personal qualities of rescuers and their leaders
Sufficient financing
And so on :
Now on Everest we could meet a WILD WEST as we it understand. No responsibility, no real control. Anybody supervises nobody. In a history of David Sharp, during 2 days we could not establish from what of expedition he was.
Everyone gets out of complicated situations in own way. Just as they can. If somebody will help - it is OK. If not - you see, anybody should not help formally, except for themselves. Only your own expedition, often low-budget, which are not having sufficient resources for rescue.
It is possible to speak again and again about a low level of moral of Everest climbers. But even high moral more often could not help to rescue, we need a working system.
It is only one way to solve problems of rescue, to create an Everest Incorporated Rescue Group and, as the desirable addition, Centralized Medical Service.
Question number one.
What problems the proposed rescue group should carry out?
There are main of them:
- Registration of all members and teams in Base Camp
- Check of insurance policies and maintenance of contact to insurance companies (in case of need)
- Check of communication facilities on expeditions and climbers
- An establishment of contacts of all doctors of expeditions
- Medical check of health of clients in base camp and ABC.
- Organization of medical consultation and help (paid additional ) to all members and Sherpa
- Ensuring of constant contact with leaders of all expeditions and organization, in case of need, help of rescue work with human resource ( Sherpa) and equipments
- Control of moving groups and separate climbers on a route, organization of daily interrogations by portable radio sets or satellite phones
- Control of preparation of climbing route, fixing ropes from the beginning of a route up to the top and maintenance of a route in safe conditions until end of season.
- Round-the-clock reception of information from high-altitude camps
- Realization of rescue operations on a route and transportations of victims to the Base camp, and if necessary and up to a hospital
- Transportation of bodies of victims and the organizations of a burial place or transportation of bodies home.
Question number two.
Who should engage in creation, training, and a management of this rescue group?
In my opinion, as in the majority of civilized countries, it is a prerogative of the State.
That is China , ÑÒÌÀ , or other organization, should put things in order on slopes of the Everest.
Now in Lhasa , a School of guides is created by ÑÒÌÀ . Well-known climber Nima Tsering supervises it. His students, known more as "Tibetan Sherpa", were involved more often by commercial expeditions. For last years they have proved their high ability on Everest, until the top. Probably, in the program of training of students there is a course < Rescue operations in mountains >. If is not present, it is necessary to include such knowledge in the program of training. Probably, to involve Western experts of rescue services.
Question the THIRD
And, in many respects, decisive.
FINANCE
As is known < Rescue drowning - business of hands drowning >
It is necessary to pay for the safety. Therefore the first source is payments of members of expeditions for maintenance of their own safety.
CTMA can include in cost of permit in addition 500 $ (roughly) on each participant, for maintenance of Rescue Group and Medical Service. With annual quantity of climbers rated at about 200 persons in a season, the sum can make about 100 $ 000. Probably enough for maintenance of activity of 10-20 rescuers during 2 months and providing equipment, products, medicines and salary (for Tibetan Rescuers).
The second source is involved insurance companies, for payment of works in concrete insurance cases.
These means can go on the payment of expenses on transport, rendering of medical services, and in case of death on repatriation of a body home. As these means, they can pay expenses on defacement or loss of rescue equipment and on payment of bonuses to members of saving group.
The third source may be state financing of Rescue Group and Medical Service.
With all logicality of such financing, the question is not worked yet and will demand probably long co-ordination and acceptance of decisions at a level of the State.
System to work.
So, as I think may work of this mechanism:
- During all year a rescue service team is trained in CTMA (School of guides).
- On arrival of participants into Base camp, rescuers register all expeditions and members ; check presence of insurance policies, a communication facility. Inform on principles of work of rescue service, inform frequency and the diagram of sessions of communication.
- Then they carry out, together with doctors of expeditions, medical survey, not recommending (in the informative form) to ill people to make an ascent (for their blessing). Collect from all climbers the questionnaires "Medical and emergency information".
Then the rescue group rises in ABC and begins preparation of a route for an ascent and realizations of rescue operations, including fixing ropes, installation of ladders, installation of own high-altitude camps with tents, sleeping bags, products, gas, oxygen. During this work rescue team receives necessary high-altitude acclimatization.
- On the North Col they establish a medical tent, which is used in case of need during rescue operations. As in ABC one doctor, who renders medical services by all (probably paid), constantly works and supports contact to doctors of expeditions.
- In process of preparation, the rescue group supports daily connection with members which are in high-altitude camps. Usually during acclimatization people do not spend the night above 7700.
- During main ascent which usually lasts no more than 2 weeks, the rescue group works approximately under the following circuit:
3 rescue Sherpas stay 2 nights in 8300 with oxygen
3 rescue Sherpas stay 2 nights in 7700 with oxygen
6 rescue Sherpas stay 2 nights in 7000
3 rescue Sherpas resting 2 nights in 6400
Then sherpas change:
3 rescue Sherpas go for 2 nights from 6400 to 7000
3 rescue Sherpas go for 2 nights from 7000 to 7700 and 3 stay for next 2 nights on 7000
3 rescue Sherpas go for 2 nights from 7700 to 8300
3 rescue Sherpas go for 2 nights from 8300 to 6400
A doctor of the rescue team stays in the North Col.
Practice has proved that Sherpas with good acclimatization could reach the Second step (with oxygen) from camp 8300 for 2-3 hours, from camp 7700 for 4-5 hours, from camp 7000 for 7-8.
Thus, by receipt of an emergency signal even at 12 a.m. , already at 3 p.m. three Sherpas will begin works with a client, at 5 p .m... Later they will work already at six and to the evening six more Sherpas will approach to the camp 8300, for the organization of transportation of the victim downwards.
Thus, there is a chance to the darkness to lower the victim even to the North Col. I have described the real circuit of rescue operations similar to what has turned out at rescue operations of Lincoln Hall, with distinction, that the signal has arrived in 7 a.m., to 4 p.m. Sherpas have risen from North Col up to the Second Step and in 9 p.m. Lincoln Hall already received medical aid on North Col.
Probably, my ideas stated in this article, and the circuit offered by me is not ideal.
For this reason, I ask experts and people with experience to state the reasons on the given theme.
Probably realization of this idea will need not one year, but I am sure it is high time to start now. I am ready to be engaged in it and it would be desirable to involve as much as possible supporters in development of this project.
In the beginning of August, I plan to join Russell Brice to visit Lhasa for negotiations with CTMA on the given question.
Alex Abramov
Leader of "7 Summits Club" Everest expeditions
2003, 2004, 2005, 2006 years.