Harvard Mountaineering Club Borkoldoy Expedition 2005

Press Release - April 14 2005

Cambridge, Mass. - The Harvard Mountaineering Club is celebrating its 80th Anniversary by undertaking an expedition to Kyrgyzstan. During most of the month of August, expedition members will push into unexplored valleys and attempt first ascents of unclimbed and unnamed mountains in the Central Borkoldoy Range. The area, located on the border between Kyrgyzstan and China, is an extremely remote and practically unexplored haven for climbers.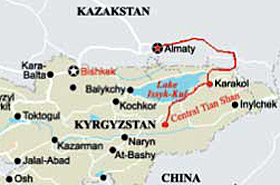 The expedition will practice the Leave No Trace philosophy, carrying out waste in order to preserve the pristine beauty of the area for future generations.
From first ascents in the Canadian Rockies in the 1920s to new routes in Alaska and the
Himalaya in the 1930s, 50s, and 60s, the Harvard Mountaineering Club has a long tradition of world-class collegiate mountaineering. This year's anniversary has inspired a surge of renewed interest in the club's trips, lectures, and publications, culminating in this expedition.
For political reasons, the Borkoldoy range was not open to foreign mountaineering until the fall of the Soviet Union. Only five expeditions have reported visiting the range since, and numerous peaks from 14,000 to 18,000 feet remain unclimbed and unnamed. This will be the first American expedition to the region, and the results will be reported to the American Alpine Club and the International Mountaineering Federation.
The club will send award-winning filmmaker Corey Rennell '07 to document the
expedition, as well as accomplished photographers Laura Fox and Dr. Bjarne Holmes, Instructor in Psychology at the Harvard Medical School. Other expedition members include two undergraduate officers of the club, Alexander Cole '08 and Lucas Laursen '06, recent alumnus George Brewster '03, and Harvard graduate students Kelly Faughnan and Adilet Imambekov.
Wilderness medicine instructor Dave Krause will serve as expedition medic. Between them, expedition members have climbed in Greenland, Peru, Alaska, Ecuador, Mexico, Canada, and throughout the United States and Europe.
The expedition is currently accepting suggestions for sponsorship and advertising
collaborations from local businesses. Learn more about the expedition, its members, and the Harvard Mountaineering Club at www.borkoldoy.harvardmountaineering.org.
Contact - Lucas Laursen, President, Harvard Mountaineering Club
951.235.2386, laursen@fas.harvard.edu