Nanga Parbat (8126 m), Broad Peak (8046 m) and K2 (8611 m) Kazakhstan Expedition
Summer 2003
June 17, 2003 NANGA PARPAT SUMMITED!!!
Maxut Zhumayev and Vassily Pivtsov on the summit of Nanga Parbat

SUMMIT, SUMMIT, SUMMIT !!!!!

After 16 days only, the first group of 4 climbers from Kazakhstan national team, Denis Urubko, Dima Chumakov, Maksut Zhumayev, and Vassilly Pivtsov arrived at 8,30 a.m. at 8125 meters of Nanga Parbat summit. They optimized the team spirit of all international group that all together fixed more than 3000 meters of fix rope in only 15 days. Tomorrow a second group of Kazakhstan climbers will attempt the summit and in the evening time I and JC Lafaille will start to open a new route. Following us on the Kinshofer route. Also Inachi Ochoa, Ed Viesturs will attempt the summit starting tomorrow.

So follow us for the next news.

Inshallah....

Simone Moro, June 17, 8-56 am
| | |
| --- | --- |
| Denis Urubko. Photo Simone Moro | Denis Urubko on the summit of Nanga Parbat |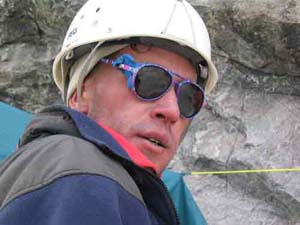 Dmitry Chumakov
Simone Moro:
Hallo Guys. There are only 16 days we are here but we are really near to the first summit attempt. This night Denis Urubko and 3 other members of his team will start from camp 4 at 7400 mt to attempt the summit. (they get training in Ipobaric chamber for 2 months before coming here). I and Ed spent night at 6900 meters of camp 3 and today we climbed down 3000 meters of face to arrive in Base camp to do the last rest period before our attempt. Also JC today went to camp 3 and came back.

Now the plan for me and JC Lafaille is to try to open a new route on a virgin pillar on the left side of the face. Ed and Inaki will also start next Friday to attempt the summit.

So follow us

Simone. June 16, 19-57 pm

Camp 3
June 16, 2003 Ervand Iljinsky:
The first group of Kazakhstan climbers (Zhumayev, Pivtsov, Chumakov, Urubko) are climbing to the attack Camp now. There will be the summit bid tomorrow. The second group is in the Camp 3.
---