GASHERBRUM II, Winter 2011
Simone Moro, Denis Urubko, Cory Richards
Expedition sponsor - The North Face.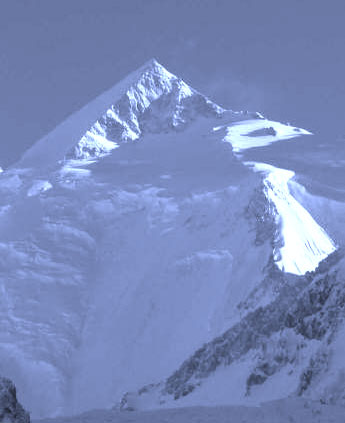 Expedition info on blog http://urubko.blogspot.com/ and site http://www.simonemoro.com/
6 Feb 2011 Lucky guys Denis' story, part 1:.
So, bad weather approached Karakorum mountain. We sat in the Mess-tent in the Base camp, and Simone crossed the computer screen by fingers - the graphics became foggy in his breath.
- In my humble opinion, friends, we have to do the attemptЕ - (I srambbled by shoulders) - ЕThree days of rest are enough for usЕ
- But five-six days is better for meЕ before so strong push! - declared Cory.
- Yes, of courseЕ and itТs very difficult to catch the weather window, - flashed Simone with good hope Ц but if Karl Gabl will give us the permissionЕ
But looking the forecast I understood the global crisis in further days. And remembered the localТs words about usual winds increase in February Е And clouds concentration. And the cold become angrierЕ so, I felt bad in my mindЕ

Our friend-meteorologist from Innsbruck, taking all data in one table, called by phone and guaranteed us about one and half day of the acceptable weather. IТd laugh at it, if heТll be other person, not Gabl. ButЕ that was Karl, and heТs a magicianЕ

- But you need to rush out extremely fast after that, Simone, - he limited. - Because the Hell will begin in Karakorum. For many days.
We prepared our gear for the climb. If I tried to analyse the situation, the doubts came to my heart. So, I preferred to think in one direction only - forward. DonТt think about the reasons, donТt remember about the insufficient acclimatization only till 6400Е Because it was the possibility to reach our goal by one kick only. I was sure about myself, about Simone alsoЕ soЕ Cory was able to support, to help us with loads if heТll be in not so good condition.
At first, the American hold me, when I fell to the crevasse. It happened on the middle of the glacier on the half-way to Camp 1. Going not far from the friends, I heard as Cory did some steps in opposite direction, gathering free rope part. УClever guy!Ф Ц IТve thought just. And at the next second I fell by head down, together with icicles to the dark abyss. Made a graciouse turn with the leg help, I heard as Simone screeming something on the surface. Then they took me out right.
Then we swam in the huge snow fields during two days, broke the trail again. Seeing nothing two days due to strong blizzard, we climbed to the end of fixed ropes. Our ice-axes were fine, waitingЕ and we changed them to the bamboo sticks, which prepared in the Base camp. But the third morning award us with the fine weather.

- Six oТclock, Simone! - I woke up. Ц ItТs time to act. Remove your body out!
I know English not so well, and used words by the intuition oftenЕ not so correctly sometimes. But Simone understood, and moved to the tentТs wall, for free place in the center for the preparations.
That day was nice. The sun shined and warmed. The wonderful Karakorum mountain were around. The feeling of freedom was till the horizon like a dream. We were full of power and the optimism. And climbed the slope direct throw bergshrunds. The snow had been blown by winds to Gasherbrum bottom, so we lost not so much energy.

The winter tactics differ from the traditional one. The short light-day, strong cold, hurricanesЕ and following untypical reliefЕ forced to look for another decisions. So, the First camp had been set on a edge of the plateau, Camp 2 located just immediately after Banana ridge, and Third summit camp we didnТt risk to establish on the Shoulder, but pressed into the last bergshrund. By the way, weТve found two fixed ropes there, which helped us a lot.

And at the night darkness the alarm shaked me. The goal was only one: - to work, and to be pacient, in spite of all. I screemed with the wild energy: УFire!Ф It was a music of Scooter, that only could to shake nerves by crazy dance. FIRE!!! And an Apocalypse could begin then! Drank- eat few, we put on the crampons to our boots, and started. SomewhereЕ
Pushing some hundred steps on the steep hard snow slope above the tent, I went on a less steep part. West wind kicked my face by the icy warn. Stressfull, like a Snow Leopard just before the attack. I felt the alert in his breath.

Once I climbed this routeЕ but it slid throw my mind without emotions. Because I climbed in speed-style that time. And now was surprised, counting meters of rocks, which we crossed. The SimoneТs head-lamp shone very far. Cory was like a ghost little closer. I followed them, and at 7400, where fixed ropes ended, began to lead again.
It was misunderstanding between me and Cory sometimes. When it was necessary to do something definite, he began to think by another way. Sometimes it was wellЕ as in case of my fall to the crevasse, when he gathered the free part of ropeЕ sometimes he made a problems. Simply, weТve never climbed together before!
- Go roundЕ by ledges, - I cried to him from upper part of rock throw the increased wind, showing the direction by the hands. - Put the rope under the rock!
- Where?
- IntoЕ (by Russian)
- I don't understand! Your English's good as it not deals with the route!
We managed do it in twilightЕ Then angry American pushed to the traverse under the top triangle. Me and Simone, belayed by white line of the rope, walked after him, shocked. We were fools due to the cold.
And the high-altitude blanket covered us there Ц and the thin air was unsufficient for the simple movementsЕBefore the ridge beginning, I began to lead that international march of crazy winter mountaineering again. Because remembered that УwindowФ in rocks, which we had to go through.

We could find some protection from the wind after the turn, and could rest. The further way, where we could find the deep snow or hard winter ice, for our happiness, occurred to be not so hard. There was the firn slope, with short snow sites, so we havenТt work hardЕ didnТt lost energy and timeЕ and we could to stop in case of fall.
As usually is in such moments, the doubts filled my heart. I felt different: from full despair till crazy rapture. УWe wonТt climbЕ thereТll be iceЕФ УThatТs 7800 already! WeТre about the goal!Ф УWaw, thereТs 200 vertical meters moreЕ. IТll die hereЕФ УDonТt be afraid, soldier!Ф
УAnd how will we descend here? ItТs so dangerous! У УFIRE!Ф

We worked. Simone stopped often, breathing. Cory waited him. And I looked to the further fog, trying to remember the route details.
And in one place, where the ridge turn to left after the little rock tower, I cried happily:
Simone! The summit is thereЕ only hundred meters.
My friend looked at me. This was the calmness of the experienced man. AllТs OK.

Of course, we had to work hard twice as long. But it wasnТt important already. I found red rope on the ridge, and threw it down, to Simone and Cory. I climbed further by somebody steps, to the summit. I was delirious Ц there were my steps, which I did here ten years agoЕ Like 28-years old me did them for myself. I felt the youth in my veins, like the fire, I was fool of feelings of great energyЕ And I reassure myself floating in a misty wraith blinding wind.

And reached the highest point, I lifted my hands to the sun, shining in the circle. Waited a second, laughing. And the thought appeared, like a incredible ice crystal, like a blue frozen lightning: УThatТs all. IТm here. FIRE!!!Ф

Then my friends came. I recorded them on camera from aside. From the rocks, where I went to delete my doubts, like in 2001. The time stopped as that scratchy crystal, which froze my soul. And I felt all around me like in lightning - true moment. When you can understand the worldТs depth.

Simone fell to knees, face down to the edge between sky and ground, he cried.
Cory also cried something crazy to the open sky, shook Italian, hugged him. And I felt like stayed aside and looked at three of us, like I was not the member of the event, but only a spectator from the pastЕ. From my 28-years youth.
(translated by Lena Laletina, www.Russianclimb.com)

5 Feb 2011 Lucky guys. The interview Simone & Cory for ExplorersWeb.com. By Tom Sjogren.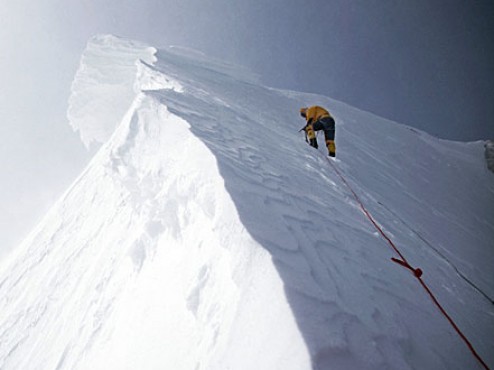 Denis not far from the summit. Photo: Cory Richards
4 Feb 2011 Lucky guys.
11-48 (MSK) SMS from Denis: "We're in BC. Simply luck. All're alive and fine. Congratulate all mountaineers with the first 8000+ summit in Karakorum."
3 Feb 2011 The descent in the storm.
At 1 p.m. (Moscow time) Denis sent SMS to his wife: Extremely strong storm. Descending very hard. Now are in the tent in C1. Drinking tea. We have no energy no time for the further descent. Are going to spent night there. To BC tomorrow. We're OK.
2 Feb 2011 SUMMIT!!!
SMS at 2 p.m. (Moscow): We've found our tent in this terrible storm. THat's all. Tomorrow the descent to BC. THanks for the support.
ƒобавлю: јлекс "икон, баск, который в команде GI и сейчас в том же базовом лагере, сказал, что погода резко испортилась, когда наши парни были еще на подъеме. ".е. они хапнули непогоды на самом верху...  акое счастье, что нашли палатку....
Denis, SMS to wife: "Summit at 11-35. Going down, 7800. Hope to reach tent before the darkness".
1 Feb 2011 Denis, SMS to wife: "Hi! We're in C3. Drinking tea. All's OK. The weather's acceptable. If we could to spend the night here, we'll try the summit tomorrow. Wish us good luck!"
31 Jan 2011 Denis, SMS to wife, 12-20 MSK: "WE're in C2, drinking tea. The weather's terrific. Tomorrow forecast is better. We'll try to climb further".
30 Jan 2011 Denis, SMS for wife, about afternoon: "We're in C1, drinking tea. The weather's bad. Snow"
29 Jan 2011 Denis, 17-09:
We decided to start tomorrow
Denis, 15-34:
I'm sitting in doubts.... The forecast for the next week is not optimistic. We can to start tomorrow, so, the summit will be in Wednesday, or we can start later, so summit in Saturday...But we don't want to stay here 3 days... I walked today down the glacier, by army's trail. Till Concordia. Met some soldiers, they were going back after 3 months of the mountain service. 150 persons died on those bases in Mountain in all years. It's not few, but... today I read in Internet that in 2010 in Russia were 199431 car crushes, where 26567 persons died and 205635 persons were injured...
26 Jan 2011 Denis diary:
Gasherbrum II is the easyest 8000+ compare to the other tops according to the community opinion. I suppoused the same some time before. Beauty logic way, snow slopes, minimal elevation in the Уdeath zoneФ, loose altitude in case of any problems.
I thought that it would not be so much problems in winter too. The glacier route looked simple and short. Fixed-ropes is ok - according the letter by Jacek Teler, who climbed Gasherbrum at summer with clients. Slopes are protected from the western hurricanes by crown of other mountains. I traned not in Kazakhstan but in Italy, but strongly also. So... I was optimistic enough...
But the theory finished immediately in Pakistan. And the every-day practice began.
Warming the gas-bottle by hands in the -40C cold in the morning... To boil the water and to drink some drops of not so tasty tea. You have to carry the heavy wet frozen sleeping bag to the next camp - to wait the morning with feaver again. The snow on glacier is able to kill every efforts and wishes, because we had to work during 8 hours for one and a half kilometerЕ The hands of the most optimistic person will fall down. And it is between booms of collapsed snow briges and evil silence in crevasses labirint.

To reach Camp 1 in summer-time takes not more than 5 hours. With pleasure. In January 2011 we spend two days. Without any pleasure.
So, for fourth push we went with Cory. He became healthy and was able to leave video-montage. Simone was full of energy and heroism after on-line talking aroud the world. I wanted to break something to go out of expedition doubts and tired.
At the begining we were only able to reach the First camp by the short winter day. We brought the big tent TNF VE-25. Breaking the trail at the next morning we reachedr Gasherbrum slopeЕ I took wet out of heat and smiled reportly: Уthe team arrived to the route beginning after two weeks rushФ. Cut the avalanche-dangerouse couloir soon. Because we started our route in the wrong place, which looked right. But after that we've found a red old-rope in the ice. And Simone could cut out of the ice the part of it. All of this took too much time and we were glad to set our tent on the nearest avalable place.
The next morning gave us opinion about the winter ice. It's a lot of it; it's very hard. Totally: it was extremely hard to climb... It's possible to walk by this route at summer. At winter we climbed up with belay by ice. I become tired as a horse. It was important to use old fixe-ropes also... because without ithem we could do nothing on the frozen bastion. Is was very difficult and dangerouse.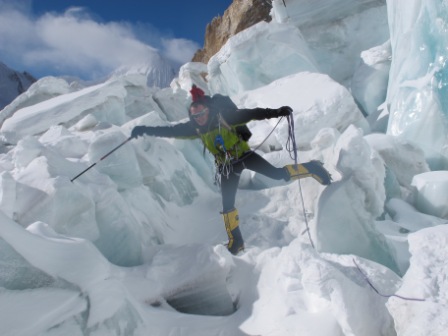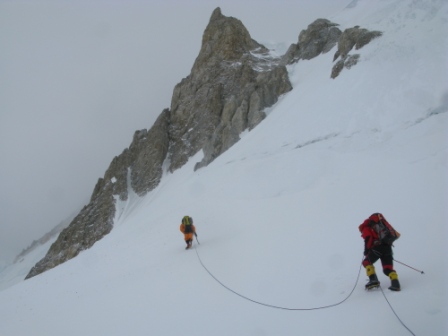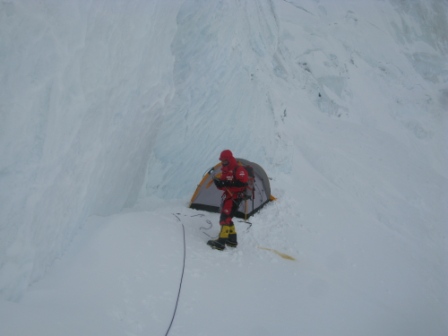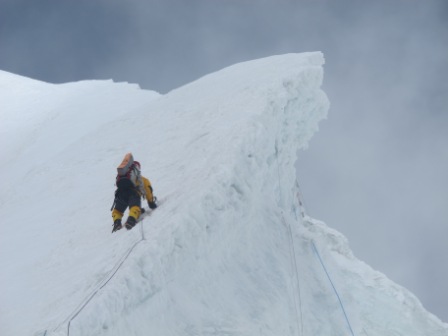 26 Jan 2011 Denis, Cory and Simone descended to BC. Rest.
Denis wrote late evening:
"It was very hard... No difficults in summer, but in winter... we climb on winter ice with belay. Worked 2 days from C1 to C2! I was extremely tired. We used old fixed ropes, but they fixed usually on snow ankers, but there're no snow in winter, so... those ancers are in the air, and we couldn't use ropes as usual.
We climbed on cornices, because all ropes were blown to the eastern side :)
But when you're lucky to set ice hook, the life became more interesting...
Me and Simone stayed our ice-axes for fixing ropes on the ridge, and Cory stayed hid axe on the glacier at the fixed ropes beginning...
25 Jan 2011 SMS from Denis: Hi! We're exausted but reached C2. THe weather's calm. Eating, drinking, all's ok. Tomorrow are going to BC. Greetings to Russianclimb readers.
24 Jan 2011 SMS from Denis: WE are on the half-way to C2. Too hard, cold, windy... WE've already eaten. Try to continue tomorrow. We're OK.
23 Jan 2011 SMS from Denis: We're in C1, all's OK. Set a big tent. A lot of food, gas. The weather's not good, but we'll try to climb further tomorrow.
21 Jan 2011 Nine winter thoughts by Lt. Urubko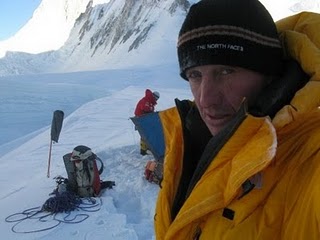 Last days we went up by our route again. The third push.... It's possible to amaze for climbers who know typical high-altitude tactis. Usually third or fourth push is a summit-bid. When the team, getting acclimatization in preview efforts, start up, set last camp on the limit altitude... and go throw the thin air till the highest point. Till top. But the time is too broad in our expedition. Because it's the winter.
In the first push we crossed ice-fall above the Base camp. THen went on glacier, but the bad weather forced us to turn back to home from 5500 m with satisfaction about the huge deposit. In third attempt our ideas about deposit changed for negative becouse of CoryТs illness - we were only two. Simone and me left the Base camp with some additional loadsЕ and taking that store too. With a turtle speed we searched the way between crevasses under the snow... and we had enough power to get a middle part of glacier at about 5700. We could already see the planning point of Camp 1 in the distance. It was 18.01.2011.

Simone was ready for everything. Me too. But when tennis cort size platform fell down for a half meter, and with strong УboomФ word colappse into the Hell (I felt as a Bruce Willice into the Haos - do you remember the УDie Hard - 4Ф as by transporter he run out off JetТs rockets, and were falling tumbs and briges around him) - so my heart stopped (in opposit to heart of Bruce). Or when I stood on a trail behaind of the friend and heared as 100-kg ice-candels under the snow fell into the Nowhere, checking the VoidЕ above of that I fixed for a momentЕ it made Simone and me nervouse.

It was a winter snow, if you know - like the powder, you canТt let to supress step. Such snow canТt form the briges above the crevasses. We sweem till the hips in this some time, but fortunatelly till the knees. But the snow did his bad prophet. We crossed less than two kilometers in eight hours. In fact we passed upper part of glacier and reached the rump of plateau. In the evening of 19.01.2011 we looked at our stupid faces on Camp 1 point on 5900. Who after ten days arrived under the mount. You can amaze the pleasant night. With -40C, doesnТt working stove, and I needed to warm iby palms, with last hope to avoid toes frostbites - put it on to the SimoneТs chest, and feeling his froozen foot on my sholder.
But deeply in reality now is possible to declare other details of deal. ItТs not solid in first opinion - in my mind only, depending from luck. But it help some timesЕ given a power to smile and joke into the little froozen tent of Camp 1. So:

1. Everything can be compared - also the cold. I answered for the message of Anna Piunova two days ago: ЂYou knowЕ if understand differentЕ is not so cold here compare with Moscow, perhaps. How much is in your appartment? +25? And on the street? - 16 The different is 41 degrees. Into my tent is -20 But on mountain was -40. Is 20 degrees different onlyЕ So for you is much difficult probably :) ї

2. The wind is scremling very high above the mountains. The glacier circus is protected by towers of Gasherbroms 4, 5 and 6. So, it's quit on the bottom. And optimistic volume on 7000 meters, by that the hurricane crush the nature, you can get as a very far reality.

3. The great expedition organizer Simone thought about everything. In Base camp we have a lot of food, kerosin, Thuraya-internet from INTERMATICA, everybody has a computer, passatigges and soft facial tissues on the tableЕthe real pleasure, totally.

4. In difficult ascent condition all many years leaning instincts are activated. Every movement becomes very logical, thoughtl and true. Everything that was pressed into me by coaches Savina, Grekov, Gorbunov, everything getting by my own experience - work now incide of me as a mediator. To control the situation.

5. The third member of our expedition Cory is not only the interesting man - he's very strong climber. Physically he's health, and interesting in disputes, not avoids the workЕ and I hope about lucky new man (first-time member). Hope that Уon his tailФ Simone and me will get luck also. With Italian we are friends already.

6. Experience. I donТt tell too long - Simone climbed already two winter eigth-thousanders. And I get a some pleasure also.

7. The Pakistan military camp can give some good chanses, dispite negative. So, calling at night from 5400 to helicopter pilots, Simone asked to bring petrol-can and bamboo sticks pocket. And is inetersting to discuss and speak with officers.

8. Thanks to encredible Уhi-levelФ technics is possibility to drop-out from frozen reality. And it help a lot to keep the good mentality. To connect and talk with relatives, friendsЕ donТt lose the normal life line that are going well somewhere. Same details of modern - as Jet-boil, down-combines, light tents, etcЕ let us to feel much better compare to people who climb for this altitude many years ago.

9. I strong wish to reach the summit. And it is the most important engine of our optimism.
This ideas are on other scale pan. Wich of them can be strongly - weТll see in future. To reach Gasherbrum summit or get nothingЕ But is important to remember! That is other hand Femida has a swordЕ that is better to avoid it.

Why I did write all of this? Just for ineterst! And for my perents pacient becouse the life situation are worst some time out of mountains. As possible to count from all this positive article.
Good luck and health for You!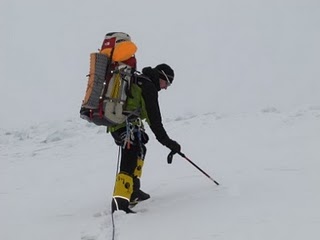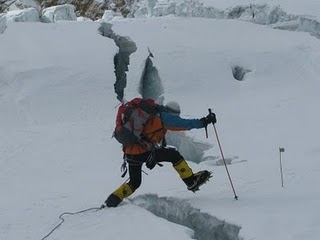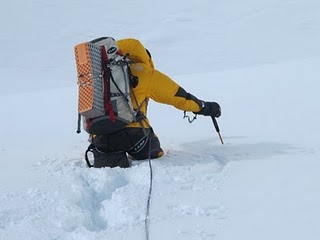 (all pictures from Denis' blog)
From Simone's diary (Jan, 20)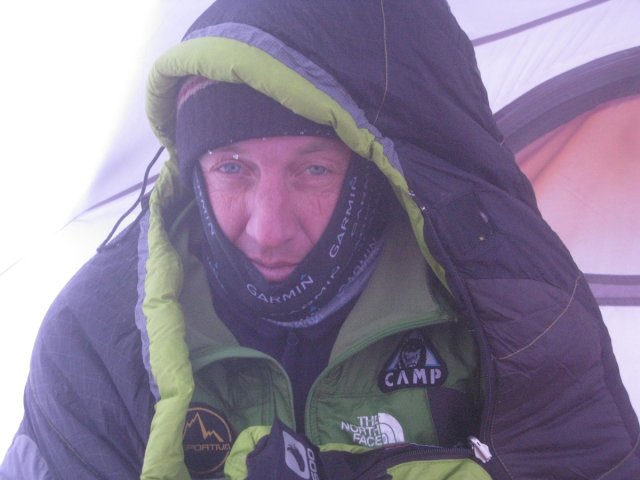 "ри дн€ и две ночи провели на горе, трудно. ¬от только что закончилс€ очень важный этап. ƒенис и € ( ори был в базовом лагере, он слегка заболел) собирались достичь 6500 метров в районе второго лагер€, но мы не ожидали, что будем плавать восемь часов в снегу и в итоге наберем только 250 метров в высоту.
ѕришлось протропить траншею почти два километра, чтобы подн€тьс€ наверх плато. Ќадеюсь, что в следующий раз мы действительно сможем дойти до лагер€ 2, а затем еще выше.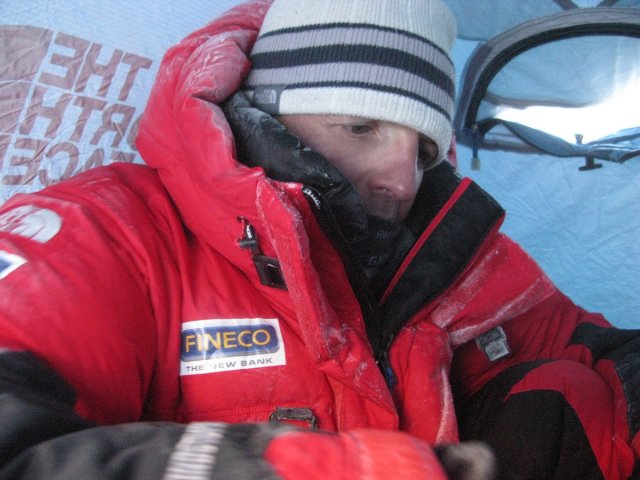 Ќа маршруте выше, вроде бы, снега мало, лед€ной ветер сносит все.  онечно, все снег, который сметен с гребн€, нам пришлось топтать здесь. » на это потребовались поистине титанические усили€ - 8 часов утомительного пути. —ама€ больша€ опасность - это снова трещины. ќни засыпаны снегом и, следовательно, непредсказуемы. ћного раз мы благословили св€зывающую нас веревку. ќднажды под нами рухнула на 50 см площадка размером с теннисный корт. ћы находились на гигантском снежном мосту... я поблагодарил Ѕога.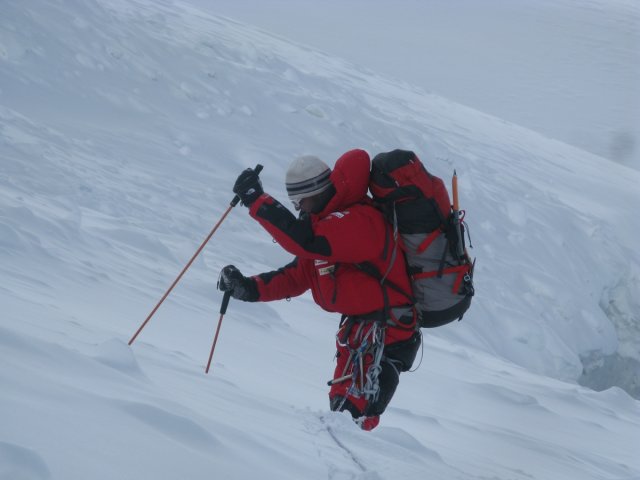 ѕервой ночью температура была -40 ∞ C, второй -43 —, после 8 часов борьбы со снегом было т€жело. ќдели все, что можно, но все равно в спальнике было очень холодно.
—егодн€ мы с ƒенисом поднимались по вчерашним следам, было проще. "рещины были видны (а были открытые трещины или отверсти€ в вершине трещины, можно было найти их). "ак что подн€лись достаточно безопасно в течение нескольких часов от C1 до 6000 метров, а потом спустились обратно к палатке.
"тром было пасмурно, и немного шел снег, поэтому решили вернутьс€ в базовый лагерь. ѕотому, что ƒенис и € очень устали за эти два дн€ и две ночи, что мы провели на горе. "еперь будем отдыхать в течение 3 дней, и если погода будет позволит, в понедельник стартуем наверх, и, надеюсь,  ори будет с нами.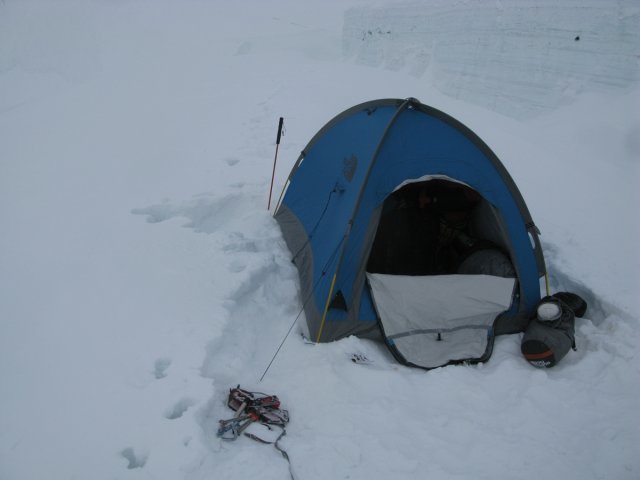 Camp 1

20 Jan 2011 At 08.30, without tea and breakfast, Denis and Simone began to descend to BC. Left the deposit. THe weather's cloud, very cold. Reached BC at 13-00. THe trail was good. Cory is fine already, and he's going to climb with us next push.
18 Jan2011 Denis Urubko, SMS 12-25:
Cory is ill, stayed in BC. WE're going to C1. A lot of crevasses... a lot of snow... THe weather's bad. Tomorrow hope to climb futher.
17 Jan 2011 The team is in BC. The weather's not good. THey hope to go up tomorrow for C2. Yesterday video: http://vimeo.com/18839724
There's info that the temperature on 8000 m is about -53—....
15 Jan 2011 SMS from Denis Urubko: We started up early morning, but the weather's extremely bad, we've returned to BC. Broken the trail to 5500, did the deposit. Simone five time fell to the crevasses...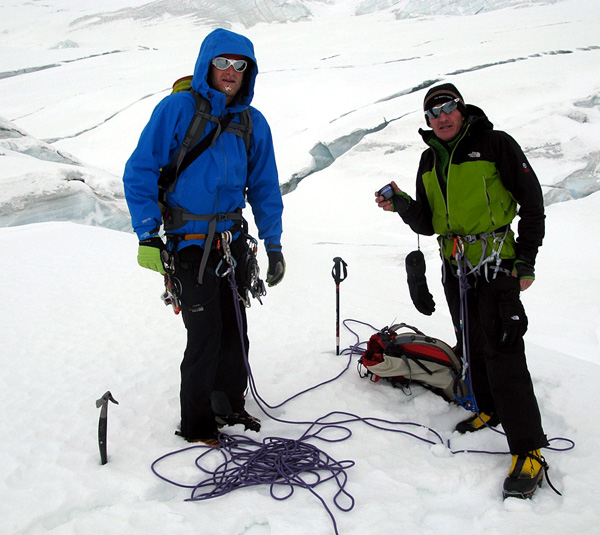 Denis and Cory on the glacier. Photo: Simone Moro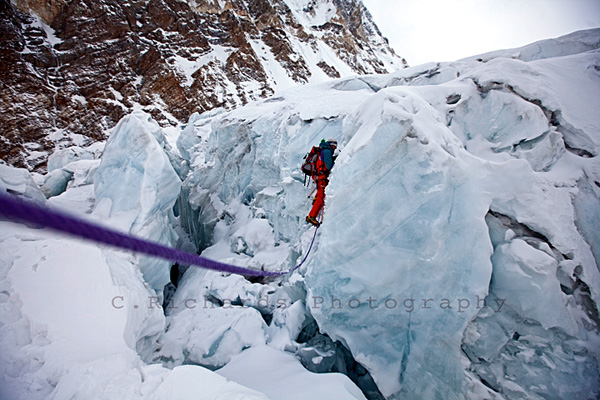 Simone between seracs. Photo: Cory Ricards.
10 Jan 2011
The team reached Base Camp at 5100.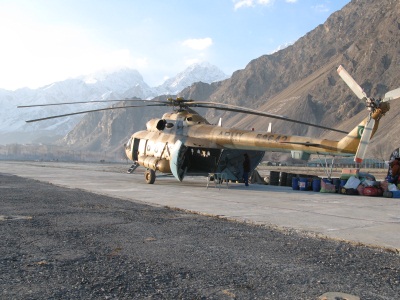 By this machine. Photo: Simone Moro
9 Jan 2011 Russianclimb: So, you've acclimatized well. Are you sure you can clim in alpine style? Or you plan to climb to the col before the summit bid?
Denis: As for the acclimatization, if the weather will be great, and other conditions ...we can do it. But... It's better not to risk so much.... Possibly, we'll go to 6500-7000 m before the summit bid...
8 Jan 2011 Denis: We have acclimatized on Kosar Kang. It marked as 6400 m on Pakistan maps, but its real altitude is less. IN two days me, Simone and Cory reached to 5000, spent night, and reached 5800. We didn't climb last 300 m (horizontal) before the summit. Decended to Scardu the same day.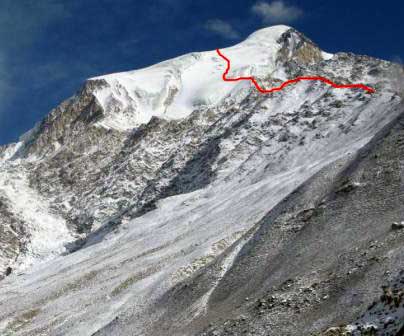 7 Jan 2011 The team met Ney Year in Islamabad, and then had flown to Scardu. Nearest plans: to acclimatize at 6000 m, then to fly to BC.
30 Dec 2010 Greetings from Denis, Cory and Simone from Islamabad. They were going to fly to Scardu today, but it's raining, and the flight postponed for tomorrow....
Happy New Year to all readers!
Yesterday they had brifing in the Pakistan Alpine Club. They get permit to both Gasherbrums, but Gasherbrum II is the main goal. The team hope to acclimatize near Scardu.
On the picture: Lt Col Manzoor Hussain, the President of Alpine Club of Pakistan, and Simone and Denis.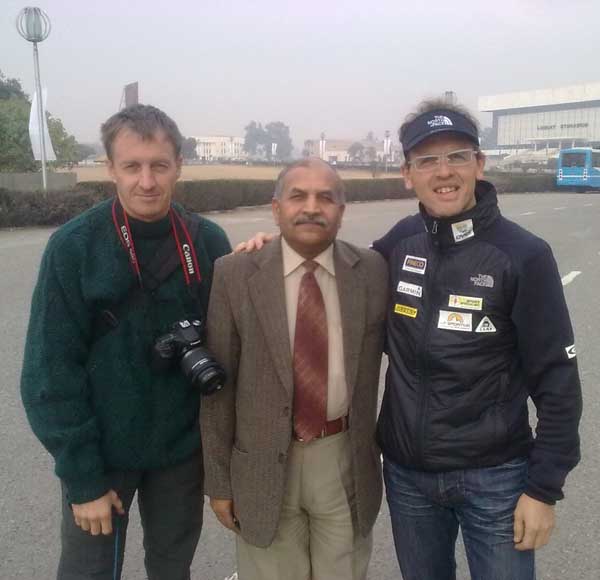 27 Dec 2010 Today's start. Denis Urubko, Simone Moro and Cory Richards are going to Pakistan.