Piolet D'Or 2006 nominees
New route on Cho Oyu, solo in a single push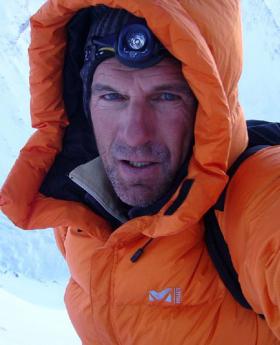 On 2.10.2006, Pavle Kozjek (Slovenia) climbed a new route on the south-west face of Cho Oyu (8201 m) in the Tibetan Himalaya, climbing the route in a solo single push from Advanced Base Camp at 6200 meters on the Gyabrag Glacier directly to the summit in 14.5 hours.
The new route takes line left of the Yamanoi route. The 1100 meters of new route on the face (V-, 50-60 deg.) was followed by 900 meters of the Polish Ridge. The crux was an icefall at 7200 meters (just below the Polish ridge) that Kozjek bypassed by climbing V- rock on the right.

He started from ABC at 3:30 in the morning and reached the Polish ridge before 10:00. His equipment was extremely light: 3 thermo bottles of drink, 6 power gels, spare gloves, bivouac sac and a photo. On the ridge his progress was slower due to poor conditions (deep snow).He reached the top at 18:00, descended  the normal route to C2 (7000 m), spent some hours in his bivouac sac in one of abandoned tents where, and returned to the base camp before 12:00 on the next day.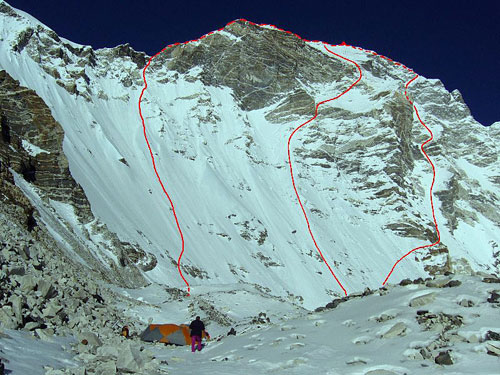 Cho Oyu SW face routes: from left Slovenian (new), Yamanoi, Kurtyka-Triolet-Loretan

According to the available data, this is the first single push ascent of a new route in Himalaya 8000 m peaks.
His colleagues from expetition followed him on the new route on the same day, but all reached summit the next day. From Polish ridge they traversed to the normal route (W face). Rope party Uros Samec-Aljaz Tratnik spent the night in their own tent at C3, and rope party Marjan Kovac-Emil Tratnik at C2.
In last 18 years, Kozjek was in Himalaya only 3 times. In 1989 he opened (with Andrej Stremfelj) a new alpine style route in the S face of Shisha Pangma, and in 1997 he was the first Slovenian climber to reach Mount Everest without oxygen. He was much more active in Andes, where he opened a number of hard new routes (Chacraraju, Huascaran, Siula Grande, Chopicalqui...), all in a similar fast and lightweight style.
| | |
| --- | --- |
| The last 300 m of face | |