Short Story about Moldovan Mountaineering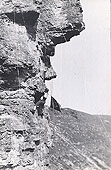 They say, the first alpinists appeared in Chisinau in the end of 60s v they were graduates of Odessa institutes where alpinism organizations already existed at that time. Those people organized their own section, the first one, in the Polytechnic Institute of Chisinau. The Federation of Odessa and Bleschunov Alexander, the head of it, helped a lot to Moldovan mountaineering development.
Mountaineering gradually seized people and in other towns of Moldova: Belt, Benderi, Tiraspol, Ribnitsa and Kagul.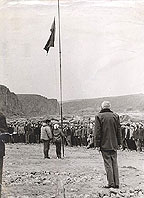 The Moldovan Federation of Mountaineering was organized in 1976. At that very year there was the 1st National Championship of climbing in Southern Bug. Later on, championships took place as in Moldova (Butuceni, Kobani, Edinets, Tsipovo) so in Ukraine (Crimea, Carpathians).
The National team of Moldova participated in the USSR championships (Tsahkadzor v Armenia), All-Union competitions in Kislovodsk (3rd place), international competitions in Bulgaria (Veliko Tirnovo).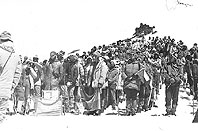 There was a system of the USSR trade unions alpine camps. Every summer up to 180 people went to alpine camps in Caucasus. The pass cost a symbolic price and every fourth pass was for free. The All- Union School of Instructors in Caucasus trained instructors-trainers (the course lasted for 40 days). There were trained about 30 instructors from Moldova.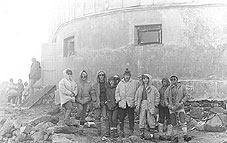 In 1979 Moldovan alpinists for the first time ascended Peaks of Komsomol and Mayakovsky (Tian-Shian) in winter time.
From 1982 till 1990 the National Championship of Mountaineering took place. Usually, all teams came to one district of Pamiro- Alay or Tian-Shian and ascended routes of 5-B category of difficulty.

On 31st of December 1986 A. Barchuk became Master of Sport, after the Moldovan team had firstly climbed the route of the 6th category of difficulty v North-West Face of Zamin-Karor (the route of S. Efimova).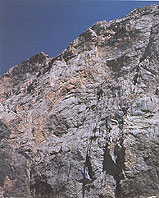 So, in 1987 the National team of Moldova for the first time had the right to participate in the USSR Championships (at least one Master of Sport had to be in the team). It was a technical class, height up to 5250 meters.
USSR Championships:
1987 v Castle/Tower on the North-East Face in Fany Mountains v 6th place
1988 v (ice class) Baytor on ice couloir of the North Face in Tiani-Shani (first ascent) v 4th place
1989 v (ice class) Peak Karakolsky on the center of the North Face (first ascent) v 7th place
1990 v Begichi on the North-East Face (first ascent) v 3rd place (The Championship of the USSR Armed Forces in Pamiro-Alay)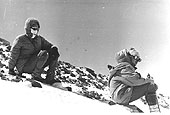 Moldovan alpinists climbed in Crimea, Carpathians, Caucasus, Pamir, Tian-Shian, Himalaya, Alps, USA, China, Rumania, Bulgaria to the peaks of Elbrus, Kazbek, Ushba, Shkhara, Dalar, summits of Lenin, Korjenevskaya, Communism, Pobeda (7 people became ?snow leopards¦), Khan-Tengri, Djigit, Karakolsky, Blok, Kanchendjanga, Monblan, Matter horn, Mac-Kinley, Kongur, and others.
1982-1991 are considered to be the most active years for mountaineering development in Moldova.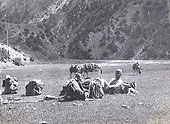 In the beginning of 90s there were organized several expeditions together with Rumanian alpinists to Pamir and Tian-Shian (Peak of Lenin, Peak of Korjenevskaya - the seven-thousanders).
In 1988 our alpinists (15 people) very quickly arrived to Leninakan (Armenia) to participate in the earthquake rescue. They received State Awards of the USSR and Armenia.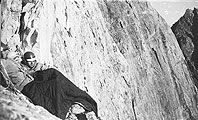 At the same time it should be mentioned people who were not in the system of Federation, who went to the mountains by themselves, worked in international alpine camps and rescue stations.
From the beginning of 80s most Moldovan alpinists worked in rescue services of Caucasus. Nowadays, Igor Cheresku is the head of the Shkhelda Rescue Station (Elbrus Region).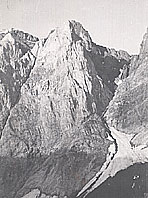 After 90s, when the centralization started disappearing, people continued to go to the mountains individually, in small groups or sometimes cooperating with alpinists from other countries (Kanchendjanga, Mac-Kinley, Kongur, Mustag-Ata, Caucasus, Crimea, Rumania (Demyanenko Ruslan, Ditiuk Yurii, Kapralov Sergey, Kulikov Valerii, Tsurkan Viktor and others).
After 2000 mountaineering in Moldova started ?awaking¦ again. New young teams appeared. People go to Crimea, Rumania, Caucasus, Europe, USA, Africa. 71 man-ascendings (each man participated in ascending is counted) are fixed this year and it-s something. There are huge plans to build qualitative indoor walls and may be to come back to the system of alpine clubs. This year in February the first during a long period of time meeting of alpinists, young and veterans, took place. More than 100 people came. A sort of an unprecedented event for Moldova.
And one more, so to say unprecedented event, is that in the end of April there took place the first during last 15 years Climbing Championship of Moldova Republic (first stage). More than 100 children and adults participated in the climbing competition (speed). The second one (difficulty) is expected in the end of June.
The digest is prepared by Coptina Tanya with the help and out of words, papers and photos of Alexander Barciuc, as well as stories and remembrances of other mountaineers.
Source: magic-lamp.com.md