Andrej Magajne, Slovenia
Pik Nansen North face attempt and Khan Tengri one day ascent
After years 2005 and 2006 when me and my friends have visited Karakol valley where we climbed several fine new routes, in 2007 I moved my activity to Engilchek valley.
I was accompanied by Luca Vuerich from Italy and our goals were to climb a new route on the virgin north face of Pik Nansen (5697 m), to make a quick ascent of Khan Tengri (6995 m) and to ascent Pik Pobeda (7439 m).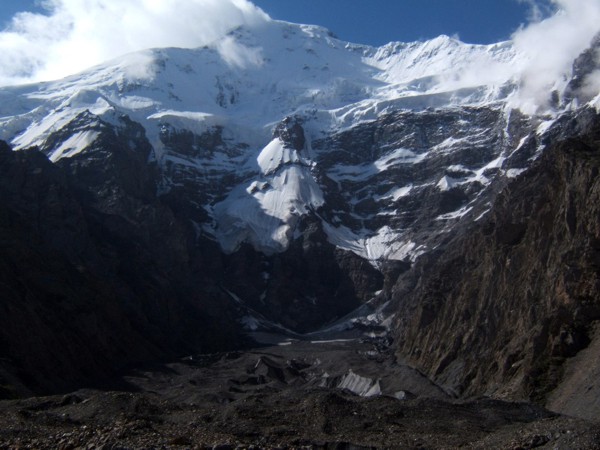 the 2400 m north face of Pik Nansen (5697 m)
One of the main features of 2007 season was very unstable weather. I have been visiting Kyrgyzstan for four years now but it was the worsest season in the sense of bad weather.
We arrived to Nansen base camp on 12th of July. As we found hellicopter passing flight from Maida-Adyr quite expensive we took horses from Engilchek military base and were accompanied by the young soldier Ruslan.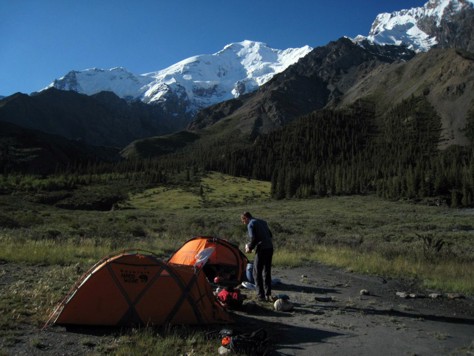 base camp
Although Pik Nansen is not amongst the highest mountains in the Engilchek region, it is a big mountain. It's northern slopes drop down from distinctive summit to Engilchek valley for almost 2900 m and offer an amazing spectacle. The base of the mountain is overgrown with pine forests, but above the trees you can see huge serac barriers of the gigantic and still unclimbed 2400 m high north face.
Because it is very difficult to find any information about the mountain, the decisive days came immediately after our arrival.
First we wisited solitary basin below the north face and soon abandoned our purpose to climb the central part of the wall, the only option that was no exposed to serac fall. We found the intended line too dangerous for the summer ascent  due to numerous falling rocks and avalanches of rotten snow.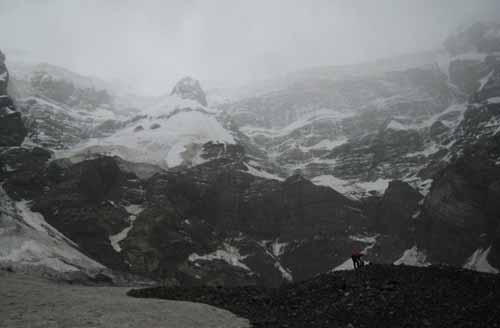 Under the North Face
In the next days unstable weather prevented us to make first traverse of the mountain from west to east. The second half of our staying under Nansen has just begun when we received more optimistic weather forecast which predicted a three days window of good weather but unfortunately followed by another disturbance.
The only chance that remained was a fast ascent and descent over the left part of the north face which was divided from the central wall by "the black tower" over which led our planned route.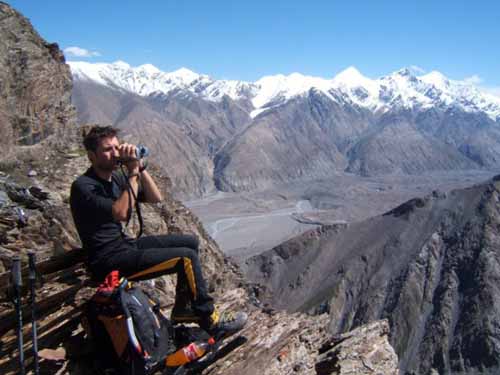 acclimatization
We started on the 19th July towards the evening from the base camp and until dark reached solitary basin where we made a bivouac in a safe distance from the face which was even here loaded with huge seracs.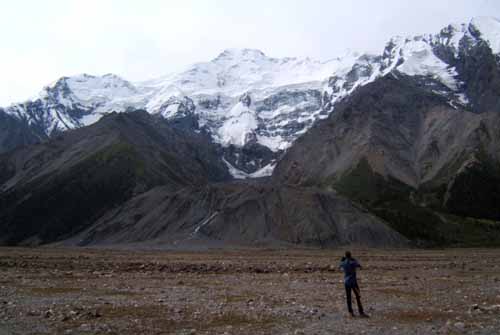 Pik Nansen

We started the climb shortly after midnight and were travelling light (without tent, sleeping bags and with only half rope and a couple of nuts and ice screws) and fast. Ice and mixed climbing brought us on the top of black tower at 7.30 in the morning. On the end of technical difficulties we were confronted with very dangerous snow conditions. Despite of early hour and altitude of 4300 m snow was not frozen so we decided to wait for another night which unfortunately didn't bring cold.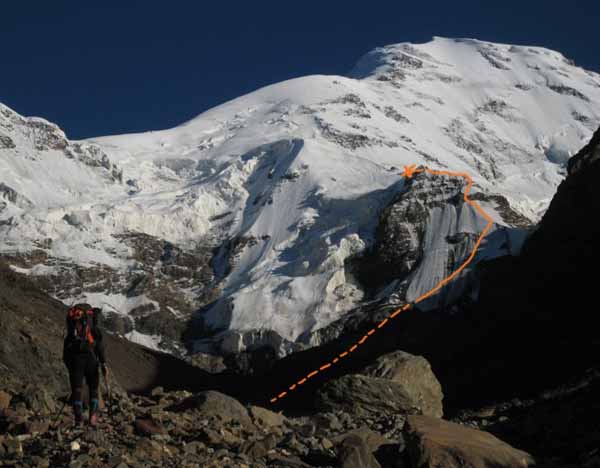 approaching the face; the route and high point are marked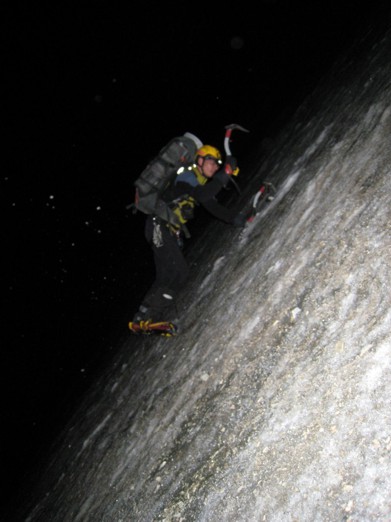 in the face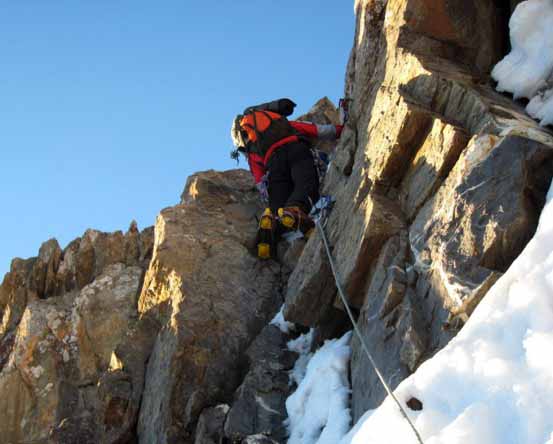 climbing on "the black tower"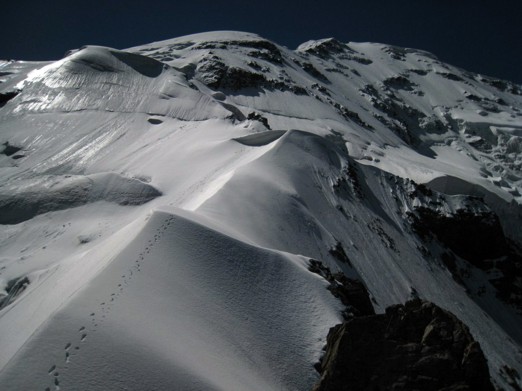 upper slopes of Pik Nansen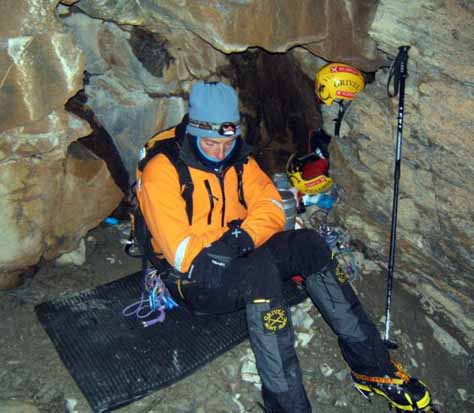 bivouac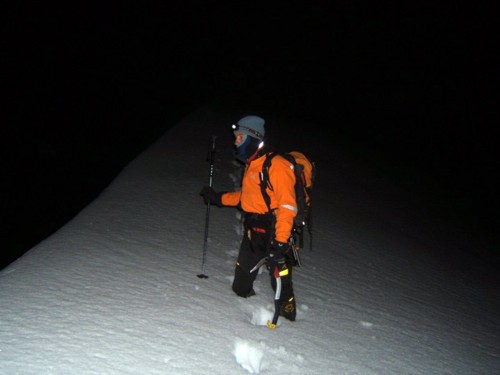 Go back, it's too dangerous!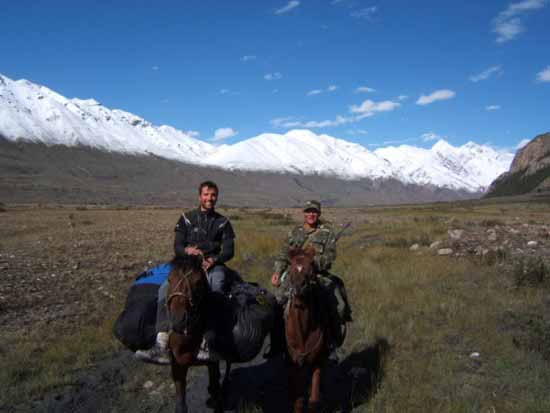 back to Maida-Adyr

On the 21th July by the midday we were already back in the base camp after another attempt which ended in a deep and wet snow.
The remainder of our staying below Nansen was again characterized by unpleasant weather. We returned to Maida Adyr on 27th of July and two days were enough to prepare for the flight to South Engilchek base camp.
First we intended to start immediately with fast ascent on Khan Tengri but regarding to our result on Nansen we were only good acclimatized for the base camp (ca. 4000 m).
On our acclimatization climb on Khan Tengri we reached 6300 m and were blocked in camp 3 for another two days by a heavy snow storm. So the return to the base camp through 1 meter of fresh snow was pretty nervous.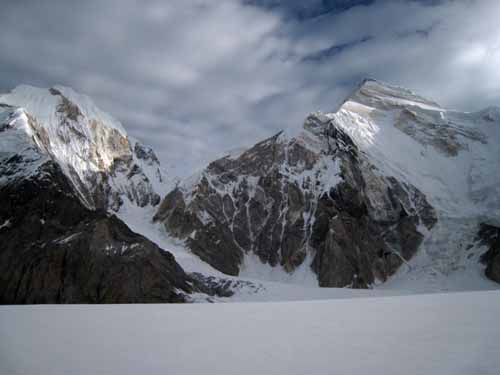 Pik Chapaev and Khan Tengri from the south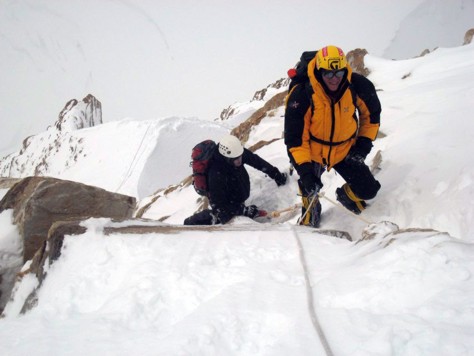 climbing on Khan Tengri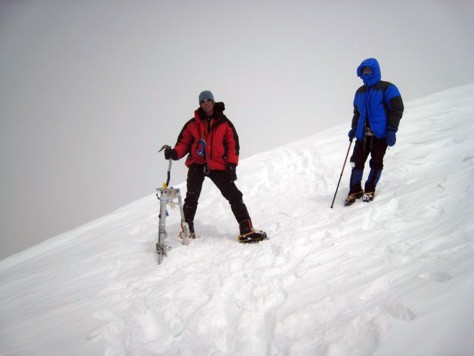 on the top of Khan Tengri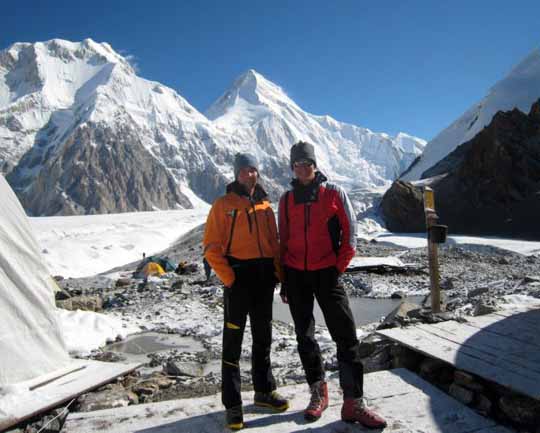 Luca Vuerich, Andrej Magajne and Khan Tengri
We started again from the base camp on the 5th of August at 21.00 in the evening and reached camp 3 (5800 m) at 2.30, after five and a half hours. As early as below camp 2 I broke both my sticks and for that reason I felt quite exhausted. After 3 hours rest in a snow hole we continued with ascent. Luca arrived to the summit around midday meanwhile I finished my ascent one hour later some 40 m below the summit. The weather was getting bad again very quickly and without sleeping bags and food we had no other option as to return to the base camp. Luca returned to the base camp 23 hours after starting and I needed 26 hours. On the way back we also took a couple of hours rest in camp 3.
I have to emphasise that our purpose was not to do a speed ascent but to travel light and fast without sleeping in intermediate camps.
Then we approached Pik Pobeda as well, but our attempt finished as early as in camp 1 due to bad weather and Luca's illness.
The most shining days came right on the end of our staying in Kyrgyzstan when we have done a three day trip to Ala Archa. We climbed pleasant route via north face and east ridge of Korona in 8h round trip from Ratsek cabin and Luca finished our expedition  with ascent of Pik Simeona Tienshanskoga.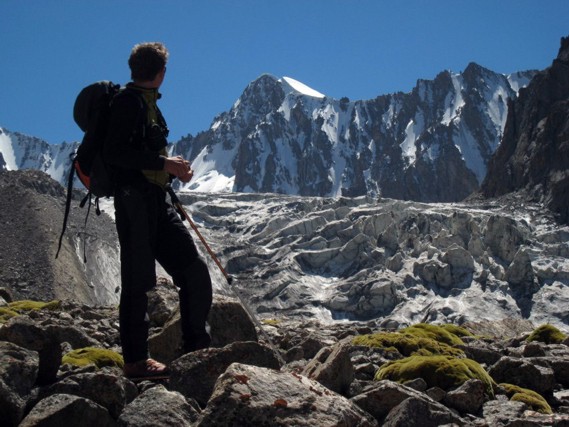 Ala Archa - Kyrgyz Chamonix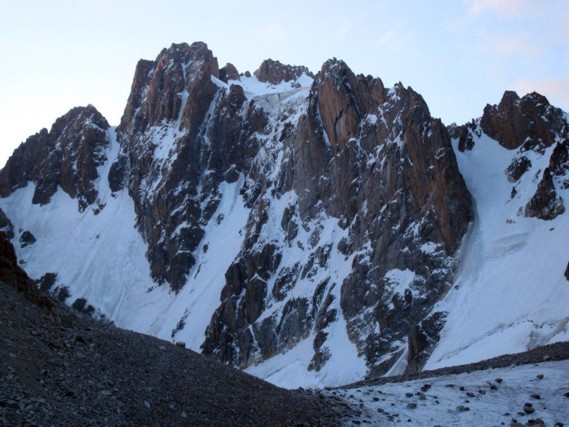 the north face of Korona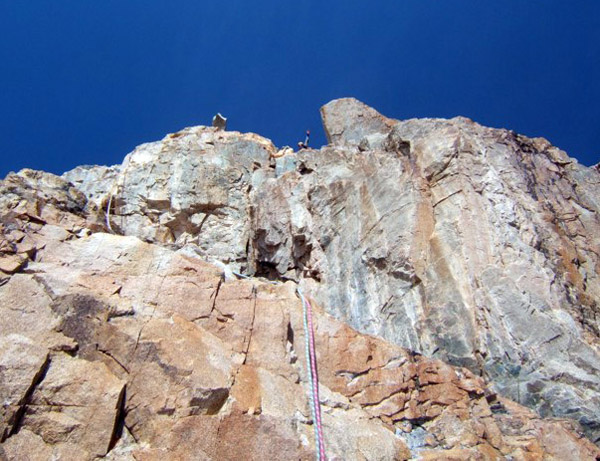 Climbing on Korona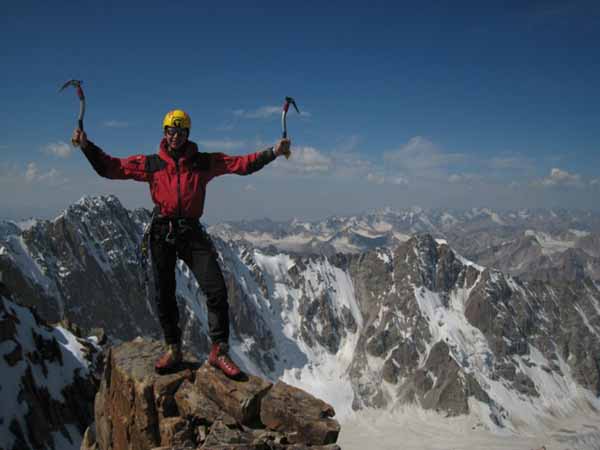 On the first tower of Korona
Expedition was supported by Montura, Grivel, Actinia Solar and Ljubljana - Matica Alpine club