Nuptse East (7804 m)

Larisa Martynkina (from BASK - general sponsor of the expedition) talks to Valery Babanov and Vladimir Suviga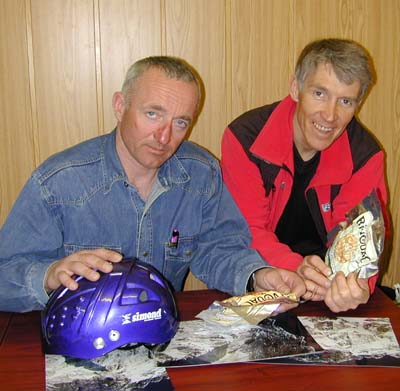 Vladimir Suviga & Valery Babanov before the expedition
Valery Babanov is on his way to Nuptse again. This time he is no more alone.
Nuptse East, 7804 m, is the one of the five Nuptse summits that has rebutted 10 attempts of strongest world climbing teams to conquer it. In spite of extraordinary efforts of the climbers none could reach the apex during last 17 years.
Our compatriot Valery Babanov is the only climber who dared for a single combat with the mountain. Last autumn Valery tried a solo climb up the hardest route but this attempt was smashed with heavy snowfalls and hurricanes above 6300 m. It made the final push to a summit impossible. `Devil's tower' was left unclimbed.
Now, half a year later, an honored climber and a winner of `Piolet d'Or-2002', Valery Babanov made his mind for a next attempt to tame the shrew. But this time he'll be not alone - an experienced climber from Alma-Ata, Vladimir Suviga, will join Valery.
LM: Valery, your October attempt to climb Nuptse failed. Why are you going to the same summit again?
VB: When one looks at a photo of South-East edge of Nuptse East he sees that it is the clearest, most logical route up the summit. It's also the hardest route of those I have ever climbed - each segment is crucial!
I know that many climbing `stars' have designs on this mountain. Not long before my return to Moscow I sent letters to central climbing magazines with one question: `are you interesting in my reports from Nuptse'? One and all said `yes' while an editor of Japan ` Rock&Snow ' shocked me with his reply: `All our best climbers are dreaming of this route!' I know that a French team is thinking of climbing Nuptse in 2004 too.
Of course, our climbing society is always attending East Nuptse problem, but there are some things that are beyond power of a single person. These are solo climbs of 4-5 km Himalayan routes with extremely difficult climbing above 6 km. That was the problem I faced during the last expedition.

LM: D'you guess that this expedition will ruin your enigmatic solo-image?
VB: Well, I've never tried to create this image. Not a bit. When I made my first solo climb in 1993 my horizons were broaden. It happened unexpectedly for me. I always was surrounded with friends who could be nice partners, but I went deeply into solo climbing, which fascinated me. After several hard climbs sponsors found me and I started contacting media that has created this image.
I am not going to abandon solo climbs. My main aim for today is to climb hardest high-altitude wall routes. If such routes happen to be insuperable solo, I'll climb in a duo.
LM: Is this expedition your first non-solo climb during the last 9 years?
VB: 'Course, no! I climbed a lot of nice and interesting routes with a team. For example, in May 1997 I participated in Bashkirov's expedition to Lhotse and in February 1998 we with Yura Koshelenko broke a new line `Lena' (ED) up Pti-Dru, which was devoted to our lost friend Helen Okylova. Last winter we with Jean-Christophe Lafaille were climbing in a duo in Alps. For both of us it was a kind of training before high mountains.
LM: Why did you choose exactly Volodya Suviga as your partner?
VB: I know Volodya as a professional climber for more than 10 years. He is elder than I and very experienced. He has climbed South-East Face of Communism peak (1980), Kangchenjunga (1989), Dhaulagiri (1991), Everest (1992,1997) and Manaslu (1995) what includes highest points of almost all the continents (only Mt. Vinson and Puncak Jaya still have to make up this list) and a great number of other hard and interesting mountains. I'm sure that he is an ideal partner for this high altitude climb. An alloy of our mutual experience and skills completed with our will to win should conquest a victory.
VS: When Valery returned from Nepal in November and, on considering all aspects, proposed me to join him, I agreed with no hesitations. It's an honor for me.
Our Alma-Ata team was the first one in ex-USSR who started treating climbing as a professional sport, but not as a romantic adventure. As a guide and an instructor of Alma-Ata Army Sports Center I am to master my skills permanently. That's why each week (since November) I had been climbing one of summits in our Zailiy Alatau Range (or just ascending above 4 km). Several weeks ago I raised Kazakhstan flag above West summit of Elbrus.
I am not pretending to be a leader in this expedition. Nuptse - is a dream of Valery. It's his idea and his mountain. We'll go in a duo, but my number is the second.
LM: Which style is chosen for this climb?
VS: I, as an altitude climber, prefer siege tactic. Probably, we'll process a lowest part of the route in this style, and the rest - in rapid alpine style.
VB: Alpine style suggests minimal weight, no fixed ropes and high speed. That is how the leading athletes are climbing. Our equipment was designed by BASK especially for alpine climbing. For this expedition I got a personal outfit from BASK and a storm suit (in my favorite colors). BASK has also designed a special very light portaledge tent for us and an enlighten backpacks for a final summit bid (obviously, we'll take only the essentials - sleeping-bag, rope, tent, stove, snack and a minimum of personal effects).
LM: What are the terms of the expedition?
VB: We fly away on the 8th of March while we have a permit till the end of May. Though I hope to complete the ascent earlier. As usual, much depends on the `presents' prepared for us by weather. Final push to a summit may take, depending on weather, from four to twelve days.
I've consulted with experienced high altitude climbers and studied logs of our Soviet expeditions to Everest and Kangchenjunga. These expeditions started rather early - in first weeks of March. I think that if I start the expedition two or three weeks earlier `traditional' dates I'll increase my chances to find the route in a good condition. Winter hurricanes cleared extra snow from the ridge while next snowfalls are expected only April. What will they be like is unknown to anyone, except only meteorologists. I hope to get regular updated forecasts via a satellite BASK phone just as I did last time. The same way I'll be sending reports about our expedition progress.
South-East edge of Nuptse East is still a problem of modern climbing, but nevertheless it's the clearest, most logical, and the only safe way to the summit. In spite of its extreme difficultness I'm absolutely certain that it may be climbed by a small team. I hope it will be our duo.

Valery Babanov (VB)
Vladimir Suviga (VS)
Larisa Martynkina (LM), BASK.
Previuos attempt on Nuptse East
---