Slovenian alpinist Marko Prezelj has returned from a five week trip to Patagonia where, dodging typical unstable weather, he made two fast ascents, one on Cerro Torre and one on Torre Standhardt.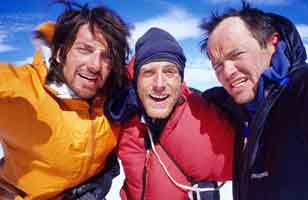 On Cerro Torre Prezelj climbed with the Americans Stephen Koch and Dean Potter and on 20-21 January, after a first attempt faltered due to bad weather, they ascended "The long run", a series of new and existing lines which links the El Mocho outcrop to Cerro Torre proper. Their pre-dawn start up their "El Mochito" saw them reach Col of Patience at 13.00 and, after a brief rest, they continued in perfect conditions to within two pitches of the ice towers. They bivied under the ice bridge between the towers and the headwall and at dawn climbed through this, reaching the summit at circa 13.00. Potter had intended to BASE Jump the Torre but wisely decided it was not steep enough (surprisingly!) so the trio spent 10 hours rappelling using a single 70m rope down their line of ascent.
After a well-earned rest in El Chalten Prezelj and Koch camped high at "Norwegos", their sights set on nearby Cerro Standhardt. On 31 January the started up a new line along the East Face immediately to the right of "Tomahawk" which then crossed this after 50m to follow a crack system to the prominent deep chimney. Conditions were slightly too warm for comfort resulting in poor conditions in the chimney, and the duo waited until 3.00am for safe cold temperatures to join up with "Exocet" in its upper half. From here they continued to the summit and topped out at circa 15.00 on 1 February, with Prezelj needing almost an hour to climb the 30m mushroom. The descent proved to be a true race against time to reach the bus at El Chalten, but that's another story-
Prezelj is without a doubt one of Slovenia's foremost mountaineers. Born in 1965 he regards himself as an "old school" alpinist, yet his list of daring ascents is anything but dated. Highlights include, amongst others, the impressive third ascent of North Twin together with Steve House up a new line in 2004 and the five-day alpine style ascent of Kangchenjunga South (8476m) together with Andrej Stremfelj, for which they received the Piolet d'Or in 1991. Other ascents Prezelj believes are noteworthy are the second ascent of Spantik "Golden Pillar" (2000) with the international team and the 51 hour round trip on Denali (2001) when, together with Stephen Koch, he climbed their new route "Light Traveler" and freed "Moonflower Buttress" on Mt. Hunter (Alaska).

THE ASCENTS:
Cerro Torre (3102 m) SE Ridge - 20 - 21/01/06
Marko Prezelj, Stephen Koch, Dean Potter
"The long run" - approx. 250m of new line on "El Mochito" (max. 6a) + 500m route "Benitieres" (D. Anker & M. Piola 4. January 1989, 500m, ED-, 6c / A1) + 500m new line to the "Col of Patience" (one ropelength M7, the rest snow and ice up to 45 degrees) + "Compressor" route up to the summit of Cerro Torre: combination of lines (approx. 2100m max 6c / A1 / M7, 31 hours for ascent and 10 hours for descent - 41 hours round trip from "Norwegos").
Cerro Standhardt (2730m) E Face - 31/01 - 01/02/06
Marko Prezelj, Stephen Koch
"Extreme Emotions" (new line, 550m, up to 6c / A1 / M6+) + upper part of "Exocet" (27. - 29. January 1988 J. Bridwell, G. Smith & J. Smith, ED+ / 5.9 and 6 in ice) to the top of the summit mushroom (500 meters).
Source: www.mark.amebis.si (Marco Prezelj site, expedition's photogallery)