"Gold of Russian Climbing" Festival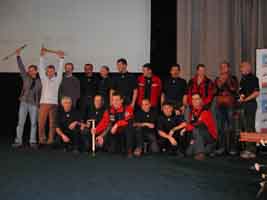 The Festival was held during the last week-end of November in the Moscow Cinematographic Hall. It joined together the prominent climbers, the outstanding sports figures, the leaders of the world climbing community, the Outdoor professionals and the mountaineering admirers.
The most prestige climbing award was founded by the climbing elite club GHM and the leading French climbing magazine Montagnes Magazine in 1991. Everu year the strongest sportsmen who have made the most outstanding ascensions get this award in Grenoble. During last 14 years the Russian climbers have got Piolet d'Or four times. In 2001 Valery Babanov realized the solo-ascension at Meru-the-Central Peak; and after two years together with Yury Koshelenko climbed at Nuptse-the-East. The strongest teams leading by Sergey Efimov and Alexander Odintsov became the first climbers at the inaccessible Himalayan giants Makalu (1997) and Jannu (2004). Two years running the climbing Oscar stays in the hands of the Russian climbers!
All of these expeditions were equipped with BASK garments, and BASK Company organized this Festival to celebrate our sportsmen.
The Festival was held under the aegis of Russian Climbing Federation, the International Climbing Association (UIAA) and Department of theory and methods of applied and extreme sports of RSUPC.
Many honorary guests visited the Festival including Pierre Humblet, UIAA President i.a., Alexander Piratinsky, the vice0president of Climbing council of UIAA, Andrey Volkov, the president of European Climbing Federation, Philippe Descamps, the chief editor of Montagnes Magazine, the Nepal ambassador and many others.
Festival organizer: company BASK - a leading Russian producer of outdoor and sport clothing and equipment.
Festival sponsor: Industrial alliance "Novoye sodruzhestvo"
Festival information support: "Sport-Express", "Vol`ny veter" and "Extreme" newspapers, "Ex", "Risk On-line", "Touristichesky Olimp", "Factor riska" and "Mir Puteshestviy" magazines.
Photos by Russianclimb:
| | | | |
| --- | --- | --- | --- |
| Vladimir Bogdanov - the organizer of the Festival | Philippe Descamps (the Editor of Montagnes Magazine | Anjes Djucro č Pierre Humblet, UIAA President i.a. | Ural team (Makalu West Face 1997 climb. Piolet D'Or ) |
| Serguey Samoilov - 2005 Broad peak South-West Face with Denis Urubko. | Yuri Koshelenko. Piolet D'Or 2003 - Nuptse East, South-East ridge. | Dmitry Pavlenko, two Piolets - 1997 and 2004 (Jannu North Face) | Yuri Ermachek (Makalu West Face, Piolet D'Or 1997) He's a member of Lhotse Middle and Everest North Face expeditions. |
| Anjes Djucro and Valery Babanov (two Piolets) | Boris Korshunov and Denis Urubko | Dmitry Moskaljov - he finished "7 summits" program | Boris Korshunov and Valery Babanov |
| Denis Urubko with his wife Victoria | Victor Kozlov and Denis Urubko | Pavel Shabaline, Edward Myslovsky (first Russian Everest climb) and Serguey Timofeev) | Denis Urubko (first climb of Broad peak South-West Face - togather with Samoilov) |