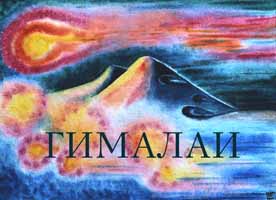 Himalaya
Everest North Face expedition, 2004. Watercolors by Serguey Shakuro.
Serguey Shakuro lives in Novokuznetsk city, Siberia. He's the filmmaker and high-altitude cameraman. He's an author of the films:

Kuznetsky Alatau (1995)
Altay, Mt. Belukha (1996)
Makalu, Himalaya (1996)
Lhotse Main (1997)
Sky teeth (1998
Lhotse Middle (2001)
Island Peak (2002)
Aconcagua (2004)

His previous expeditions:

Makalu 1996
Lhotse Main 1997
Lhotse Middle 2001
Island Peak 2001
Aconcagua 2004
In Russian expedition to Everest North Face in Spring 2004 Serguey worked as a cameraman . He drew watercolors during the breaks in the base camp. Now you can see these wonderful drawings.
All pictures Copyright © 2005 Serguey Shakuro.
Serguey: my Nepal kids...