THE PROJECT "SNOW LEOPARD " IN WINTER.
A winter ascension to Lenin peak
January - February 2004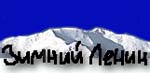 It is exactly three years ago from the moment when climbers of the Training Center of Rescuers and Mountain Guides and Central Sport Club of Army of Kazakhstan Republic decided to renew the old tradition - "the Snow Leopard". They decided to climb in the winter all 7000-ers of the former USSR , i.e. to realize the program " the Snow leopard " - in the winter.
According this program the traverse two tops Karlytau (5450 m) - the Marble Wall (6400 m) has been climbed in the winter of 2000-2001 for the first time. This ascension has been marked by the third place in the Open mountaineering Championship of CIS , in high-altitude class. Further in winter of 2001-2002 the traverse of Khan Tengri (7010 m) was accomplished without helicopter support. Then the attempt of peak Pobeda (7439 m) has been undertaken in the winter 2002 - 2003, but it was failed because of plentiful snowfalls and avalanche danger conditions at the route - the team has been compelled to stop an ascension.
According to the planned program, in the winter 2003 - 2004 it is planned to make an ascension on peak Lenin (7134 m). A planned route of an ascention of "Arkin" or via Razdelnaja (in dependence on a condition of a snow cover), in alpine stile.
28 January, 2004 On January, 27 at 20:10 Denis Urubko called:
"On January 27 the group ascended Puteshestvennikov (Travellers) pass where they stopped on spending the night. Because of avalanche danger of the slopes they refused to descend via the planned traverse. On January 28 they are descending in a direction of falling of water on a glacier.
N.Chervonenko and G. Tortladze stayed below in connection with suspicion on cold and will catch up with group on January 28 on the paved track. "
26 January, 2004 25 January the team brought equipment from the meteorological station to the "onion field", the temperature was -25C, wind on the valley, deep snow. Today the rest day. The state of group is good.
Start of the Expedition - 21 January 2004
January, 19, 2004 Today in Almaty was the press conference of members of expedition to Lenin. Yesterday they finished their climb to peak Ordzhonikidze - for acclimatization.

Denis Urubko: Notes about temperature inversion.
Winter remains the winter everywhere. How many time I stumbled about this simple and beautiful concept. However, I'm surprising till now, and understand so simple thing too late.
Here, for example, in Norilsk the winter always forces to think about down jacket, a fur coat, valenoks and to that to similar attributes. My friend few times sent me photos from thas city, and seen in pictures fully complied with my representations about Far North. On Sakhalin Island I remember Mirages of three-meter snowdrifts on roadsides of streets. And the nature will not allow to make an frost indulgence in any way . Dank Sakhalin dawn force me to shudder till now at memoirs on minutes, that I go from a house up to school.

The another matter when you live in a resort southern climate, and the snow-covered caps of tops are high above the city. And it takes you not more than two-three hours to the way to a high-mountainous zone. So sharp discrepancy of climatic zones can cause the full frustration of your feelings. At times it comes to a tragic end - tourists who go for a walk in the summer nearby to Almaty, sometimes die in a snow buran .

Hoping upon favorable weather conditions our team was going forward on an ascension on peak Ordzhonikidze. In the city there was about a zero degrees (C). THere was the grey haze hung above streets, and a fine snowball strewed periodically.
Before forthcoming Pamir expedition members had to revive old customs, and to acclimatize spending night at altitude - as high as possible. Peak Ordzhonikidze is the highest top near Almaty - 4410 meters.The head of our expedition - Nikolay Chervonenko. Some powerful snowfalls have passed in mountains. Avalanche conditions were dangerous. Something like that the nature has made a pair of steps, and now waited for our counterreasons.

There was seventeen of us. In camp under Ordzhonikidze pass which we have made after the way in the darkness in knee-deep snow, the thermometer has shown already a minus eleven. But I have not paid attention to it though I should. But Almaty weather still was there in memory, therefore I continued to perceive winter originally. Under the plan, only eight person had to climb there for spending night at the top. Other climbers returned downwards in the same evening.

Next day yesterday's long and tiresome way to the pass has seemed as kid's babble. In couloir where we climbed to the col, there were hard snow, and old avalanche cone evidently showed a line of our assumed way. Making a trench along rocks, we moved ahead so slowly, that I already started to imagine sad home returning.

The snow sky dropped fine, but densely strewed groats on us. On the way by ridge I climbed with one idea. It was like a corkscrew turned in a head, tiresomely distorting logic: " 3A, or 3B?" *. " 3A, or 3B? ". I thought I would remember, that route grade was low enough. However it was desirable in these winter conditions to amuse myself an idea, that not only me is uncomfortable here.
* 3A and 3B - routes in Russian Grade

Only at 16.45 the first group of climbers has reached the top. The drifting snow swept, and then was dumped by waves on Northern wall of mountain - somewhere in a chasm. Mountains around sank in a grey haze of twilight clouds. This grey cape lasted from nonexistence somewhere to the space, without a concrete direction. I muffled up in new jacket from BASK more densely, and was pleased that company helped me before the winter expedition.
Guys who did not need to spend the night at top, have gone downwards at once . The blessing, the fixed lines remained on key parts of the route. And there was enough time before dark to go down on pass.
Six members of the team who were preparing for Lenin peak climb have already cleared places for tents in darkness. Did we really took pleasure from that process? It was strange and funny. However I began to laugh only in the morning when saw 25 degrees below a zero on the thermometer. Here's an inversion. It was recollected, how in winter K2 expedition it became warmer at altitude. There the western wind brought sad heat from the Pakistan plains. And here we felt something as Antarctica, or Stratosphere or the moon of the Jove around us. It would be desirable not to think what is necessary above, and whether will famous BASK equipment sustain the competition with a permafrost.
And it's necessary to think. In view of forthcoming attempt of Lenin climb I amuse myself that has somehow managed to accustom my thermophilic organism to mountain frosts during last month. Here also is the information on the Internet sites - one another more terribly and more awfully. Fingers on hands and legs freeze in advance. But we have acclimatized normally.
18.01.2004 Denis Urubko
The central Sports Club of Army of Kazakhstan,
SALICE, La'sportiva, BASK, Russianclimb.com
Nickolay Chervonenko is the head of expedition. He's the chief of the Center of Mountain Training of CSKA. Members:
1. Krynin Alexander
2. Samoilov Arseny
3. Mynzhasarov Danijar
4. Mynzhasarov Kajsar
5. Viltsen Nikolay
6. Raisov Kajrat
7. Urubko Denis
8.Tortladze Gija (Georgia)
9. Gubayev Alexander (Kyrgyzstan)
All climbers have experience of winter climbs. N.Chervonenko, S.Samojlov, A.Krynin, K.Barbashinov have summited Khan Tengri in the winter two years ago, and before have passed travers Karlytau (5300) - the Marble Wall (6400) too in winter conditions.
The team will go to Alajskuju valley to the bottom of Lenin peak through the cities of Bishkek and Osh by cars of Rescue Service. Then they will set the Base camp in Achik-Tashe. The finall decision about the route will be accepted in Camp 1 (4200). Two most comprehensible variants - a way through "skovoroda" and Razdelnaja top, as the most simple for the team, or through Lipkin's rocks and further on Metla, as the shortest and guaranteeing fast descent in case of unforeseen circumstances.
ORGANIZERS OF EXPEDITION:
Sports Committee of the Ministry of Defence of Kazakhstan Republic
( The head - General Pavel NOVIKOV)
Rescue Service of of Almaty 051
( director - Rinat KHAJBULLIN )
The Training center of Rescuers and Mountain Guides

SPONSORS OF EXPEDITION:
Tourist agency " Asia Tourism ";
Mountaineering Camp " Tujuk Su ".
The international Mountaineering camp " Akkol - Khan Tengri ".
Chronology of winter climbs to Lenin peak
Lenin peak, North Face. ( Jacob Arkin's ("Metla") route, 1960, 5A - 31.01.88. - V.Hrishchaty, S.Arsentev, V.Balyberdin, V.Dedy, J.Moiseev, I.Tulaev. (5A) the temperature during an ascention reached -50 degrees C. The head of the expedition - Leonid Troshchinenko (Leningrad). Camps on 5500, 6000 and 6500 - snow caves.
The same route - 3.02.90 - A.Koren, S.Jastrebov (Leningrad)
The same route - 4.02.90 - L.Troshchinenko, A.Gumenjuk, A.Glushkovsky, A.Dorofeev, V.Ivanov, A.Mozhaev, A.Tsekoev (Leningrad), P.Totov, A.Matkalikov (Bulgaria).
The same route - 02.90. I.Razuvaev, A.Brattsev (Moscow), used fixed ropes of previous group from Leningrad till 6100.
These data from Gennady Starikov, chairman of the classification commission of Federation of Mountaneering of Russia, and from Valery Hrishchaty's book.
The fifth winter climb to Lenin peak 27.02.93 have made by Shtarkov I. and Michael Afanasev by the same route. Practically without using of ropes, in alpine style, the approach on skis. Shtarkov was gone during the descent. Afanasev has shown miracles of struggle for a life - he spent night without tent, etc. on 6100 (tent whether has blown off, whether he could not find it). Then next 5 days he waited Shtarkov below. He returned to people with hard frostbites, and in Moscow he had lost some a heap of fingers. In the same summer he went again went on Lenin with expedition of the Moscow State University for searches SHtarkov (have not found), and has seized a pneumonia.
Back on page of the current news