Gleb Sokolov: Hard-earned Pobeda.
(Peak Pobeda new route, via the northern buttress †through the "Camel" gendarme. Gleb Sokolov and Vitaly Gorelik)
Interview to project's sponsor BASK company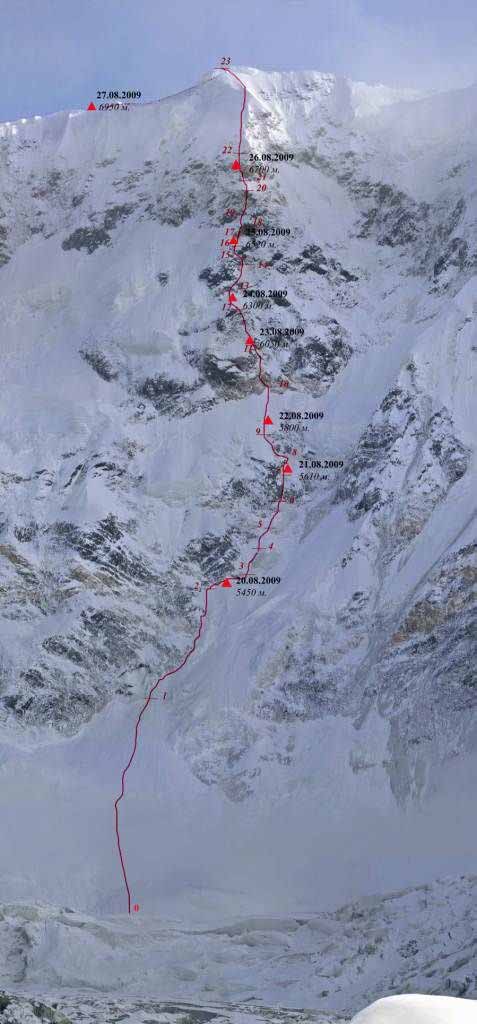 One September day Gleb Sokolov briefly looked into BASK office. He told the impressive details of the Pobeda peak historic ascent, recently managed by him together with Vitaly Gorelik. Vladimir Bogdanov talked with Gleb.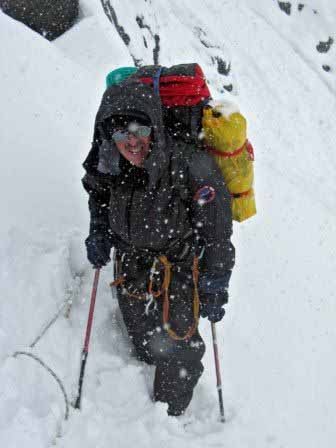 Vladimir: Gleb, welcome! Congratulations to you and Vitaly! Are you leaving?
Gleb: Thank you for your congratulations! Yes, literally the day after launch on Tibet.
-But you've not recovered yet! The climb was hard, wasn't it?
- Hard?? It was simply "sunset"! We injured our legs so, that I can't go till now. The same to all the fingers. We did our best to stay alive.
Gleb (on the photo on right)
- Tell me how did you organized all this year?
- Both previous attempts (in 2006 and 2008) we arrived to Pobeda region in early July, when Aksay base camp opens, acclimatized, and then faced with the fact of very bad weather. It was deteriorating steadily in mid-August, but the problem was we had already scheduled a retreat at the beginning of the twentieth numbers. That is why this time we have moved the dates of the expedition. But Pobeda once again demonstrated that it is full of unpredictability. This time everything was the opposite: in July all was fine - quite warm, sunny weather, no snow, crust on the upper part. Everybody climbed, as they wanted. But we had just arrived when mountaineers climbed Pobeda† by† all sorts of styles -† alone, in duo, etc. One duo climbed †Zhuravljov's route,† †Kosyakov (from Kaluga) did solo on Abalakov's route...
We climbed Khan-Tengri, have acclimatized, and - that's all, the finish,†the weather worsened. In the mid of August... on the contrary to previous years. Hard snowfalls...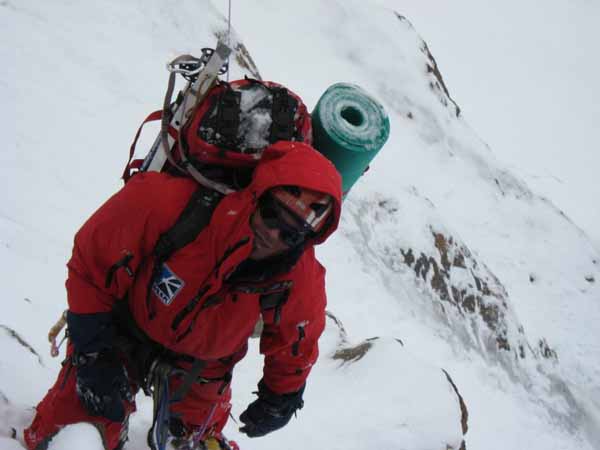 Vitaly
-Get cold?
- Yes, it became noticeably cooler, and all that snow remained, did not melted. August, 18 we reached C1 by helicopter, where all the normal routes start, †but Aug, 19, when we reached next step, the weather turned bad. We waited a day. And started further Aug, 20. The weather was fine in the morning, all cool completely. But then...
- Was still somebody in the camp, when did you start up with Vitaly?
- Yes. Other groups marched on the normal route. But we were a little aloof.
-Thus, nobody could watch you from C1?
- Guys from BC could see us in a large binocular.
-Did you have communication with them?
- Yes. But out walkie-talkie accumulator died on the third day. After that, they could only watch us. We started well, although the snow was very deep, we had to trail, bergschrundes were difficult and unpleasant. And after the lunch the weather got worse. And it became very uncomfortable:† dark clouds at first, then the snow started, and after another half an hour avalanches had already started to go. We looked as on the route which we have climbed fast in the morning, there was landslide on one hand, avalanche on the other hand, and the whole our route demolished. So, we understood that we couldn't descend back. The Mount has warned us...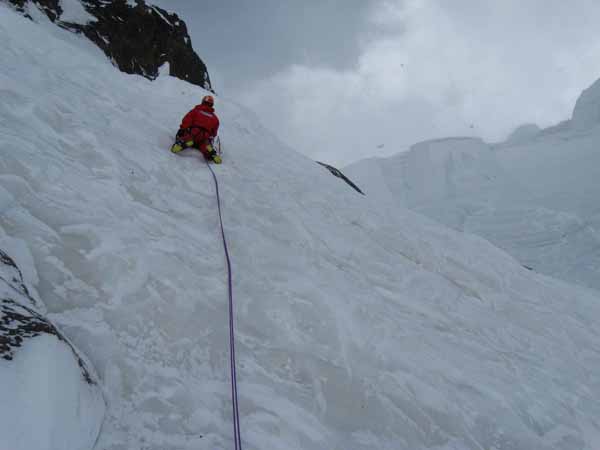 The ice...
And we were up. Steeper and steeper, reached the rocks - and the weather has finally deteriorated. Half an hour of snowfall, and then began such...madnes...
-Avalanches?
-Directly through us! With a roar, with a roar. We tried to save ourselves under the rocks, but avalanched hit us! We were in snow up to our necks. The †real "sunset". We tried to move in one direction, to another, tried a lot of maneuvers, but could do nothing - avalanches knocked everywhere around us. In the end, we have found a safety place, began to cut the ice to set the tent, it was very steep, tiny place. So we set a half of a tent, size for one person only. The icy rock above us. Darkness, no visibility. We finished to set the tent in head-lamps light, attracted it to the rock, put the mat on the top of tent. We're† afraid of avalanches tails - they were so real, not just psh-sh-sh-sh, but such one that could sweep the tent. We covered up by mat, pinned it by snow sticks, so avalanches†flew through us. We sat all night, shaked from fear and cold. Avalanche on the one hand, then the other, and we in the mid of a real horror.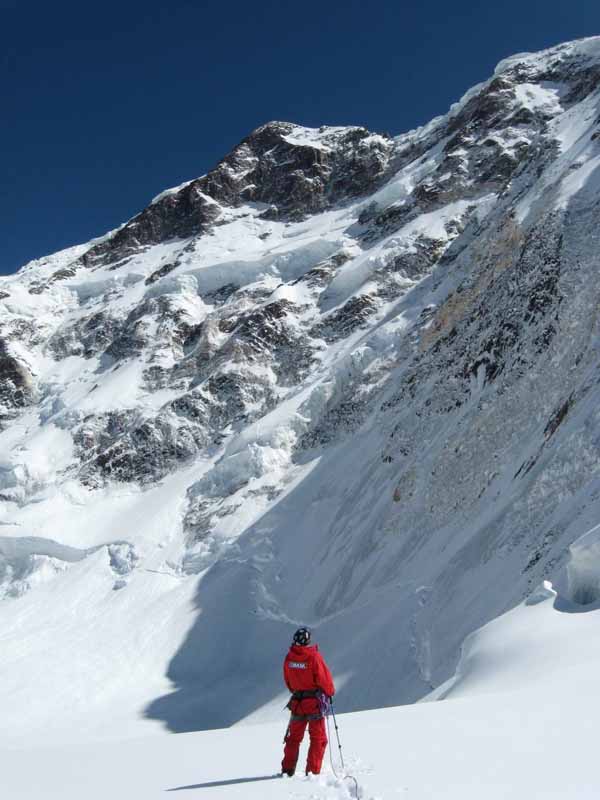 We lay together towards each other, on the backpacks. Great thanks to the tent! †I think, this experimental tent can be put into the series. We observed on the route: sun rises, and the frost accumulated on the inner surface of the tent, going out, nothing was dripping inside. Tent's form is ideal, for two persons, though it seems for only one.
In general, the first night was the most difficult - without the weather, uncomfortable place. We survived that night with difficulty and by morning there became little quiet. We waited the sun to dry a little, so started too late. Reached the ice falls - and there's surprise again! We found the ice on the route, where we hoped to find snow and firn.
It was not simply ice!
A very real winter ice. I was greedy, I used my crampons on Khan Tengry during acclimatization, and then decided that can use then one more time... But there, on Pobeda, they were not stuck at all! Actually, it's why the joints of the my fingers are broken - because of this ice. Ice axes are not stuck, fify gouged out pieces in all, it was very-very hard there... Vitaly leaded, than cried "Well, are you ready? Do you need the belay?" How to choose? He climbs first, he works all the time, and of course, must have rest to recover. So I climbed on fixed ropes... And the traverses were even more difficult. We hoped to reach the yellow cliffs in the day but climbed for three days. Three days!
-What belay did you use for such ice?
- The leader twisted ice screws. Ice screws, ice screws, ice screws. And this was on a rocky route! Grivel ice screws, they are so chic in ice - and there are no turns at†all! Did not get into that ice!
The second night the weather turned bad again. Not a lot of avalanche across the wall, but some of them hit us from the couloirs, and we were bombarded again. The same tiny place for the tent, the same inconvenient one. Night...
Only the third day we reached rocks (we planned to do it in the first day). The rocks... When we we looked on them underneath, nothing terrible has been seen. But here we saw vertical, icy vertical. Maybe, it was unusually warm on Pobeda days before in this season, last seasons... But all rocks were frozen. There was centimeter or two icy crust on the rocks. First were the destroyed yellow rocks. We could not score anything, only friends and hinges on the ledge. If tried to slaughter anchor bolts, they moved like in oil, until stopped.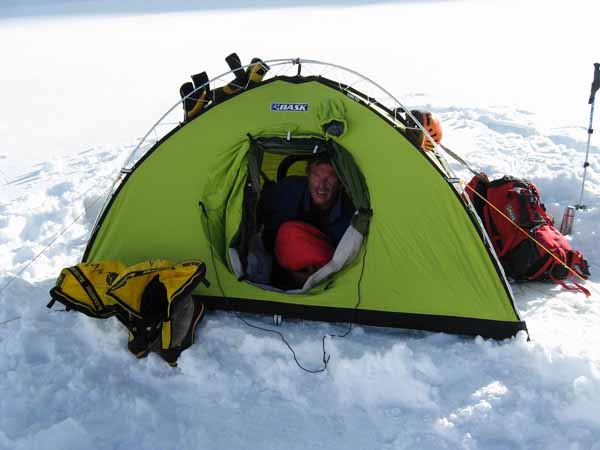 -You climbed new route. How did you call it?
- Via the northern buttress †through the "Camel" gendarme.
- Did anybody try to climb this Face before you?
- Nobody climbed this part of the wall. There is absolutely vertical, surprisingly.
-What's an altitude difference?
- More than two kilometers on the wall, about 2300 m, and 2500 m from the beginning of the route.
-So, that's a big wall turned out, with plenty of nights
- Yes, a big wall. And only two of the seven nights that we have on the wall, were normal. The remaining five were terrible inconvenient. Next problem was the wind. It was so strong, that we have already exhausted from cold fatigue.
-How low were the temperatures?
-It's about minus 20C, plus the wind. Blew all our souls!
-Was it sunny?
- The sun was only two days, but sunny weather was colder, well, and the wind did not stop. We had to pull warm pants over the down suit. And if we would choose†down jackets instead of combinezons, we would have died there, of course. Tent, combinezon and gloves saved us.
-Did you reached the top in bad weather too?
- Yes, too, crawled up in bad weather, through the gendarme, at night. No visibility, no place to stop. High altitude, steepness, snow, further the ice, we've found some kind of mold, stretched out the tent on the ice screws and ice axes, the wind was strong, it could carry out all. On the morning it was the storm again, nothing was visible.
And we decided not to climb to the Pobeda Main, and climbed to Vazha (Pobeda-West). It doesn't matter. If we have decided to climb Pobeda Main - we would not come back. Two hours we waited the visibility window. Topped Vazha with difficulties, then caught the night on the descent. We returned to BC next day, late evening, Aug, 29.
We're exhausted absolutely. I lied in the sleeping bag in all down clothes and could not get warm. A few days could not get warm.
-What about food and gas?
- Everything was OK with food, and gas, we had enough reserves. But the cold was so strong, plus nervous tension, the constant thought that if you will slip here - you'll die, and your mate will die to... No chance.
-What was the full duration?
- Seven nights on the wall, and two days of descent. August 20-29.
Your gear saved you, but the gear itself....Nothing left from combinezons! †So granite rocks, hardly frozen, if pressed, immediately caught the hole. Well, the main problem turned out to be captured toes.
- Explain me more in detail, as it still happened.
- Well, we do have long praised La Sportiva boots. Boots are really smart, but they are too soft for that ice. They are not damp the hit. It turns out you just hit the ice with your fingers. We have found that on the third-fourth day our fingernails were already out of fingers, we were clinging to life, when hit the firn by hands to break through the crust. All the nails were out, the blood from under the nails. We sat in a tent, had to switch on sigarette lighter, to burn the gas - but we could not, our fingers do not work. And in wet conditions the lighter worked poorly. As I said "Vitaly, what shall we do?" And he answered: "We need to go to sleep, that's all". In general, it was very hard...
When we reached the crest, we sat in a tent, and I asked Vitaly: "What shall we do further? If we'll climb Pobeda main, we'll die". He answers we're going down. So without controversy, we were waiting the weather. We went down, reached the glacier, embraced -† and survived!
-How many times you have "fluttering"?
- I can't count, but regularly. On such ice, if you haven't set crampon well - and already you are hanging. We did pendulums when Vitaly climbed rocks. He sad "I can't climb here, let's do the pendulum to those ledge. But the wind was so strong - the pendulum †rrraz ... in wnd's gusts : I stood on the belay hour or two, then he cried: climbed, ready, come on! And there is a very steep hanging snow under a Camel. I climbed and thought: if we'll reach the top or no, and if there is a place for the tent? We ascended with headlamps in the darkness.
- Gleb, but how old are you?
- Fifty-six already. Sept, 5 was my birthday
-Congratulations! And Gorelik?
- He's forty-two.
- It's very serious climb for fifty-six... Are you dedicated four years to this project?
-Yes, it turns out. Four years, from 2006, and three attempts to climb.
-How far was to the Pobeda Main?
- In good weather you need one and a half hours, even faster: you can do round-trip in couple of hours, from our highest camp. But we did not venture - zero visibility and a wind which knocks down.
-How're you, have you recovered?
- Everything is normal, Fingers have recovered.
-How much weight did you lost? A week has passed, and you're still skinny.
- I think we have lost about 12 kg. I have not weighed, but Vitaly, already overfed, was 7 kg lighter than he was before the ascent.
-How Gorelik felt on the mountain?
- He said that this was the first such serious climb for him. And for me it was already 51-th ascent to seventhousander. I asked him: what do you want to present to Pobeda to let go? I gave a helmet, I threw it from the ridge, in fact, it was still stings. And he answers that he lost †a lot of gear...† - No, I say, it's lost, but you have to present something. And Vitaly threw something away too.
-How did you practice before this climb?
- Vitaly was in Austria, where he climbed mountains. Physically he was perfectly ready. He's generally very healthy. When I was forty-two, I was too like as a bunny jumping.
-How do you feel fifty-six?
- You know, I have big problem with my leg after K2 West Face. Trauma was earlier - in 2005. If it does not, then I would say that I'm† absolutely OK.
- Well, then, once again congratulations!
-Thanks!
Interviewed by Vladimir Bogdanov
Source: http://www.bask-company.ru/info/news/pobeda_.html
Translated by Elena Laletina, http://www.Russianclimb.com