38 days in the Parallel World

Girl's trio: Marina Kopteva (Leader, Ukraine), Anna Yasinskaya (Ukraine) and Galina Chibitok (Russia).
Great Trango Tower NW Wall.
Dec, 3 this team was awarded by Piolet D'Or Russia 2011. The first ever girl's team such award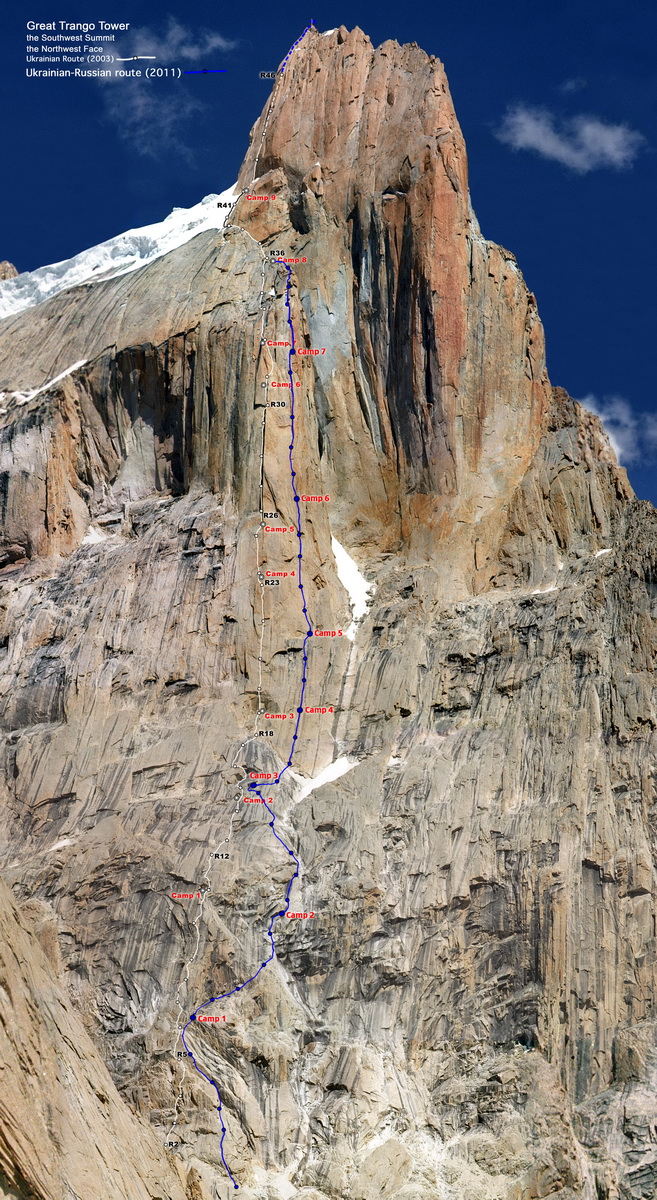 photo: Vadimir Mogila (Ukraine)
The new route "Parallel world"
(VI+, 7b, À3), or 6B Russian grade
Altitude difference 2000 m, 2580 m long
9 camps, all in the portaledge.
They started to the route July, 22. Topped out Aug, 25. Descended to BC Aug, 29 at 4am:.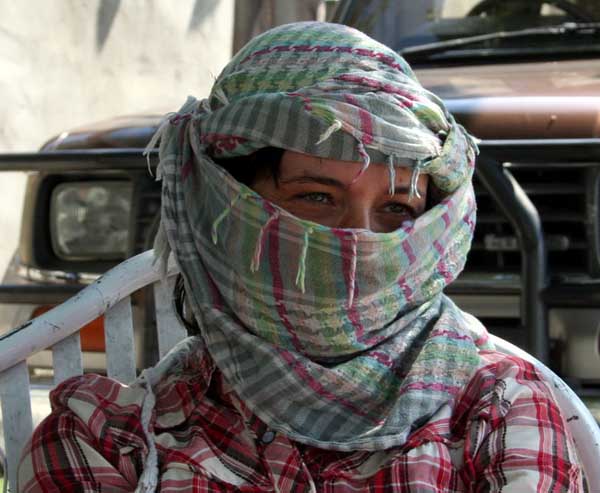 Marina Kopteva, the leader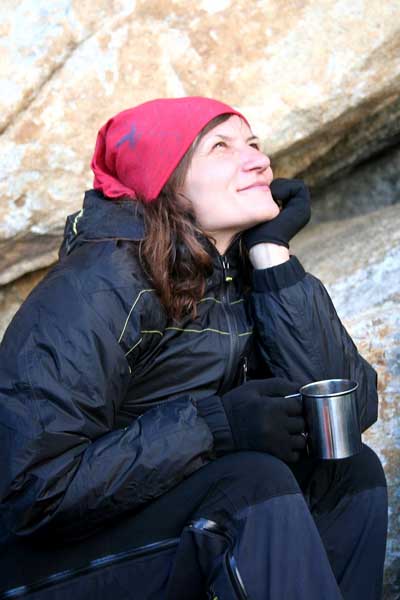 Galina Chibitok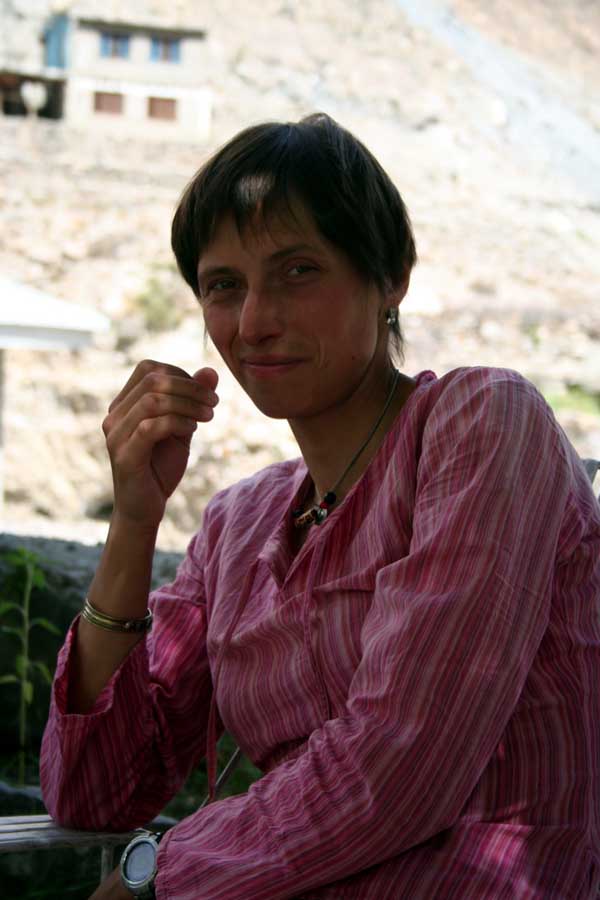 Anna Yasinskaya
Marina and Galina answered questions from Russianclimb:
RC: How did you choose the route?
Girls: First, Pakistan authorities announced the discount to permits to peaks until 6500 m... Second,we had consulted with Vladimir Mogila, who had climbed the great route on Trango, so we were going to climb it. We also thought about Ulibjaho, but refused... thought about Nameless tower, but knew that the strong Slovenian girls team had already climbed there... thought about the route on the south side, but there're no place for the nice and difficult enough climb...
So, we decided to try Great Trango, new route, just to right to the Ukrainian route
RC: Did you hope for the nice weather when started?
Girls: We climbed the first bastion in 3 weeks: Then reached the ridge between first and second bastions, it began about 5500 m. Where get the radio message from Moscow guys: "You are at the beginning of the winter! Let you descend!" Really, the weather was awful, there're very cold, 10 days long... but we stayed at the wall.
RC: How much down gear did you have on the wall?
Girls: We had one down jacket. One down vest. And one down blanket for all three of us. But it was hard in 10-days bad weather upper than 5500 m... no visibility, no sun, depressive mood...
RC: How much cognac did you have?
Girls: Pity, but we took few: and drank during first 2 weeks...
BTW, we took too few ropes, only 6. All of them had been beaten soon after the beginning the route, and we were obliged to use jumars through sites....
RC: What did you eat during the climb? 38 days...
Girls: We had enough food:) First we planned to climb in four-member team. But out mate Eugenia Kurochkina fell ill just after arriving to BC. So, we climbed in trio. But the food we had for 4 members. Pity, but when started to the route, we left one food bag in BC, and there were the sausage, SALO!, tea, sweets...: We missed of that bag: We ate all our medicines: pills, etc. Drank the liquid for rinsing teeth...
RC: Did your legs bent from exhaustion, when you descended?
Girls: No, we're rappelling:. But when did the last steps to our tent in BC, we were hardly-hardly.
RC: I know that one of your gear bag fell into the abyss during the climb?
Girls: It has appeared in the beginning of the descent.
RC: Did you have cosmetics with you on the route?
Girls: We had one cosmetics kit for all of us. - 5 kg :) - creams, masks, etc.
RC: How did you work on the route?
Girls: We climbed 4-5 pitches per day, except bad weather days, when we climbed 1-2 pitch. Two of us climbed the next pitch, one stayed in the portaledge and rested or moved it to the next bivy site. So, we changed, and one of us could "rest". After the 20th day of the climb we began to work every day like you go to the office every morning :) On the second day we broke the spike (but we had a reserve), on the third - the hammer, on he fourth - the bolt...
RC: Was your team alone on the wall?
Girls: not always. The Irkutsk duo began their route some days later our start. They climbed faster than us, so, in some days we could see their tent 15 m below our C3 and some meters to right. We talked, we're not alone, and it was a great support for us! Later, after Irkutsk guys left the wall, the another team, from Moscow, began the climb not far from us. They began, summited, descended, but we were continuing yet...
One of Moscow guys, Valentin, had such pleasant voice. When he radioed to us, we listened to him and were happy :)
Aug, 20 Moscow guys radioed us ; "Girls, the winter began! You should descend and go home!" But we stayedl...
Frankly, were a couple of moments... we're very sad, when the Moscow guys decided to descend, we felt so lonely. Too big wall, it shakes and presses the psyche yet. When the someone not far from you climbs, talks or laughs yeah jokes it feels something more comfortable and safer.
RC: What did you feel in the bad weather? It lasted so many days...
Girls: We decided that lets feel like in Christmas: snow, cold, blizzard, maybe Santa is not far from us... Like an every child likes the snow, we had there what we liked in the childhood, and it was like a gift-snow in summer...
RC: What did your families and beloveds feel when you climbed?
Marina: Because I realized that our batteries should be off during the climb, I previously agreed with one my friend, and every Friday he sent SMS to my mother: " Hi Mom. Some days more, and we'd be in BC. Don't worry" But after the third such SMS my Mom understood that all is not so nice...
RC: How did you topped out?
Girls: We reached the top in 9 pm. Made pictures and began to descend. In 3 days we descended to BC.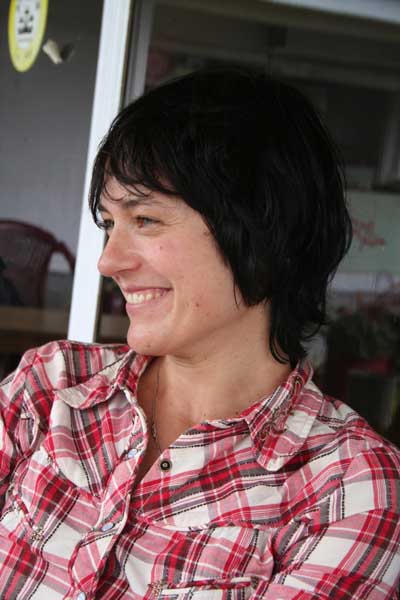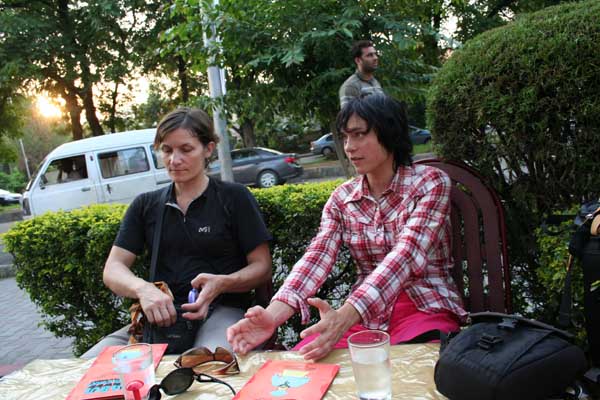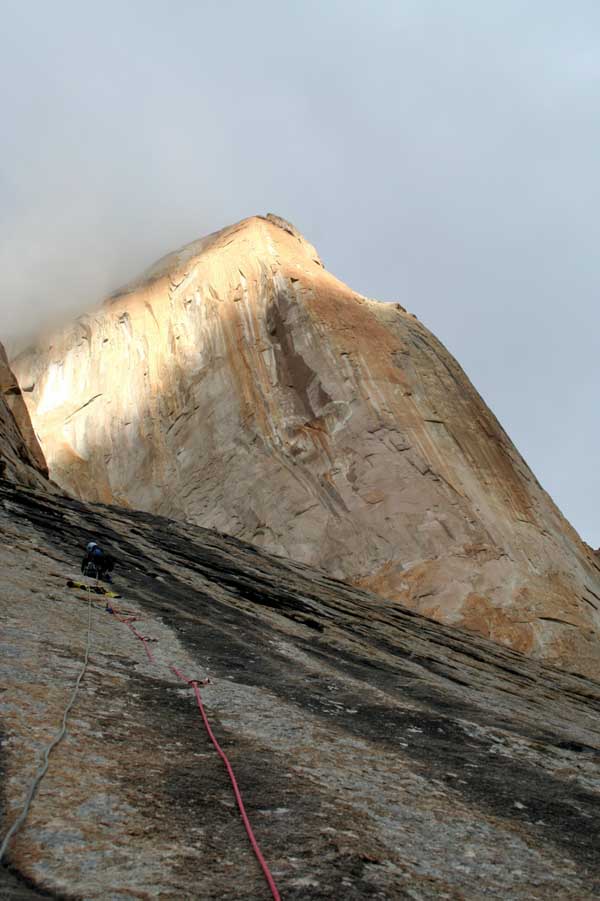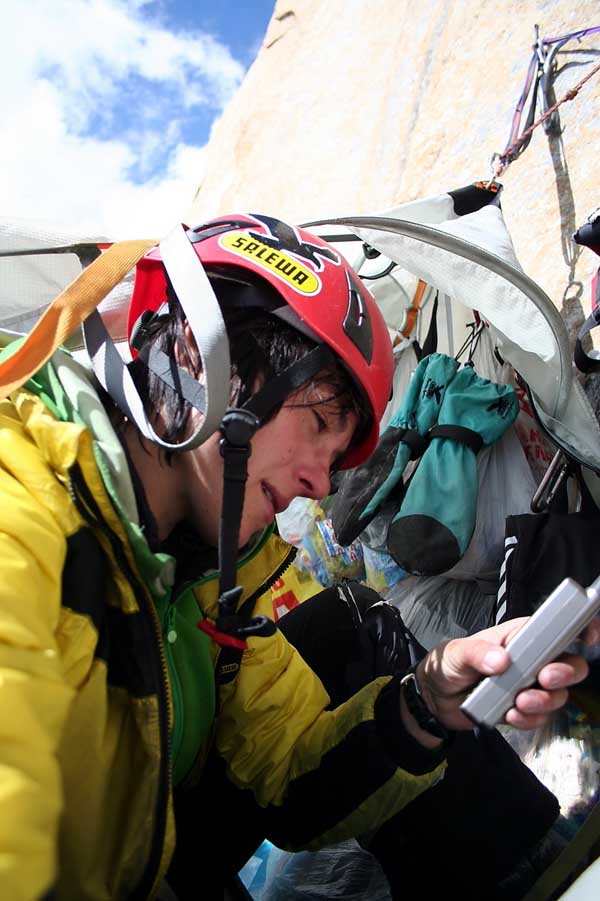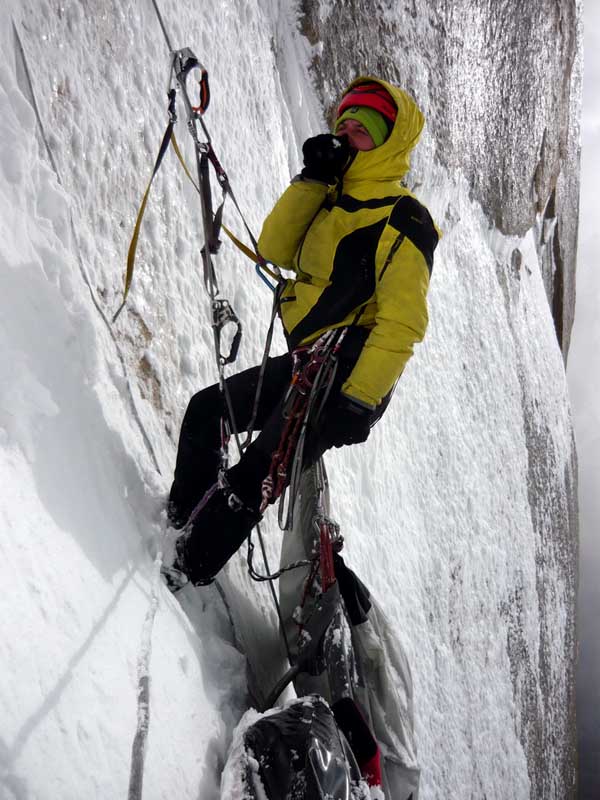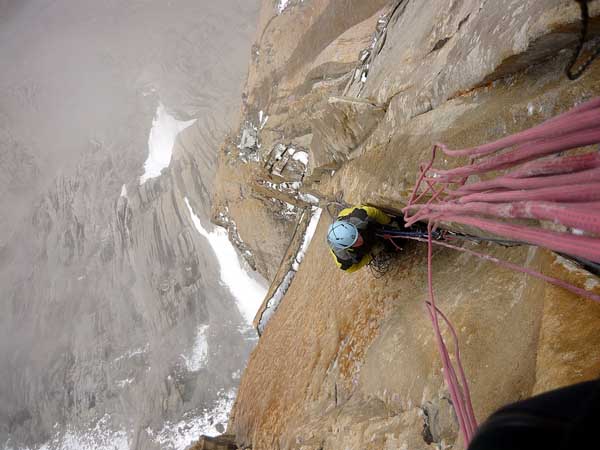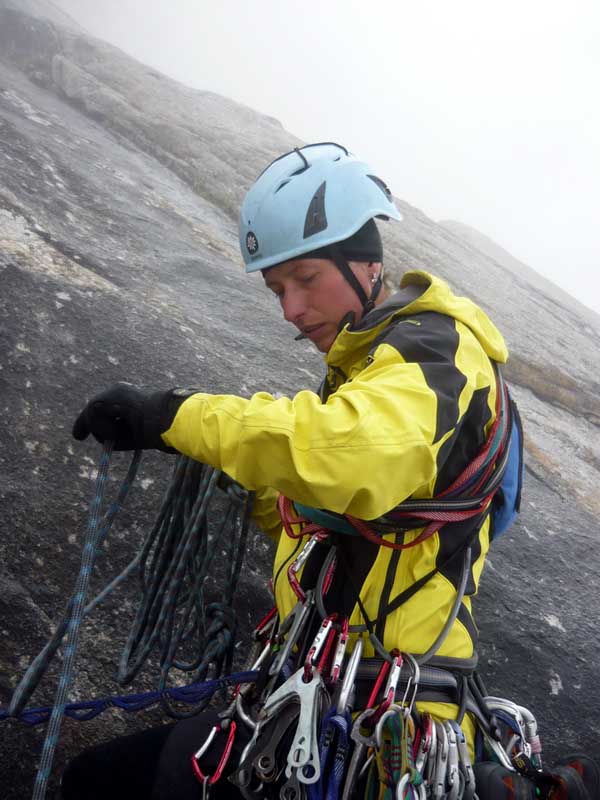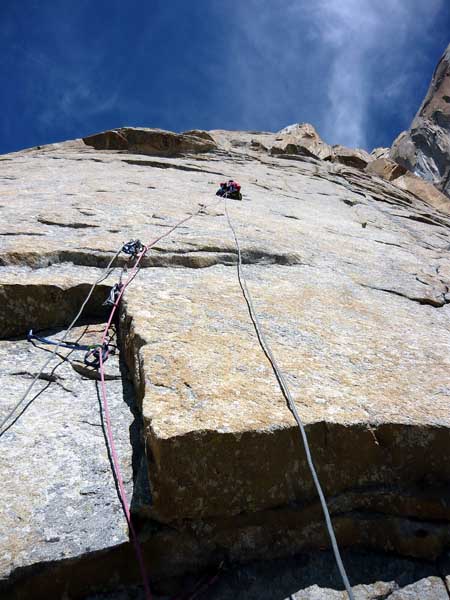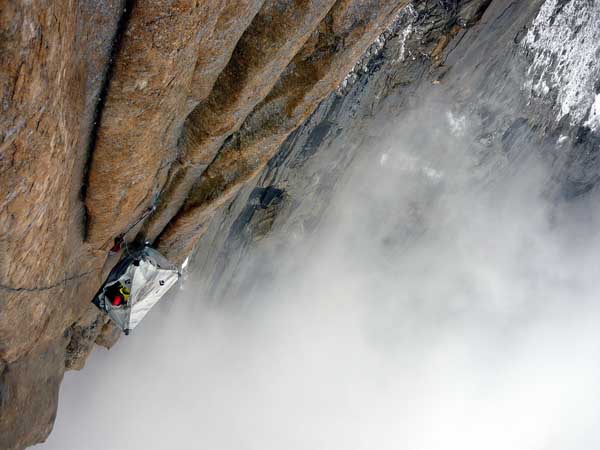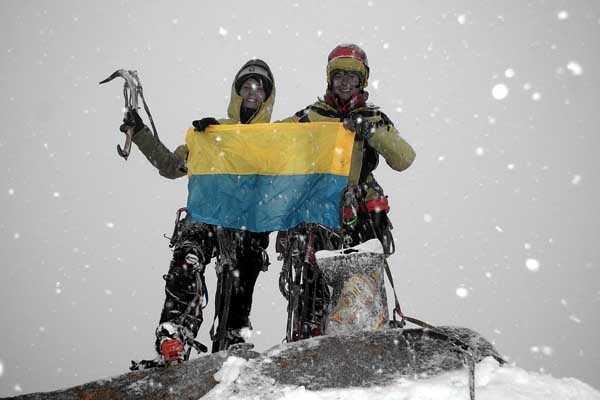 All pictures from the archives of the girl's trio (Kopteva, Chibitok, Yasinskaya)