K2, classic route
Central Sport Club of Kazakhstan Army
July- August 2005
The team of The Kazakhstan are conquering
the highest tops in the world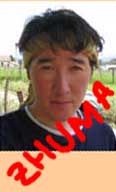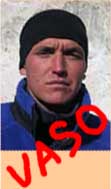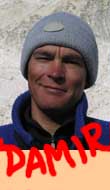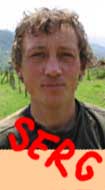 Maxut Zhumayev Vassily Pivtsov Damir Molgachev Serguey Brodsky
Expedition chronicle
2 Septembert, 2005 The team left BC. They retreated C1 and C2 (lucky, they had two pairs of spare crampons in BC) SMS from Sept,. 1: " Greetings! It's the third day of our way back to Skardu. Tomorrow will be last day of our trekking."
24 August, 2005 In юбя guys have found out, that someone has stolen all their equipment, including crampons. They decide that Maxut and Vassily will remove camps. The climb won't be.
23 August, 2005 The team has rested and began the second attempt of the summit bid. SMS from BC: "We start today to ABC, then to higher camps . The weather's stable. Greetings!"
The team's problem with Thuraya's battery - it's very hard charged because the adapter on the solar battery has broken. Therefore they had to buy the same from the Polish team, but here's the NOTE: Kazakhs's charged device doesn't approach to this battery. So guys won't be able to charge battery after it dies.
We hope two batteries will be enough for the connection during the climb and in BC after it.
18 August, 2005 Maxut Zhymayev from BC: "We started for the summit at midnight, as planned. There were four of us - not three. There was too much snow on the mountain though. All of us made turns to open a trail. Finally, we turned back at about 7 p.m., at 8500m. The next day (Tuesday) the weather was very bad, so we only managed to get to Camp 3. Our phone's battery were dead, thus we couldn't communicate with anybody. Now we're resting in BC. The Hungarian expedition has left for home, and the Polish will depart the day after tomorrow. We'll rest a few days and then we'll decide what to do... We all feel fine."

17 August, 2005 The team returned to BC on 9-30 p.m. local time. They reached the altitude about 8500 m, then descended to CAmp 3. The batteries died in their phone, so climbers couldn't
14 August, 2005 the team began to climb up from Camp 4. The sky is full of stars!
sms (11:24 p.m., local time): We're going up at midnight.
sms (5:20 p.m., local time): We're in Camp 4
13 August, 2005 sms (6:17p.m., local time): We're resting in Camp 3. The weather's normal, the wind stays below us.
SMS (5-58 a.m. local time): The sun shines somewhere ahead... We're going to Camp 3,
12 August, 2005 SMS (9-33 a.m. local time): We're in Camp 2, set the tent, cooking the dinner. It's warm, but the strong wind. Polish climbers are coming here, tomorrow we'll climb to C3 together.
SMS (2-32 a.m. local time): We're going to Camp 2. The weather's acceptable
11 August, 2005 Summit bid begins!
Climbers are now in Camp1 (reached 12-30 local time). It's more cold today than during the last push The summer is ending...
9 August, 2005 the team's recovering after the very hard acclimatization push and preparing to the summit bid. They decided not to be full oriented to the weather forecasts, but to act as planned. The weather seems to be more stable now. There are few climbers in BC: American guide with the Australian client, Hungary expedition, the rest of Polish expedition. All climb the classic route.
8 August, 2005 SMS (10:40 local time): The team descended to the Base Camp. All are fine.

6 August, 2005 SMS (10:40 local time): the team set Camp 3 at 7500 m, where the place for the tent is very comfortable and safe.

5 August, 2005 the team is climbing up to Camp 3. "We're sitting in the clouds...Wind. Snow. We're going to C3. Our way is along the rocky ridge. The way to C2 (6350) was easy. The other team reached C1 today and two Japan climbers came to C2.

4 August, 2005 the team has reached Camp 2 (Maxut's message at 2 p.m. (Moscow time)
SMS 02:36 a.m. local time. Fine weather! The sun shined yesterday and there's no winds. The night was warm. Avalanches felt down from Broad peak slopes. We are at the ridge, so out of danger. Going to climb to the Camp 2
3 August, 2005 SMS 2-27 p.m. local time. We reached Camp 1 (5850 m) Our tent is only one there. The weather's acceptable.
07:00 a.m. local time: Two and a half hours took us to reach ABC. We went through the dangerous icefall. Hope that in 5 hours work on the snow slope - and we'll come to Camp 1.

2 August, 2005 According to statistics, there were K2 climbs in August:
1982, Aug 14 and 15 - Japan climbers
1990, Aug, 20 - Americans
1991, Aug, 15 - French climbers
1995, Aug, 13 - British and American climbers
2004, Aug, 9 - ...
1 August , 2005 the team after a lot of problems with getting permit (three members were waitiing in Skardu during 12 days together with Gia Tortladze) set K2 Base Camp and going to begin the work at the route tomorrow.
17 July, 2005 Maxut Zhumayev: Yesterday Vassily Pivtsov, Serguey Brodsky and Damir Molgachev arrived to Skardu. Their leader Maxut Zhumayev stays in Islamabad - he's waiting the brifing.
14 July, 2005 Hi from Islamabad! The team today is going to Skardu, where Gia Tortladze will join them.

11 July, 2005 The team's flying to Islamabad today.
5 July, 2005 The Chief has ordered: "To K2!" and the expedition is organizing in the one week - nobody prepared to this Mount in such short period. But Kazakhstan Army is always ready, and the team - Maxut Zhumayev (leader), Damir Molgachev, Serguey Brodsky and Vassily Pivtsov with the coach Ervand Iljinsky will fly from Almaty to Islamabad July,11. K2 classic route is their goal.