Neither me nor you will ever climb such a mountain again...
June, 9 ,2004 The Russian Jannu team has arrived to Moscow. At first official meeting and then- informal talks and first accounts "how it was".
Russianclimb: Alexander, was there a moment when you have thought that the summit is unreachable?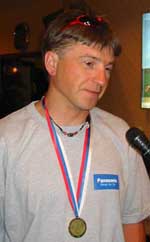 Ruchkin (on left photo): Until the very end, when we already climbed the top, I was not sure about the success. The summit is above the bend and is invisible from below. God knows how far. Already two days in advance we were told from the Base Camp that only two v three pitches left. But we had to climb higher and higher. On the last day Pavlenko and me had only two ropes and in case of longer climb we would have to descend without the summit. But anyway Borisov would have climbed it.
Russianclimb: Was there a simple terrain where one can just walk without rope? May be just below the summit?
Ruchkin: No. Steep ridge ends very close to the summit, we had to use ropes until the very end. Actually, this is not a ridge, rather a wall.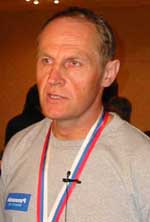 Russianclimb: Nickolay, where did stone hit you??
Nickolay Totmyanin: On the last abseil, below 5100. At first there was a rope from the avalanche cone, then one goes down along the shelf and then the first rope. As soon as I've fixed my eight and released self-belay I got a hit. I had an impression that a good boxer punches me.
Russianclimb: The helmet was brocken?
Nickolay Totmyanin (on right photo): No, but piece of it was torn away and goggles were hit. They cut my nose bridge.
Michail Bakin: It was a bad day: Pershin had to go down because of hemorrhage; 3-4 hours later stone hit Borisov and in two more hours Bolotov broke a rib during fall.
Serguey Borisov (on right photo - Borisov and Kirievsky): Two years ago, exactly on the same date, May 16, Bolotov and me climbed Everest. We hoped that now it will be again a lucky day. Lucky...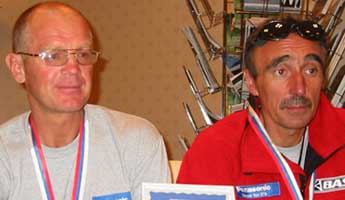 Russianclimb: And then, in the very end of the climb monsoon approached, it became warmer and other problems appeared: There were long intervals v 3-4 days in between ascending groups and fixed ropes started to thaw away.
Ruchkin: Ice screws thawed. I climb the rope, pull it out from ice and, with every meter, it is less and less stable. It appears that in places where ice had some holes some ice flow over the rope. These places served as the only fixing point. Once I ascended over some bend and was shocked: there is no anchor, both screws are almost free, the rope is fixed only because the next one is in ice, while the next anchor is also free. Mikhail asks from below why I am stopped. And I am hanging on the bend relying on non-existing anchor...
Russianclimb: Do you remember, before the first expedition you've told that you have no idea, which rocks will you encounter. Last autumn you've just touched the wall and it was covered in snow. So, what is Jannu made of?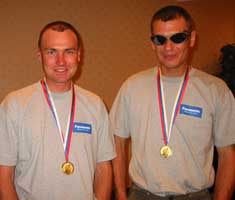 Ruchkin: I could not expect to see such rocks- Many altitude climbers told that there are no walls on the altitude- Everything is usually eroded. For example, on Khan-Tengri all rocks are as steps. But Jannu is just a paradox. Odintsov (geologist by education) says that on high altitude rocks are eroded and walls are nonexistent. But we met granite of incredible difficulty. Even in places where rock is not solid it was still very difficult. For example, in Ak-Su there are no similar places. Mikhail confirms- I was climbing with great difficulties. Feeling of being in dead-end. I cannot make a 20 meters artificial pitch as on Slesov peak (Note: Ak-Su, Slesov peaks are in Karavshin Valley in Kyrgyzstan with peak of El-Cap type but on higher altitude). Incredible granite. (Mikhailov and Bolotov on the left photo)
Mikhail Mikhailov: And there were quartz holes in granit. Real quartz crystals inside. You put a stopper into it and climb further.
Ruchkin: Also lot of cornices-
Nickolay Totmyanin: Yes, immediately after 7000 first cornices appeared and all the way up there is lot of them.
Russianclimb: Have you used bolts?
Ruchkin: Only few- only on traverse with pendulum.
Russianclimb: How many kilometers have you climbed up and down?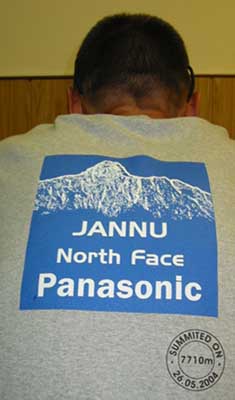 Ruchkin: We wanted to calculate. Pershin used GPS and got 10 km, but he did not work for 10 days after that. I had at least 15 km. One can count in pitches.
Russianclimb: Guys said that if something fell down, it was easy to find it 25 ropes down. They throw a bag and it hit the wall only once.
Mikhailov: I was working on the wall and dropped a small bag with a carabiner and something else. It flew over a bend and then I found it directly on our trail just in front of the first rope.
Totmyanin: I hear once: "I am throwing a sleeping bag!" Immediately I saw it flying... I abseil down and see it on the trail. Very accurate delivery...
Russianclimb: Which psychological climate was in the team?
Mikhail Bakin: I want to say that moral climate was exceptionally good. Despite some working moments, inevitable in such an expedition with lot of stars with personal ambitions, there were no conflicts. All questions were solved in a positive way.
Alexander Odintsov: But despite all this I feel sad. You know why? Because neither me, nor you will ever climb such a mountain again... it is like reaching a dream.
Gennady Kirievsky: It is like a British Queen: one can marry her only once-
Totmyanin: Yes, Jannu is a great experience. New, absolutely new experience.
Mikhail Bakin: My suggestion v some new wall somewhere on Hawaii. Somewhat lower-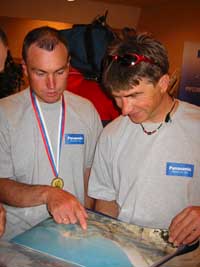 Mikhail Mikhailov: If one wants to suffer from cold in extreme conditions v there is a wall of Military Topographers, one could climb it in winter (Note: Peak of Military Topographers: almost 7000 summit in Central Tien-Shan with very difficult, largely unclimbed walls and with harsh conditions in winter). With Ruchkin we tried to climb a wall in Kysyl-Asker (Note: Remote mountain region in Kyrgyzstan) in autumn. We failed. When we, dead frozen, reached our stock, Ruchkin suggested to climb it in winter. In mid-October in was minus 30 Centigrade. People say that in winter normal temperatures are around minus 50.
Russianclimb: And people started to discuss new possibilities where to make a new Russian route.
Next day we received an email from Peru: "Congratulations to the team! We are waiting for your team in Andes!"
May be Andes is indeed a new task?...

June, 9-11, Elena Laletina