Neither me nor you will ever climb such a mountain again-
9 June, 2004 The team arrived to Moscow. The press-conference took place in Sheremetjevo airport. PIctures.
28 May, 2004 Today at 11 a.m. Nickolay Totmjanin, Gennady Kirievsky and Serguey Borisov summited Jannu!
Now they are in Camp 3 at 7000 m. All's OK. The weather today isn't so bad, it's cloudy in the afternoon, and dry. We plan to evacuate upper camps tomorrow and all members will come back to BC. M. Bakin.
27 May, 2004 Doctor Mikhail Bakin: (evening) Here're the details of continuation of the climb. As it was told, yesterday, approximately at 3.30 p.m. Ruchkin and Pavlenko reached the top of Jannu. Further, about 5 p.m.
Dmitry Pavlenko has gone down to a portaledge at 7400, having had a short rest and than gone down to the camp 7000. About 6 p.m. Ruchkin descended to the portaledge too. He assumed to spend the night there, however about 8 p.m. he felt worse and understanded a necessity to go down, to camp 7000 where the altitude isn't so much and it's more comfortable and the drugstore's more complete. Alexander Ruchkin descended to 7000 at 12 p.m. with the help of Gennady Kirievsky, and in the morning together with Pavlenko they has gone down to base camp. Now everything is all right. Alexander Odintsov because of deterioration of the state of his health had to go down to base camp too. Alexey Bolotov has gone downwards too, as during the ascent his crampon has been broken and the further ascention became Impossible. So, we have such holiday with tears. Now Kirievsky, Borisov and Totmjanin are in a portaledge on 7400. Tomorrow they should try to summit. The weather is not clear, as always. May, 24 our visa was finished, permit was arrested in the Ministry of Tourism, and our plane departed from Kathmandu May, 25 to Moscow. M.Bakin.

Alexander Odintsov called: Dmitry Pavlenko and Alexander Ruchkin, tired very hard, have descended to base camp. The three-men group Tomjanin, Kirievsky and Borisov were at 7400 today, the weather was very bad. Tomorrow, May 28 they are planning the summit bid. The team are going back to Kathmandu May, 31.
26 May, 2004 JANNU NORTH FACE HAS BEEN CLIMBED!!!
Today Alexander Ruchkin and Dmitry Pavlenko reached the top. The party Borisov-Kirievsky is planning to summit tomorrow. The ascent of other climbers depends on the weather next days. The first party is already at 7400
25 May, 2004 Doctor Mikhail Bakin: (evening) Today we didn't work at the wall, the weather turned from bad to extremely bad. All climbers sat at their tents adn drank what they could find - from citramon pills till coffee
(morning)THe weather's very bad from early morning. It's snowing hard and strong wind. Ruchkin and Pavlenko tried to go up for work further at the wall, but had to return to the portaledge. (7400). Bolotov, overgoing the pain and doupts ascended yesterday to CAmp 5600. Now he together with Totmjanin goes to Camp2 (6700). Kirievsky and Borisov are at 7000, at the bottom of the wall. Hope, the situation would be better during the day. M. Bakin
Alexey Bolotov (Yekaterinburg) and Dmitry Pavlenko (Moscow) were in 1997 in the team led by Serguey Efimof and managed first climb of Makalu West Face together with Nickolay Zhilin, Yuri Ermachek (both are in Everest North Wall team now), and Igor Bugachevsky, who died while descending. The leader of the team Salavat Habibullin had climbed the whole wall with the team, and died at the upper part of the route, at the ridge already.The team was awarded by Piolet D'Or in 1998. Alexey Bolotov summited Talay Sagar (one of the best climbs of XX century) in 1999, and Middle Lhotse with the team led by Victor Kozlov in 2001- Alexey was the first who climbed the 15-meters rocky wall just under the top at 8400 m altitude - these moments are recorded in Kozlov's film "Russian 8-thousander". In 2002 Alexey summited Everest without supplementary oxygen.
Alexander Ruchkin is famous by his highest Grade solo-climbs, first climbs and winter climbs on TIen Shan, Pamir, Pamir Alay, and in Alpes too - for example , Winter "solo" p.Grandes Gorasses - north face TD+ "Linceul", p.Domino "Messner". He managed the first climb to Troll Wall in Norway - "Russian route" in 1997. IN 2002 he was a member of Odintsov's team which climbed Great SAil Peak in Canada (Baffin Island). IT's interesting, that he was only twice at altitude higher than 7000 m - on Lenin Peak (7134) in 1991 and on Khan Tengri (7010) in 2003
24 May, 2004 Doctor Mikhail Bakin: Today the party Pavlenko-Ruchkin continued to work on a wall. Such impression, that a ridge as like a line of horizon - the closer we go, the farther it seems . Today the guys have worked approximately 60 meters more. If to look at a photo, the upper end of the fixed ropes is at the left and above the big snow stain under top and does not touch a ridge a little. But these are assumptions to a certain extent, as the wall is not visible; it's overcast and the climbers can't see the ridge because of cornices.THe weather is unstable today, but better, than yesterday. There was no snowfall. We shall look, that will bring tomorrow's day. M.Bakin.

23 May, 2004 The struggle for the top goes on a limit of human opportunities. The third day climbers, exhausted by a physical pressure, an altitude, dehydration, and sleepless night in the portaledge, win 30 meters of a vertical per day from the mountain. These meters of difficult climbing at the altitude about 7600 m turn to meters incredibly difficult climbing - there were not analogues of such work yet in modern mountaneering. Today the party Alexander Ruchkin-Dmitry Pavlenko has continued work on a wall. They climbed about 80 meters. Mikhail Mikhailov felt like not so well, and has remained in the portaledge, than he descended to BC. The wall began be less steep, but the continuous snowfall nullifies this advantage, as snow fill cracks. The direction of the movement has deviated from vertical to the left, aside a ridge. "Everyone who can hold the gan" go upward. S.Borisov and G.Kirievsky have gone up from camp 1 (5600) to camp 2 (6700). There's very difficult part of the route above camp 5600 after snowfalls. As Gennady Kirievsky says, it was necessary to dig a trench in the snow -it is higher than a belt. A.Odintsov and N.Totmjanin ascended to camp 1. The weather is bad yet. M.Bakin, 8 p.m.
The comments of members of the climb concerning the route (upper 7000): M.Mikhailov: " there Is no meter where it is possible to relax: or a vertical, or hang rocks ",
S.Borisov: " Fixed ropes aren't touch the wall all of 500 meters ... " Serguey feels like well after the rest and treatments.
PS Just now, at 10 p.m. doctor Bakin called that the altitude has been reached today was about 7700 m.
22 May, 2004 Doctor Mikhail Bakin: Today, May, 21, weather, as well as yesterday, was non-working. It was snowing since the morning though night was cold and clear. The advanced party worked in spite of those conditions. They climbed very hard 30 meters more, and what meters! Hanging chimney with a block had been climbed. It's possible to tell, that we were hooked for a "roof". They could see in dense overcast the further internal corner with shelfs and vertical walls, which are not monolith as it seems from below. But it's not a hang rock yet. Tomorrow Sergey Borisov, Gennagy Kirievsky and Nickolay Totmjanin leaves for camp 5600.
" As I think, our process hangs, as a drop on a nose. And where this drop will fall, depends on many (and casual - that's the main thing) circumstances. As it has happened with Serguey Borisov and Alex Bolotov. But guys struggle, as Mtsyri (Russian heroic poetry personage - ed.note). May be, the God will render for heroism and courage. Each day is as critical for us. We wait that the wall will begin to be slightly less steep. The weather is worthless, it snowing on a wall the second day. A wall is covered by a cloud, nothing is visible, therefore don't wait the information before the evening connection. Greetings to all.. Doctor Mike" May, 21

20 May, 2004 Doctor Mikhail Bakin: There was bad weather all the day long. It is raining in the base camp, and is snowing on the wall. A party Ruchkin-Mikhailov could climbed 30 meters above 7500 for 10 hours.
19 May, 2004 Doctor Mikhail Bakin:
(evening): Today Mikhailov's group ascended the latest highest camp: the portaledge at 7400m. If weather permit, tomorrow the guys plan to continue climb above 7500. But the weather may not allow. In the base camp it was raining all the day long, but on the wall it was snowing. All the others are staying in the base camp for a while. The health state is in reasonable limits.
(morning): Hi friengs! Here's, in short, last days events and our pespectives as we see them.
According to our plan 14.05 morning Pershin and Totmjanin had to remove the portaledge from 7200 to 7400 m. and than to descend to base. Bolotov's group were going up to work at the wall. But Mike Pershin felt bad in morning, (he has got a haemorrhage of eye's retina), so Nick Totmjanin removed the portaledge by himself and descended to 5600 camp. Bolotov, Borisov and Kirievsky had climbed up to 7400, organized the bivyak, and spent night at 7400. Next day Totmjanin when descended was injured by the falling stone (face and leg) but he descended successfully to base and after some treatment he can work again.
15.05. Bolotov-Borisov party worked at the wall, climbed one very difficult pitch.
16.05. Near the upper end of fixed ropes rolling stone had tought Serguey Borisov. "Cassidy" was lost but safed his head. Only knocked and slightly injured the skin. Evidently, Serguey couldn't work further, he descended to the portaledge, where Gennady Kirievsky rendered him first aid. Serguey decided to descend to base alone because felt good enough. Bolotov and Kirievsky continued to work at the wall. About 2 hours later Alex, climbing the extremely difficult carnice, fell down and his rib was broken in the result.
So, the situation May 16 midday was: Gennady Kirievsky and injured Alex Bolotov in the portaledge at 7400. Serguey Borisov with the hole in his head at 7000 camp. Mikhailov- Ruchkin and Pavlenko at 5600 - they're going up.
Without detailes: Borisov descended to Base Camp May, 17, he's OK now. Bolotov and Kirievsky came back to BC today, May 18. Alex won't continue the climb. We lost four days because of theese sad events. The team reached 7500 m.
Mikhailov's group is at 7000 m now, at the bottom of the wall. They'll ascend to the portaledge at 7400 tomorrow, so will begin to work on May 20. THe weather's unstable.
Doctor Bakin, May 18.
18 May, 2004 Alexander Odintsov called May 17 from BC:
Three-men team (Alexey Bolotov, Serguey Borisov and Gennady Kirievsky) were climbing up through the carnice - last before the top, when the accidente took place. Alexey Bolotov has fallen from the carnice and his falling has caused, in turn, falling of a stone, which tought Borisov's head. The traumas are not too serious, all three climbers have already descended to BC. The doctor renders the guys first aid. Mikhail Pershin before this accident has descended to BC together with Nickolay Totmjanin. Mike has a problem with his eyes - it can happen with climbers after the extremely hard work at the high altitude.
Three-men team Ruchkin-Mikhailov-Pavlenko are going up to climb the cornice and three last pitches left after it.
A monsoon this year is coming early. It is not as usual. But before arrival of the monsoon the team should have some days of good weather more during which the leading three-men team will be able to make the last pitches, summit and descend before bad weather begins.
17 May, 2004 Nickolay Totmjanin
(disp. from May,16):
Pershin and me once again worked our way through the wall. For three days we made two and more pitches, and one of the days we spent getting over a cornice. Mike worked the first. Somewhere on a sea level he would overcome such steep wall for a pair of hours. Last working day I hauled the portaledge at 7400m. Yekaterinburg climbers work now above it, and our party having descended yesterday staying now in the base camp. The snow on the plateau has become such limp, that we fall through up to the waist even in snowshoes! There is winter above, but lower than 6000 m spring came. I don't complain of my health. Descending from 5100 m on the last pitch I got a little bit scratched my face and my favorite glasses broken by a rolling stone, but today in the morning I had a shave for the first time. It seems the Mount doesn't want to let bearded person to come close to it. Finally speed of movement was stabilized on one pitch a day. Not densely, but it is not bad. On the "roof", because any high mountain has own roof, the speed should increase! I hope that in the nearest 7 days we shall summited. Let's not guess our fortune. We miss home very much, but we have to finish the epopee. We have spent forces and means a lot. The team is powerful, another time we would not collect such team. We thought that we were engaged in mountaineering earlier. It appeared baby-talk in comparison with climbing on Jannu.
P.S. Today in the afternoon the advanced three-man team had to stop work on the route and descend in the tent at 7000 m (why? details - later...)
(disp. from May,15):
Yesterday, for the first time in mountaineering history, the portaledge was brought and settled at 7400 m. The vanguard group every day leaves in "free space" and vins meter behind meter from a vertical wall. The psychological shock from the first acquaintance to a wall has passed. A pitch per day - isn't a rarity. Three-four meters free climbing - aerobatics.
There are 2-3 very difficult ropes ahead. - 80-degree steep plates with 1-2 m carnices and at last - is vertical 20-meters chimney which is in deep in 6-meters carnice. It has destroyed walls opening outside. Each hour working at the mountain - overcoming inmpossible. It's nothing visible above - so, means there should be less steepy. A psychological pressure grows. We can't demand "to add" from each other, as we don'tknow even our abilities limit - it first. Second, we should be cautious, now we haven't right on a mistake. I ask all gods and sacred to protect us from wrong actions. Today Bolotov- Borisov - Kirievsky work ahead - they've climbed one more rope. THe weather is while for us.
14 May, 2004 Alexander Ruchkin from the Base Camp (evening):
Hi friends, our group continues to rehabilitate in the base camp due to kind doctor Bakin. He treats all of us and by the different methods.
The work at the wall continues in normal order. Totmjanin- Pershin climbed some pitches more and reached the black rock zone which crosses the wall, and climbed 15 m above it, became closer to our dream goal.
Today Bolotov's group, who are the third day on the way upwards, started from 7000 m to the portaledge at 7400 (Nickolay Totmjanin has removed it to that point). The removal was successful, and Bolotov-Borisov-Kirievsky reached 7400, fixed the portaledge, and brought all equipment, food, gas, etc. for living there during 4 days - to climb next difficult part of the route.
Totmjanin and Pershin descended to 5600 camp. Tomorrow they'll go down to BC. There're all news on May, 14. Meet you soon in Internet. Greetings to all who wait and believe in us.
Ruchkin, May 14, 6-54 p.m.
Graeme Dingle, who was the leader of the New Zealand team made the first attempt at Jannu North Face in 1975, greets our team:
The route your team is attempting is indeed audacious. We climbed the wall further to the left and reached the summit ridge but not the summit due to hurricane force winds. It was post monsoon and the wall was plastered in ice with extreme avalanche danger. For 1975 it was technically difficult v possibly one of the hardest climbs in the Himalaya at that time. The very best of luck to your climbers.
Best Regards
Graeme Dingle
May,14, 5-49 a.m.
Alexander Ruchkin from the Base Camp (morning):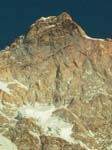 Hi, friends, here's the Spring, by the end, at this high-altitude corner! And it isn't clear - is it good or no for us... We noticed it already during the last descent - our ice screws and stations melted off from the ice. It became wormer with every rope down. There were frozen waterfalls at 6000 m, and we found our ropes under the ice about some ˝entimeters, and we had to free them from the ice prison, and to descend only after that. It's an impression that the Mount don't want to free unbidden guests who had broken her rest.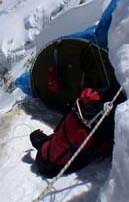 Tired hard, we went down with Mikhail Mikhailov along frozen ropes. Mike went the first and freed ropes from ice, used spesial Russian lexicon, and I followed him with the same words and tryed to put icy rope into gri-gri. Five days which we spent above 7000m gave the result - we were shaken because been very tired, and our crampon's teeth were rubbed out - so we looked like drunk cows at the ice.
We leaved in the portaledge at 7200, so could begin to work earlier and didn't spend so much time to ascend by ropes. The route from 7000 m is a vertical granite wall, with carnices which are already the problem at the sea level, not at 7000 m. Climbing grade above 7000 m is about 6B (Russian Grade) or A3 (if transmit the wall closer to the sea and use the rock shoes instead of Millets) There were cracks at the absolutely smooth wall, but the thinest hooks could't been installed into it, and what could I say about fingers? And after that relief, where we could find something, we went till carnice, where the first of us had to use the smallest nuts, stoppers, testing the calmness of the second of us. Then in the wide cracks, there were stones, wedged or frozen in ice - so we used camalots or friends, which safed us only at the edge of fall. The rock was constantly hanging ower us, and we had to strained all our forces - and felt then into the portaledge, tired, and couldn't move. Our expectation that the wall will soon be not so steep - is only an illusion, and our friends who changed us at the wall, have confirmed it.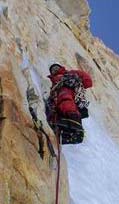 Totmjanin and Pershin work three days at the wall, and carnices follower each other, and the rock hangs over as earlier. It's incredible wall, may be, it's the most difficult wall at such altitude. But we climb it, and there is already not so far from the summit.
God bless us.
Ruchkin, May,14, 7-29 a.m.
13 May, 2004 "We are praying to all Gods...", - called from the Base Camp Alexander Odintsov. Nickolay Totmjanin and Mikhail Pershin are working at 7500 m, Bolotov's group will change them tomorrow. Guys need 10 days of good weather to complete the successful climb. But the Himalaya forecast, which Ivan Samoilenko send us, isn't optimistic.
12 May, 2004 Alexander Ruchkin from BC:
Hi, friends! We have descended again on our tired legs - we can't understand how to go on the plain. Eight days we went only by ropes, up or down. Four of them - upwards, estimating the route on the rock which is unclimbed yet. We went three days to 7000 m, then two nights at 7000, then two nights at 7200 m. Our faces look like Chinese - because of lot of water which has been drunk by our organizms, dryed in that thin air above 7200 m. It appeared that Jannu coqueted with us. She's like the forbidding woman - she allows us to approach to the definite point, and no further. All our attempts were poor - 5 m, 20 m, 30 m per day - what does it mean for the route 2,8 km length...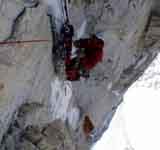 We remember nothing like this route. The Mount confirms it by every meter of Wall above 7200. Four days of climbing above 7200 - our ropes doesn't touch the rock, they are hanging down in the air. You have to concentrate all your abilities to climb only 50 meters per day - you descend to the portaledge in evening being squeesing out, without any forces, and you absolutely can't move. Only drink a lot...
And your morning begins in the portaledge at 5-6 a.m. You melt the ice, boil the water, cook the breakfast, and prepare the water, water, water... Having drunk enough (it's impossible really), you begin to prepare for start. I've fixed the time nesessary to become ready to start - it's about the hour - only to dress. The portaledge is hanging on the air, you can't touch the rock, you have to begin to ascend on jumars immediately. .
We climbed with all our equipment arsenal. There's hang rock, we can't see our future route because of carnices, and above them there are next carnices... We couldn't imagine that there're hanging monolites at such altitude. But reality is so - you have to climb with all your iron, because any thing would be nesessary.
You cut your body from the portaledge with all this equipment and climb - from santimeter to next santimeter in that thin air. The relief is very difficult for climbing, you have to think how to go further. You have to solve the problem of climbing through the carnice. You climb on the crack, but it's ended - you have to go further - think, my head, please....
We climbed 3,5 pitches in 4 days and reset the portaledge at 7200 m. We descended in evening to reach it before the sunset. When we descended to BC and rested one day there, Totmjanin and Pershin climbed two more pitches on the Wall. So, we have 11 pitches at the very difficult part of the route.
Good luck for all of you - and for us too. Ruchkin, May, 12, 20-21 p.m.
The half of the Wall have already been climbed.
10 May, 2004 Hello friends! The party Ruchkin- Mikhailov climbed one more pitch. They're descending now, and the party Pershin-Totmjanin will begin to work at the route tomorrow. 8 and a half vertical ropes are fixed above 7000 m. The weather is fine today. Doctor Mikhail Bakin.
9 May, 2004 Today the party Ruchkin- Mikhailov climbed one more vertical pitch through carnices. The weather: at 7000. it's clean , the wind isn't strong, and it's cloudy at the base camp, but without snow. Congratulations with the Victory Day! Doctor Mikhail Bakin.
8 May, 2004 Yesterday guys fixed the portaledge at the end of ropes? and today the party Ruchkin- Mikhailov set the record - climb the pitch through very difficult rock. They're planning to climb firther tomorrow. There's difficult part - snow cornices in 15 meters ahead. The weater's fine today. What'll be tomorrow? All members are health. Doctor Mikhail Bakin.
5 May, 2004 Hello friends!
That last site which we climbed reminds very much the American diretissima on Petit Dru or a combination of cruxes of Semiletkin, Popenko and Bezzubkin's routes on Svobodnaya Korea. We have to climb fixed ropes for three days up to 7000 m to continue the work on the wall. We have two camps at 5600 m and 6700 m, i.e. we spend the night in them and go further. The camp at 7000 m has the special status: we live in it. He should be maximum comfortable to have a rest and restore forces for working on extremely difficult surface.
Our group spent all the day to cut out in ice a 2§2 meters platform under a tent for Efimov's group. I have been on "7-thousand" mountains for 35 times, but for the first time biwy organization at 7000m took so much time and forces. A half of the tent is cut in the slope and closed from above by 3§4m awning and dust avalanches fly above, not causing harm. We have to climb via combined relief: 70- 90-degrees rocks with ice spanked block and rocky cornices. For aid climbing we use universal rocky pitons of 2-5 mm, bent channels of 3 different sizes, stoppers, friends and camalots. Also we have unscrewed bolts for monolithic sites and sky hooks. Ice sites of the wall represent firm ice spanked blocks of thickness from meter up to several centimeters. We successfully use ice screws, ice tools and ice fifi on them. If to count the weight of clothes, footwear and crampons the leader has about 15 kg hanging on him.
Free climbing in "Millet" footwear, warm multilayered clothes and in gloves from Polartec is rather problematic. The rocks are dry, but cold. Temperature is negative 15-20. While the leader covered in sweat goes ahead, the belayer struggles with cold. There are 5 pitches from camp at 7000 m prior to the beginning of fixed ropes and we have to spend 4 hours to get there since the morning.
The immediate task of the advanced group is to fix even two more ropes and to hang up one more portaledge closer to the beginning of fixed ropes. Today Bolotov's group is ahead. Mikhailov's group and └lexander Odintsov ascended at 5600 m. The advanced two-man team climbed 5 m of the cornice for this day and straightened the fixed ropes: it makes easier to ascend, haul gear and will save the time of ascent at least on one or one and a half of hour.
A bad consequence of our work at high altitude is constant cough. The doctor prescribes different treatment in the base camp, including inhalations with herbs. We have an electric inhaler, which effectively helps to struggle with respiratory illnesses. One more problem at such altitude is dehydration of organism. Morning and evening consumption of liquid is obviously not enough.
The advanced two-man team takes a thermos on the wall, but they can drink only on the top point of pitch, further the leader climbs upper and works as a navvy up to the end of the working day without drink. The basic drink is tea. " Princess Nuri " in bags is well made in "boiled water" at 7000 m. Other drinks are instant coffee, cocoa, juices and milk in different combinations. In the base camp we would like to drink a beer and fruit compotes. The wall furiously resists. But the team has a fighting spirit.
Our greetings to everybody!
N. Totmyanin from the base camp.
P.S. Yesterday rather sad event happened. At a portaledge we had prepared to haul and hung at 7000 meters, was pulled out one of 4 points of fastening, and a strong wind broken the poles of a skeleton. The spare complete set of poles will be lifted by Mikhailov's group in 2 days. All this does not accelerate the ascent.
1 May, 2004 The two-man team Bolotov - Borisov continued climbing the wall. They have made only one pitch for a day: our ascent goes slowly. And the reasons are obvious: high altitude (more than 7 000m) and a vertical wall with hanging sites.
Today there is good weather: sunny day, clean sky, but there is a strong wind and it is rather cold. The hanging on the sun socks washed in the morning, were frozen. Tomorrow M.Mikhailov and A.Odintsov's group leaves the base camp at 5600. Our greetings to everybody and the best regards. M.Bakin.
30 April , 2004 Weather today seems better: there is overcast, but the sun periodically appears in the sky. Till the afternoon there is snowing, but by the evening it is more pleasant. In cloud breaks Jannu sometimes appears, but we have not time to catch to see something in a telescope. The spring does not want to come in these places. The landscape reminds more likely in late autumn. Yellow grass, faded plants... Mood is philosophical.
The two-man team Pershin - Totmyanin worked on the wall today. Tomorrow they are going to be in the lead. And tomorrow from camp at 6700 Bolotov's group will ascend up to 7000m.
We congratulate all of you on coming holidays. We would like to wish all climbers who are making their ascents in mountains good weather and success. Our separate wishes to Everest North Face Russian expedition and Shisha-Pangma Saint Petersburg expedition. My personally especial greetings to the doctors of the expeditions: Sergey Bychkovsky and Boris Tereshchenko.
30.04.04.
Jannu Base camp. M.Bakin.
29 April , 2004
Two-man party Pavlenko -Mikhailov continued fixing ropes. Having made 2,5 pitches for two days (it is higher than the top point of the last autumn fixed ropes) the guys descended into the camp at 6700m. Today Totmyanin's group ascended at 7000m. The whole day long they were preparing a place for a tent as the portaledge is going to be lifted from 7000 to the Wall upper. The base camp was visited by the group from Ekaterinburg: Dmitry Frolenko, Andrey Krylov and Jury Lutsak. Under the plan Bolotov's group starts working on the Wall tomorrow, and Mikhailov's group descends to the base camp. Weather holds unstable, but it allows us to continue our ascent.
M.Bakin.
28 April , 2004 Mikhailov's group begins to work at the Wall today. The party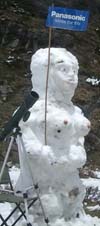 Ruchkin-Mikhailov are working above 7200 m. They're planning to climb upwards tomorrow. Totmjanin- Pershin are at 6700 today, they'll climb to 7000 tomorrow. Odintsov is at 5600. The weather isn't so bad today, good enough for Jannu. It's snowing periodically, wind isn't so strong.
Members have built the snow girl in BC yestrday, she's very inpressive...
Doctor Bakin, April, 27
22-23-24 April - very bad weather. The portaledge was fixed at 7000 m, and the group Bolotov - Borisov - Kirievsky spent three nights there, trying to climb upwards, but were refused by the weather.
18 April, 2004 Pavlenko, Mikhailov and Ruchkin have descended to BC. They reached 6800 and fixed the portaledge at 6700. Other groups are going upwards to change them and work further.
12 April, 2004 Alexander Ruchkin from the Base Camp: Our greetings to everybody,
Things are going well thus far, keep your fingers crossed!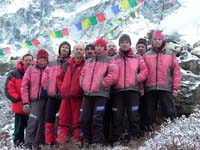 We are having acclimatization consecutively ascending upper and upper.
7.04 We began fixing the rope, the group Bolotov - Borisov - Kirievsky restored the fixed rope up to 5100m, settled the intermediate camp and stayed to spend the night there for acclimatization. Next day they descended to the base camp for the rest. The other members of our team did the full carry of the gear up to 5100m.
8.04 Our three-men team (Mikhailov-Pavlenko-Ruchkin) climbed 5100m and spent the night there.
9.04 We climbed up to 5600 and lifted some gear for the following work on the route.
10.04 We climbed a plateau, marked it with landmarks with tags for orientation in fog.
There are some our trails from the last year expedition in places. The winter seems low- snowed or strong winds have blown all the snow: this year it is much less snow and the bergschrund became lower on about 40 meters. The scrap of the rope hung above the present bergschrund. As all the snow was blown away and frozen during the winter and the clear ice was opened: rigid winter ice in which hardly to set ice screws. The ropes particularly remained, but nobody dares to risk and to climb on them. We have to use tools for climbing and use a jumar belaying on last year's ropes. They, certainly, are torn, and we change them on the new ones. Our group ascended up to 5800 m, making 5 pitches and descended to 5600m to spend the second night at this altitude.
11.04 We descended to the base camp to have a rest. Odintsov - Prilepa acclimatized at 5100m and climbed lifting the gear up to 5600 for the further acclimatization.
The group Bolotov - Borisov-Kirievsky ascended 5600m, and the same day Pershin and Totmyanin went from 5600m and fixed 5 pitches more on the ice up to the altitude of 6000 meters.
This is all the news for the present about our work on the route.
Ruhckin.
Other pictures - on Russian page
The second expedition of Russian climberss to the North Face of Jannu peak: the challenge is thrown down

The exact number of expeditions to the North Face is still unknown. In October 2003 a new record was set up by Russian climbers, participants to the unique mountaineering project ?Big Walls - Russian routesŽ under the guidance of Alexander Odintsov, international degree Master of Sports. For whole eight years now those sportsmen have been paving the exclusive ?Russian RoutesŽ along the most famous walls of the world.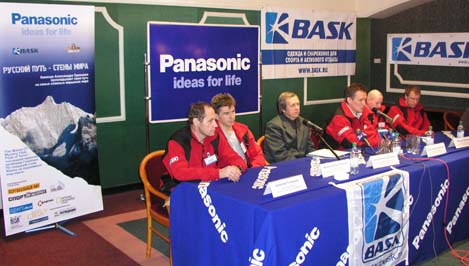 The route of climbing that is based on fragmentary data obtained from the previous expeditions had to be corrected at site: its first third is a constantly moving and changing its relief icefall. On the 12th of September Mikhail Mikhaylov - one of the expedition participants - was caught by the icefall. Later on the team-s leader Alexander Odintsov got a hand injury. Under severe frost conditions, without oxygen masks on, through avalanches, the five Russian alpinists have managed to climb up to an altitude of 7200 meters. There were only 510 meters left to the top. But the weather had got very bad, and it is absolutely useless to rival with the monsoon outbreak. The team took the only correct decision to close the expedition having the equipment preserved on the mountain so as to come back onto Jannu in March next year.
The alpinists do not consider their doubtless record to be the absolute victory they have been striving for. Only the completely laid ?RussainŽ route could have satisfied them. The entry list of ?Panasonic v Jannu North Face v IIŽ expedition has changed, and the sports potential of the team has been strengthened by three high-skilled alpinists. According to the preliminary Odintsov-s plans, the way up to the 7000 altitude mark should take no more than fourteen days. If so, the guys will have had enough strength reserved to climb onto the plumb North Face. The way of 710 meters may also takes about two weeks.
As it was in Autumn 2003, the general sponsor of the expedition has become Panasonic. The primary logistics provider of the expedition is traditionally represented by BASK
The team started to Kathmandu on the 24th of March 2004. Starting from that day on, the attention of the world alpinist community will be keenly drawn to the region of the East Himalayas.