Nanga Parbat (8126 m), Broad Peak (8046 m) and K2 (8611 m) Kazakhstan Expedition
Summer 2003
PART 2. BROAD PEAK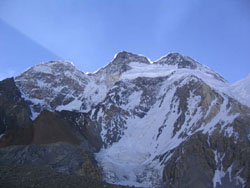 24 July, 2003 24 July, 2003 Martin Minarik: Urubko - wild horse from Kazach prairies. Serguey Bogomolov: the first Russian summited Broad Peak
20 July, 2003 The second step of expedition is over. Photos from Broad Peak
18 July, 2003 Denis Urubko summited Broad Peak today. Yesterday, July 17, the second group of Kazakhstan team summited Broad Peak - Serguey Lavrov, Alexey Raspopov, Vassily Litvinov and Serguey Bogomolov. Congratulations to all team!
16 July, 2003
15 July, 2003
13 July, 2003 Simone Moro: we reached Broad Peak Base camp. The Russians are in K2 Base Camp and they should start also in the next days.
11 July, 2003 Simone Moro: We are in 1 day walk to the Broad Peak and K2 base camp.
4 July, 2003
29 June, 2003 Baglan Zhunusov:the team rest in Shangri-La, near Skardu.

---