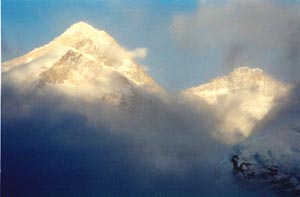 Photo: Gleb Sokolov
LHOTSE-EVEREST TRAVERSE 2001
April -May 2001
This expedition was the second attempt of the Lhotse-Everest Traverse, the dream of the famous russian climber Anatoly Boukreev.
About the first attempt of the Traverse in 2000 you can read here.
Members: Simone Moro (Italy) and Denis Urubko (Kazakhstan)
| | | |
| --- | --- | --- |
| photo by Gleb Sokolov | | photo by Gleb Sokolov |
As at the last time, programm was to climb the Everest-Lhotse Traverse (8850m and 8516m) without oxygen or sherpas, and to climb lightweight.
Result: Denis Urubko summited Lhotse 24.05.2001 without oxygen
Simone and Denis did rescue at the Lhotse Fase
Denis Urubko diary fragments.
15 March, 2001: Simone Moro wrote from Almaty (Kazakhstan): I have been here 2 weeks during which I realized [completed] the winter climb of Mramornayastina (or Marble Wall) 6400 meters in Thien Shan. It had been a very nice and cold climb but we did it! We were 2 teams of CSKA (Central Sport Club of Army) with different routes attempting to reach the top of Marble Wall. One team lead by Rinat Khaibullin (famous climber who climbed also the south face of Lhotse) realized [completed; Summitted] the Karlytau 5460 Marble Wall Traverse. And another team included myself, Denis Urubko and Maksut Jumayev; We climbed the south ridge directly to the top. We had good weather but very, very cold (winter in Thien Shan is very serious.....) On the 5th of March, the Rinat Khaibullin team was on the top. We arrived the day after from our route and both in alpine style. Today I will fly back to Italy and after 13 days I will go to Nepal to try my Lhotse-Everest traverse. Denis Urubko will come with me and we will climb Lhotse together and we then will try to go down to the south col via the unclimbed north ridge of Lhotse. Then I will continue alone to Everest. Ciao Simone
12 April, 2001 Denis Urubko from the Everest BC: "We reached the Base camp situated on 5,300m on April, 5. On April, 10, we organized Camp I in the Western Lhotse cirque on 6,450m. On the next day, April, 11, we made an acclimatizing trip on 6,800m and returned to the Base Camp to gain some rest. We are planning to rest for two days, me and Simone are in wonderful shape. We are working as planned without sherpa and oxygen, we are quickly getting acclimatized. Our only concern is the stonefall state of the route, because this year there is very little snow and the rocks are all black and dry. Just today we witnessed a terrible icefall slide on Khumbu glacier. Russian expedition led by Cherny is working on the route at the moment. They have organized Camp II and are working at the level of about 7,000m.
14 May, 2001 "The wind brought us the smell of the summit..." With these words Simone Moro comments their first attempt of their Lhotse-Everest traverse that due to the deep snow failed at 8100 meters. "Yesterday we climbed from Base Camp at 5300meters to Camp3 at 7300 meters. This morning the weather conditions we excellent to climb to the summit of Lhotse, and we climbed to Camp 4 very fast in only 2 hours and 20 minutes. There we had the first problems, because the snow above 7800 meters is very deep and it takes a lot of energy to climb. I started vomiting and I lost precious liquids to stay at this elevation for our required time to complete the traverse. I insisted, the summit seemed within our reach, but things were getting worse and the snow was very deep. It was impossible to keep on going. Thus Denis and I decided to descend. It would have been reckless to keep climbing. We descended in 3 1/2 hours from 8100 meters to Camp 2. It is unfortunate because we were in excellent shape and the weather was ideal for the traverse, except the deep snow up high." The weather is finally fair after 4 days of snow and wind. I wish the weather will remain fair, although the forecast from base camp shows contradictory news for the next three days. Some say fair weather while others forecast storms. The only thing is to wait and see what happens." Simone and Denis will recuperate in the next few days "Tomorrow we will descend to the valley to regain our energies for 2 days. The good thing about this first attempt is that we once again reached 8000 meters and that is good to further acclimatize our bodies. We hope our next attempt will be successful. Talk to you soon, Simone."
19 May, 2001 Today Denis and Simone started from BC to Camp2 to the last attempt of he Traverse Lhotse-Everest Their plan is:
21may: Camp2 - Camp3
22 May: Camp3 - Camp4
23 May: Camp4- Lhotse Summit - South Col
24 May: South Col - Everest Summit
25 May: South Col - BC


Photo: Gleb Sokolov
21 May, 2001 Simone and Denis are at the South Col. We are receiving information with extreme difficulties, but we learn from our latest message from Nima Sherpa that Simone and Denis already has spent one night at the South Col. The latest news said that they scheduled the summit of Everest for today, but the attempt has been postponed to tomorrow probably to regain energies before the final assault. It is obvious that the original program has been changed, most likely because the climb to various camps has been modified by Simone and Denis. The latest dispatch from Nima told us the two climbers were at 8200meters towards the Lhotse Summit. We are yet to learn if the two reached the summit of Lhotse before descending for the North Ridge and then move to the South Col. In the meantime, cross your fingers!!
May 23, 2001 Simone Moro acended to the BC. He did a rescue on the Lhotse Face. Denis Urubko did rescue too, than climbed Lhotse and now is at South Col. Simone: "I preferred to put man ahead of the mountaineer..." "Two days ago Denis and I climbed directly from Camp 2 to 8000m. We were in our tent in the middle of the night when a British mountaineer asked us to rescue his partner who'd fallen down Lhotse's South Face. He was in shock and explained very roughly where his partner lay and that he no longer moved. The other mountaineers and I exchanged long, silent glances. It was night-time and bloody cold, the place where the mountaineer lay seemed really terrible, difficult to reach and somewhere where you don't want to stay for even a second. I couldn't stand the idea of leaving someone to die without even trying, even if in vain, to save his life. So I told Denis to watch out for me and that I was going out to try and rescue him. When I found him I immediately realised that it was going to be nasty. He was in an avalanche prone area, without gloves, headtorch and, even worse, crampons. He told me to go away and leave him to die. In Italian dialect I told him that after having made such an effort to reach him, I'd even carry him piggy-back. And that's what I did. He was without crampons and in a bad way, so I had no alternative but to drag and piggyback him away from there. I carried him back to my tent without using oxygen, and to avoid a dangerous section prone to avalanches I had to ascend 200m. It was a tremendous effort. Once in the tent Denis and I gave him our bivvy bag to keep him warm, so throughout the night I really felt the freezing cold. Denis and I left for Lhotse this morning but at 8300m I was far too tired, I had used up too much of my reserves. I wouldn't have been able to complete the traverse with an acceptable margin of safety, so I told Denis to carry on alone. He wanted to descend with me, but I convinced him to continue, there were other people in the gully heading for the summit, at least nine. So while I descended to Base Camp, he ascended to the summit of Lhotse" Simone Moro
24 May, 2001 Denis Urubko at the South Col, ready to make his Everest summit bid after having climbed Lhotse yesterday, with the aim of completing the traverse between the highest and fourth highest mountain in the world. And Simone Moro? Simone is currently at Base Camp after having failed to reach the summit of Lhotse: a solitary night-time rescue of a nineteen-year old British mountaineer who had fallen on the South Face of Lhoste left Simone without the energy reserves needed to complete his ascent.
May 25, 2001 Denis Urubko and Simone Moro at base camp. Denis decided to quit the Traverse: "We are a team, we will do together next time". is what Denis told Simone. And so their dream of completing the Lhotse-Everest traverse disappears for a second year running. Simone will certainly think about the other day, when he decided to rescue the young Englishman Tom Moores. He definitely knew that he'd be risking his chances of success at the traverse, a highly demanding undertaking that would have required all his strength and reserves. He made his choice and should be commended for it! Everest and Lhotse are still there, but above all so is Tom Moore.
Denis Urubko.
Lhotse expedition diary fragments. Year 2001.
21 May, 2001 Me and Simone left camp 2 at 6 a.m. Following him. At the beginning of the fixed lines on the Lhotse ridge he felt himself alright, this is why I began to break away. By 3 p.m. having drunk tea on our way in camp 3 we reached the fourth. There were four Spaniards.
While Simone was coming up I managed to cut clean the space for a tent in the ridge. Pitched it. Sitting in there, I say for the sake of a joke: "Now kind of rescue work will begin". And in 10 minutes we hear the voice: "Help! Help!" Darek (Pole) behind the snowbank falls out from underneath. Somewhere aside there is a young man is sitting alone. And somewhere higher there is Anna Chervinska (Pole). I go up the footsteps, Simone - down Darek's way. The Spaniards didn.t go. Why?
Ascended the at 8100 couloir met Anna with Pasang. They walk like the dead. The only thing Pasang is able to do is to fasten the rope 30 m. to the ice-axe, using it the Pole slides down with the stops at every 5-6 m. Stuffed her with 3 glucosed vitamin C tablets (thanks
to Vinogradskij). Placed her at 50 m., letting her down, she only hangs on my rope and strikes out. The sun goes down, cold, the rope pinches my arm. Curse her up hill and down dale, so that she becomes angry a little and walks faster. And sometimes with the trembling voice: "Anna, dear, here is a good girl, please!"

Well, in general, we did it. At 7:30 p.m. in the darkness we came to camp 4 at 7900. The Spaniards, bustards, video taping and taking photos of us. They could have helped! The Pole was helped with her crampoon! I ask where Simone is . no one knows. Ok, he.s got a walkie-talkie. In case, he will contact the Spaniards. I am quaking with cold. Got into the tent thinking the fingers are good for nothing, but in the fire of burner warmed them. Howling with pain. 15
minutes later put on my boots, clothes and went to look for Simone. Then I notice the Spaniards who made their way to somewhere with the lights. Thank God, I think! Again fell into the tent and 5 minutes later Simone came and panned out too. Then the Spaniards planked Tom to us. We warmed his fingers, rubbed so heartily, that became exhausted. I gave him trental.
Looks like we.ll save his phalanges. There might be something cut off from his legs. Again trental (thanks to Vinogradskij). Pasang, whom I gave the burner to
warm Anna, gave 100 grams of water for Tom.

***On Sunday we already knew that our efforts were not in vain . all were saved, though as a lesson for future . I wish he wouldn.t get off that cheap. Who knows, he might leave longer.***
22 may, 2002 The next day after our rescuing. Simone and me helped others to go down and spent the whole day in camp 4. Ann with Pasang felt themselves alright, and there came two guys after Tom sent by the head of camp 3 expedition. So our conscience is clear. I pity Tom
couldn.t go up the next morning. Well, here again, I will cite from my diary.

.. Tom was put into a single sleeping-bag, we slept as we were.Strange as it may seem, we fell asleep. But as for Tom who was nervous. Several times he vomited. Jumping and rushing around the tent: "Oxygen. oxygen.nothing to breathe.." Hardly able to hold him so that he won.t crash the tent down the ridge. Where can we get it for you at midnight!?
Cold, nestled up to one another. Sleep off and on.
In the morning Simone got out, found some oxygen and from Tom.s abandoned rucksack the mask with reducer. Again I rub Tom.s fingers and he having breathed for 15 minutes says, enough, that.s it. Half a day I have been waiting for øåðïîâ, Ann crawled away on her own,
hardly able but still kept walking, Pasang made her spend the whole night with the oxygen. It.s hot in the daytime. Me and Simone ate canned fish with rusks. Fell down to sleep, but because of tiredness and height couldn.t do that properly. At 3 a.m. Pita, Dzhoby and Yuri went up with sherpa. With the oxygen. At 4 a.m. the Spaniards began to gather, set out at 5, Simone at 5:30. I kept myself gathering ropes and hooks. Started off at 6:00. Left Simone behind me immediately forwarding a little ahead of him. Right after 300 meters after the start he turned back. Just asked: "Can you go on alone?" Well, I have been probably ready long ago for such kind of question. Besides the height slowed my mind, so I took it for granted. There was only the rage of stubborn fate, again there won't be traverse.
That's it. Time to go up..
---