Denis Urubko: Baruntse will be the first, Annapurna - the second...
In this Spring season one of the strongest high-altitude climbers Denis Urubko (Kazakstan) is planning to do two first climbs in Himalaya via new routes - to Baruntse and Annapurna. Simone Moro, his old friend will be his partner in this expedition. They have already worked together on the slopes of Lhotse, Everest, Nanga Parbat, Lenin Peak, Korzhenevskaja Peak, Comminism Peak and Khan Tengri.

Photo: Russianclimb, Almaty, March 2004
Expedition chronicle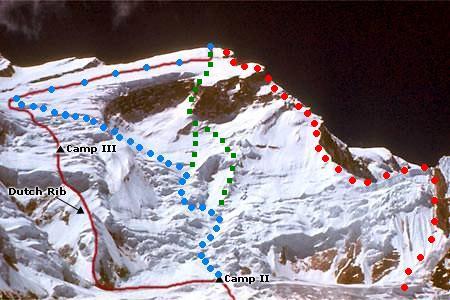 Annapurna (8091 m). It was the first 8000-er which was climbed (in 1950), it has the minimum successful climbs among the Himalaya giants.
Future route (green line) - almost 2 km of snow face with minimum of relief.
31 May, 2004 DENIS REACHED THE SUMMIT OF ANNAPURNA AT NIGHT!
Simone Moro: Hi. Yesterday and today were very particular days. Yesterday afternoon (29.05.04) during we were at camp 4, our friends communicate us, that Boris get lost and didn't reached camp 2. Denis and I thought that he is finished in a crevasse and so we planed to descent with the first light for help. But we didn't want to not try summit, so we did at 9 p.m. for a night summit attempt. While we was going up, we heard that Boris get only lost in the seracs and that at least he find the way to camp 2. It became night and cold and my debilitated stomach begin to rebel….. So at least at 7900/8000 at 11 p.m. and 1 ? hour from summit I have to give up my attempt….. Denis did good work and reached the summit with darkness and cold.
Ciao Simone, May, 30.
29 May, 2004 Simone Moro: Hi. This night I had a big problem with my stomach and so we decided to continue on the normal route. Now we are in camp IV at 7300 meters and this night at 1 o'clock Denis and I will start for our summit attempt.
Only this morning when we met our friends we resolved a mistery. Boris, our 70 years old member, yesterday turned early to summit. The others tried to cry to him, but he didn't hear them. So he continued alone on the wrong way and at least he reached the 8051 m of central summit, alone, without oxygen and with only one iceaxe (This summit is reached only 3 times in history!). He was sure to be the only one who reached the summit and only this morning when Denis explained him in Russian he did understand. He was so sad…..
Ciao follow us also tomorrow
Simone

28 May, 2004 Simone Moro: Hi, we arrived in camp 3 at 6900 meters. It's very deep snow and it was very dangerous… I only not turned back, because the other part of the team is without gas and food. So we bring up… This night we will decide what to do. We will valuate our physical performance, the weather forecast and the snow situation.
Ralf, Gerlinde and Hirotaka reached summit today at 4 p.m. without supplement oxygen! Ciao till tomorrow Simone
27 May, 2004 Simone Moro: Hi. Today Denis and I did start at 3 a.m. from BC and reached camp 2 in about 5 hours. Ralf, Gerlinde, Hirotaka and Boris reached 7200 meters, there normally is camp 4. Tomorrow they will attempt the summit, while we will go to button of the rocky part. They have very few food and gas and so we will leave some of these between camp 2 and 3 for their back. Ciao Simone
26 May, 2004 Simone Moro: Today is the second and last day of rest and wait here in base camp. Tomorrow at 4:30 I and Denis will start and go directly to camp 2 at 6000 meters. The day after we will start to open our new route on the rock bastion and the days after directly to the summit through that line....


Today Gerlinde, Ralf, Hirotaka and Boris did start at 6:30 a.m. to reach camp 3 at 7000 meters on the normal route. Tomorrow they will try the summit push. The clouds are already in the sky but the visibility at present (9:50 a.m.) is still good. Tomorrow should start the 3-4 days good weather and we hope that the forecast will be without mistake....Ciao
Simone
25 May, 2004 Simone Moro: Trusting in the weather forecast and in our instinct we decided to return in base camp today and here we are now. We will remain only 48 hours. We will recover our energy and Denis will resolve his problem with "diarrhoea" Gerlinde, Ralf, Hirotaka and Boris remained at C2 and today they will work in fixing ropeû in the last part of the icefall. Tomorrow they would like to reach C3 at 7000 meters. From there they will try summit. We had been sorry to left C2 without helping our friends in fixing work but we were worry for avalanche danger and Denis physical problem. We still want to open a new route and we need energy and good weather as much as possible. Our friends understood our position and they had been friendly with us when we left them this morning at 5:30 a.m.
Ciao
Simone & C.
24 May, 2004 Simone Moro:


Today we stayed here in camp II and the weather is really bad. The last 3 hours it is snowing. Today also Ralf, Gerlinde, Boris and Hirotaka reached camp II. Ralf and Hirotaka today stay better. Boris forgot the tent poles in BC and so last night he slept in a tent pitched by bamboo…. Fortunately we had one more tent here in camp II, so we have 3 tents…! Tomorrow Ralf, Gerlinde, Boris and Hirotaka want to reach camp III, while Denis and I go to the rocky pillar. Today we will receive the weather forecast from Innsbruck and hope in good news, because only last night I counted more than 30 avalanches….
Bye till tomorrow Simone and Co
23May , 2004 Simone Moro:


"Hello. We did start only today from BC, because the weather was so bad. Denis and I did start at 3 a.m. from BC at 4200 meters and reached after 10 hours fighting camp II at 6000 meters. We had snow till our knees and so we have to break trail. Finally we risked to not find the camp, because there was so many fog…. Ralf, Gerlinde, Hirotaka and Boris did stop at camp I, because Ralf has been hid by one stone on his leg and Hirotaka has problems with his stomach. So they will decide tomorrow morning if to continue or not. Also Denis has some problem with his stomach, but not so bad. Tomorrow morning Denis and I will decide if continue to 7000 meters, where begins the rocky part or if stay one more day in camp II for rest after this hard work in the snow…
Bye till tomorrow
Simone"

22 May, 2004 Simone Moro: Today morning Ralf, Gerlinde and Hirotaka arrived here with a double helicopter flight. The team is completed and only Ed Viesturs and Veikka cancelled their participation because involved in the Everest Film Project and climb.


The second flight of today with Gerlinde and Hirotaki had been made with bad visibility and the pilot remained 1 hour with the helicopter off, here in Base Camp. Than he flew back to Pokhara in a short moment of good weather. Today we decided the route and teams for climb. Ralf and Gerlinde + Boris and Hirotaka will climb classical French route. I and Denis will try a new central route direct to the summit.....
We want to start tomorrow even the rain and clouds of this afternoon can cause one day delay.
Follow us
Simone Moro, May 21
20 May, 2004 Simone Moro: It's raining since 24 hours till 5000 meters. We are quite worry that all this rain here, it means quite snow in the upper part of the mountain and it

could increase the danger of our climb..... but we know that nature follow its roules....
Today we received the phone call from Ralf, Gerlinde and Hirotaka that they were in airport ready to fly here by helicopter but the bad weather stopped the project of the team. Tomorrow they will try again and we will keep in touch for the weather reports here.
Ciao Simone & friends
19 May, 2004 Denis Urubko: Hi! What has happened with Alex (Bolotov, on Jannu – ed note)? How is he? That's a pity, that he can not continue - I know, what for he has gone there, refusing from all other opportunities. Send him my regards, and from Simone and Boris too! Let he not be sad. And to guys on Jannu - good luck and, for God's sake, let will be accurater! Mike with Ruchkin and the others. Eventually – the mountain can wait.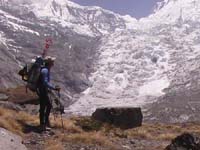 We do according our plan, only I think now, how Simone and me can climb a new route?! All our partners have refused from this expedition. Ed Viesturs on the Everest, and Ralf had been injured by the stone on Shisha Pangma. It's the truth, we have not yet received the final refusal from Gerlinde and the Japanese climber. Boris has helped us at Khali -Himal, and he's hard aspired on Annapurna. It's not his fault, that partners have refused to support us... And how can we left him? We can't tell – excuse us, Boris, climb alone... Probably, it is necessary to climb the classic route. I can't find the decision. I has arrived on 8000-er for a new route for the first time, and I can not climb it. Boukreev would understand me. And I heard that the monsoon is already in Bengal bay and it'll come for one week earlier... Shortly, everything is against us.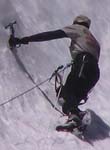 May, 16-th we went up from base camp with icecrews and 250 m of a ropes. There was a place of Camp 1 at 5000 m, above the first icefall. There's a moraine under rocks, water, warm and beautiful view of the top part of mountain. Next day we have crossed a plateau of a glacier and have begun to climb along the second icefall. It wasn't so dangerous, as below, but we had to leave 150 m of a rope for the descent. We set our Camp 2 at 5900 – at the place like 5 football fields. We were acclimatized well - felt fine. The route through icefalls is more difficult, than it looks from the bottom of the mountain. Or there're this year conditions? On the third icefall it appeared that our equipment wasn't enough – we could go up, but the descent can be dangerous and long. Shortly, we have fixed all our ropes, and rappeled from 6250-6300. Than we spent night at 5900, and today we got up at 4 a.m., and by 9.10 we arrived to base, having lost almost 2 kms of height. The vegetation became more active during our absence. The battle with a phalanx who has got accustomed in my tent, was finished by a drawn game. It has hidden somewhere, fortunately, not inside the tent. There's "the country of waterfalls " around us. Fluffy clouds are going up from the valley, and fall as warm spicy rains soon... There's like in a fairy tale. I has also shaved with the warm water.:)
This place looks like the special one for feats and honeymoons. I can imagine, what the members of French expedition in 1950 felt here. Fantastics! And I also can imagine how they came back! Heroes, who could touch forbidden snows of the Goddess of Fertility. Annapurna, here you are...
All right, be healthy, greetings for Everest North Face expedition climbers. Denis, May, 19, 14-42
Simone Moro: It had been a great pleasure to arrive again in base camp. Annapurna is dangerous and complicate mountain and any climber feel worry during this climb.
Yesterday we stopped our ascent of 7000 meters because we finished fixing ropes around 6300. We descent to 6000 meters and spent a second night there. Now we will take rest for 3 days and than we will make the summit push carrying 200 meters of rope.
The weather today is bad and we hope to have a nice window of good weather next week... we need...
Ciao
Simone & C.

18 ìàÿ, 2004 Simone Moro: Hello. Today we got up at 5 a.m. and we started at 7 a.m. We reached 6250 meters, but our fix ropes and icecrews ended on the last serrac. We needed 200 meters of ropes more, not so important for going up, but for the descending. We will spend one more night here, so also Boris can acclimatize. Than we'll go down to base camp and take 3 days rest. Denis and I have to give up our project to open a new route, because nobody else from our expedition reached the base camp (Gerlinde Kaltenbrunner, Ralf, etc. and we can not leave Boris alone on the French route….
Bye till tomorrow with new pictures. Simone, May 18
17 May, 2004 Simone Moro: (late morning)
We are in camp II at 5900 m. We settled our tent 100 m lower than usually, because here is more safely. Today it's incredible hot. We are all ok and tomorrow we will climb to camp III. We are happy to hear about the success from our friends: Nives, Romano and Luca (Lhotse), Inaki Ochoa, Joby Ogwyn and Alex (Makalu) and Ed Viesturs (Everest).
Bye till tomorrow
Simone & Co.
We are now in camp 1 at 5000 m. It took us 5 hours, because our rucksacks were very heavy, about 30 kg each. Also we had to find a way between the mouren and the glacier. The weather is good and the condition of the mountain also. There is not so many snow, but today stone and ice always fall down …. Tomorrow we will reach 6000 meters and look better at the pillar we want to climb. Bye and follow us also tomorrow
Simone, May 16, evening
16 May, 2004 Denis Urubko: Salam-popolam! Yes, in that season Russians doing well, at last! It's wonderful. My greetings and luck wishes to Alexey Bolotov and all the team! (On Jannu - ed. note) I'm placing a bet for their success. We can only be in envy of their drive. We are doing things more simple. Today we are climbing up, to break a trail and prepare the descent route. The weather's normal, so we have chance to make it. We have now to ascend to 7000-7100 and spend the night there. We climb in a three-men team: Simone, Boris Korshunov and me. The Mount is beautiful from this side. It rises 4000 m above us. Pilots have brought us to 4100, where base camp is, and it's a pleasure to live here - grass, bushes. It's picturesque and warm. I think, our speed will be followed by success. An American Boukreev's Fund gave me the grant for this climb. I want to climb Annapurna in memory of Anatoly Boukreev who died there.
That's all, I go to pack my rucksack, and - upwards! Good luck! Denis, May16, 8-23
Simone Moro: we start!!
Today I, Denis and Boris will start for 4 days on the mountain. Our objective is to reach 700/7100 meters and to set camp 3. Than we will come back to base camp for a 2 days rest and then the summit attempt. We will see if is possible to find a new line for a new route or if the danger advise us to follow the french or duch route.
Follow us. Simone, May, 16, 8-38
15 May, 2004 (evening): Today we arrived to Annapurna Base Camp flying by helicopter The altitude of BC is 4150 mt and the summit is...4000 meters upper..
The mountain is beautiful and it looks big an dangerous. Fortunatly there is not so much snow....
The helicopter we used had been payed by Franco Acerbis, one of my sponsor, and he also came here with us this morning. Now he went back to Kathmandu and he will go to Everest region to get acclimatisation, than he will return here and will stay till the end of expedition. Yesterday one hotel in Pokhara had been bombing by Maoists and we was only 300 meters far..... Tomorrow I, Denis and Boris will climb up as much as we can to establish our camps.....
Simone Moro
(morning): Here we are again after 10 days silence. During this time we went back to Lukla and than to Kathmandu. We met Miss Hawley, the famous journalist 80 years old, who was very excited and interested in our climb. She told us that she is tired to make standard reports about so many expeditions on normal routes of 8000 or classic 6000 meters. We did this kind of climb but we also became tired about that style and since 2 years we started our difficult but exciting way and style of climbs....
Today we are in Pokhara and tomorrow we will fly by Russian helicopter MI17 to Base camp of Annapurna north side. The captain of the helicopter Alexander became immediately friendly with us and tomorrow at 6:00 a.m. we will start... Two days ago my friend and Sponsor Franco Acerbis arrived from Italy (www.acerbis.com) who gave us the possibility to have the helicopter to go up and back at the end of expedition. Big Luck....!!!! He will go to Khumbu valley to get an acclimatisation and than he will come back to base camp to follow the last days of our climb.
So be ready! The adventure is starting again....
Ciao
Simone & C.

Baruntse (7129 m) is located in Himalaya between Lhotse and Makalu. It's climbed mostly via classic route (first climb - in 1954 by British mountaineers). It's very interesting object for climbers now. Here's the North Face of the mount.

Bruno Tassi will climb with us.
5 May, 2004

It had been very difficult, very... but at the end using all our capicities and resistance we reached our objective. The north face of Khali Himal or Baruntse is realy big, vertical, dangerous, impressive. It was virgin and unclimbed and only the ices of the trekkers and climbers had been dreamed a climb on that wall after looking the mountain.
We knew that we have to use all our capicities and strenght to have success on that face.
And it happened..... We strugled four days and nights against wind, could, mix climb, ice and rocks. We had bivy 4 days in three people in a tent of two... We never finded place to set it good and only our legs hanging in devoid..


Ice crew, rock pitons, ice axes, friends and nuts had been used to climb the complicate wall, but the real stuggle had been against the wind and cold. We get 35 m/sec (120 Km/h) wind during all the climb and also on the summit!!!
We had been very happy to reach the summit via this new and first route and it took us 12 hours to come down from the mountain rapelling on a single ice crew for 20 times.....


The name of the route is "Ciao Patrick" because we dedicated the climb to Patrick Berault recently dead. It was our friend and mythus.
Now we will have rest and than we will fly to Annapurna I 8091 m for a new challenge.
Thank you to follow us
Simone
3 May, 2004 SUMMIT!!!
HAPPY BIRTHDAY, BRUNO!
Also Bruno Tassi (camos) summited.... he fighted till summit and was also great...so all three. Now they are in tent and everything is ok.... they were great. Barbara, 13-32
Simone Moro: SMS at 1:45 Italian time: "We are starting now. There is sun and the wind is acceptable."
Call at 7 a.m. Italian time: "I' on the summit. I've reached just now the north summit of Baruntse, the Khali Himal at 7041 m. Denis is coming soon and also Camos will reach the summit. The wind is very strong. The ridge to the main summit seems not so difficult, but the wind is so strong, we risk to be blown away…. Today is the birthday of Camos. I'm very satisfied. You'll hear us again, when I'm back in the tent. Ciao"
Simone

3 May, 2004 Simone Moro: Hello
Here we are again. Today it was an incredible hard day. We've got up at 2 o'clock in the night and started with tent and everything at 3 o'clock, and only now, at 7 o'clock p.m. we arrived at the ridge. We climbed all the day, we never stopped, not for drinking, not for eating…. The face was very steep and the climbing was very difficult and mostly in rocky and icy part. All the day there was strong wind and so it was very cold also when the sun was shining. Some friends called us from the other base camps, because they were worried about us. But everything is ok now. Tomorrow we want to go to the north summit, the Khalima and than we will decide if continue to Baruntse main summit or if go back. It depends from the weather and how long we take to Khalima.
Follow us also tomorrow
Ciao
Simone, Denis and Camos (via satellite phone)

2 May, 2004 Simone Moro: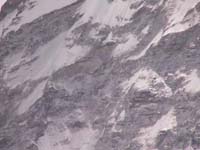 Hi friends This night we slept very badly, because the 2-persons tent is really too small for tree people. This morning Denis and Camos started to resolve the last difficult part. After very delicate rocky and mixed climbing they are now in snow at 6300 meters and Denis is crossing from left to right side. The wind is not so strong as yesterday, but it persists to blow. Tomorrow we want to start definitely to summit, but we are worried about the wind. Also we can't stay too long here in tent, because our gas will finish soon… Ciao till tomorrow Simone & Co.
1 May, 2004 Simone Moro: Hello
(first call via satphone)
Denis and I arrived just now in camp 1 at 6200 meter. We prepared the tent which Denis and Boris took down for avoid to be destroyed by the wind and the snow. Today all the fixed ropes were covered by half-meter snow, only the fixed ropes in the rocky part were free. Now Denis and I will try to continue a little more on the difficult rocky part before reaching the snow part.
(second call)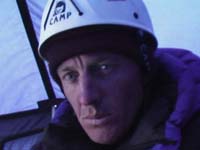 Hello, here we are again. Now we three stay in the tent, preparing food. Denis and I climbed 20 meters more and I think there are 20 meters more of very difficult climb before arriving on snow, but now there is storm. Tomorrow, if the weather wants, we will continue.
Follow us Simone & Co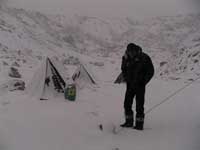 28 April , 2004 Simone Moro: It start to snow again and this time more than the other days. This morning we decided to prepare our equipment because tomorrow we would like to make our summit attempt, but the weather "heard" our plans and it started to snow.... As you see from the photo I just made (at 4:00 p.m.) we have a bad situation again and we have only to wait,wait,wait. The weather forecast said that till 1st of May the conditions will not change and so we are ready to continue our boring wait. I think tomorrow and after we will remain here because the avalanche danger is higher in this days on the wall. We will inform you tomorrow what we will do.... Ciao
Simone & C.
27 April , 2004 Simone Moro: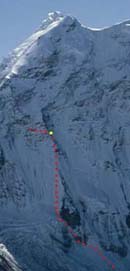 Hello Friends. Today is the eighth day of bad weather. It continues to be cloudy and sometime it start to snow. Now we are tired to continue to get restand hope in some changes. But we have no choice. We have to wait the blue sky and the sun because all the mountain are covered of fresh snow and Baruntse too...
The section we have to climb before to touch the summit, are 3 big plates of ice covered by dangerous snow. We don't want to increase the danger of our climb and die for it. The heroes are only in TV and in the book and our icy face and life has to remain in the realty and not in a ephic tragic strory...
So we have to be patient and wait for the good weather. I and Denis Today came back to base camp after 2 days spent in Chhkung at 4700 meter. Camos and Boris will come tomorrow here after the last day in a warm and clean lodge.
Ciao
Simone Moro
www.simonemoro.com
| | | | |
| --- | --- | --- | --- |
| Boris descent | Denis & Boris | Denis traversing | Difficult part |
24 April , 2004 Simone Moro: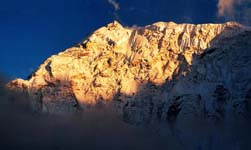 There's snowing since 3 days and since 3 days Denis and Boris were working on the face. Yestreday they have fixed 100 meters of rope (rock and mixed climbing). Today they were remaining in the tent at 6100 m the whole day and communicated us by radio that they started to come down at 4.p.m. Now they should be in ABC and tomorrow here in base camp. In the next report I will send you the photo of the 3 days storm.....Simone, April,24, 18-54 p.m.
20 April , 2004 Simone Moro:
Hello friends.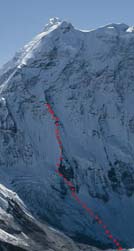 We are again in base camp after 3 nights spent outside the BC (2 in the face and one in ABC). Yesterday had been a real difficult day for the worst weather condition of the month and for the high technical difficulties climbed on the rocky part of the face.
Dry tooling, mix climbing, low visibility and 10 cm of fresh snow, had been the ingredients of the last day spent on the north face of Baruntse. We climbed (Camos and I) 70% of the most difficult and technical part of our route.Tomorrow Denis and Boris will cimb on the fix rope and resolve the last 30 % of the high difficulties before reaching the ice plateau at 6300 meters.They also will move the tent I fixed at 5900, higher... Than they will come back and after rest we (Camos, Denis and I) will start for the summit attempt, climbing the last 800 meter of face in alpine style.
Follow us....Simone & C:
16 April , 2004 Denis Urubko: Hi!

I can't predict the outcome of our plans, only report what has happened in the last day. Early morning yesterday Boris and I were heading up the wall, in spite of the hurricane in Himalaya. Throughout all night we had heard terrible rumble from Lhotse. Then the wind descended at Baruntse too. Continuing from where we had stopped last time, at 5650 m, we climbed up through the snow-icy couloirs. Snow avalanches dusted from above down to the bottom of the mountain, then rising in clouds back up to the sky again. Lucky, BASK windproof works well. Occasionally rocks fell down through the mist.
Korshunov's calm and persistence impressed me. On an icy part, where the steepness reached 75-80 degrees, I was shaken up and asked him: "Are you tired? Should we go down?" But he only smiled and answered me, that there're still 150 m of rope left in his backpack. I said to him: "All Russia look at you".
At about 5900 m we reached a small ridge, and fixed more rope before 5 p.m. All in all we fixed 400 m and climbed till 5950 m. In the evening we returned to ABC on wobbly legs, dead tired. "Good work today" said Boris to my big surprise. And two hours ago
we finally returned to BC. Tomorrow, Simone and Bruno will go up. We hope the wind will cease - it scutches mountains at the altitude. Here're our news.
Denis, April 16, 9-51.
14 April , 2004
Denis Urubko: Namaste!
Our plans has been changed. Not about the route but about the process. After a detailed check of the Face we decided to abort our daring dream to do it alpine style. In short, our acclimatization isn't enough now, so we'll work safe and not so fast. Korshunov and me couldn't find the way at the icefall, and Simone decided to climb with previous preparation of the route. Yesterday (April,13) we climb the couloir near the rock bastion and reached the altitude 5650 m. The wall is great, and inspires the great respect in all of us.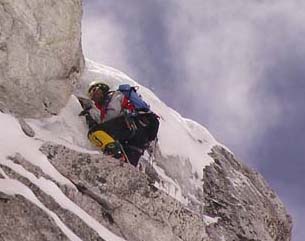 Yesterday Simone climbed rocky steps by drytooling. Working with iceaxes on the ice, he and Bruno have fixed 330 m of ropes. Korshunov and me have brought equipment. We are getting accostomed that we'll live at this wall. If the weather won't change, I and Boris will climb tomorrow till the middle part of the mount.
Korshunov looked at the birds (ulars) which were going around our tents, and proved us that all're rational in the nature, and tomorrow two birds will be here instead of one. But Bruno answered: "We have only thought about eating of this birds, and the weather turned worse. But what will be if we'll do it?" Ulars are assumed as the sacred birds here. It's not also recommended to burn the rubbish before the end of the expedition: gods can give you what they got from you.
There're always black clouds on Lhotse Face, and we don't understand when the good weather is there. Theese clouds cover Baruntse from time to time - we feel uncomfortable that periods.
Bye. I'll write something in 3-4 days. Greetings from Simone.
Denis, April14, 8-25
Simone Moro:
Ciao!!
We are back to base camp after first day spent on the face. We fixed 350 meters of rope in the first complicate part and we reached 5650 m. We belived it was easy snow slope but we had to climb on mix part and traverse big crevasses. We are not yet acclimatised and for that reason we will continue to fix rope on the face and come back in the evening. We planned to fix 800-1000 meters of rope and than continue in alpine style. The weather is cloudy expecially in the second part of the day. Simone
10 April , 2004 Hi! How's our Kazakhstan team?
| | |
| --- | --- |
| | From left to right: Denis, Boris, Simone, Bruno. |
All's OK. We set the Base Camp April6 at 5100. We can see the South Face of Lhotse from here. It's too far from our base to the Face - it's in the next gorge, and it takes us 2 hours to reach it. We set ABC April 7 at 5250 m, and yesterday I together with Boris Korshunov brought loads to ABC. We just desided that we'll probably reset our ABC 400 m East, more close to the route we choose.
The North-West Face of Baruntse is impressive. The altitude diiference- from 5400 till 7050, is 1650 m. The kind of rocks is very strange here, but I'm sure, hooks will be safe. According our plan, we'll climb in alpine style after the acclimatization.
We have the time till the end of April. I'm lucky, that Boris Korshunov is here. In spite of his age, he's in such a great shape that I can't keep up with him! He acclimatizes here before the Annapurna climb, and tells me a lot of old mountaineering stories. Unfortunately he lost all his luggage, including the sponsored gear from BASK, so we shared with him what we could.
The day before yesterday I had planned to rest, but ended up doing a rescue instead. Our cook became very ill. The kitchen boy and I carried him down and I gave him a lot of pills. He's in the valley now - from there porters helped him to reach the village. All our members (Simone, Boris, Bruno and Barbara) were at Khala Pattar on acclimatization.
Barbara (Simone's wife. They had married the day before the expedition and spent their honeymoon in Himalaya - ed note) goes back to Italy today. New cook Biby went to our Base Camp from Namche Bazaar. Simone and Bruno will now bring loads to ABC, and probably also reset the camp to the new place.
Denis, April 10, 14-24
28 ìàðòà, 2004 Hi!
I'm in Kathmandu. I'm very tired and sad about Kazakhstan: I had difficulties with passport control in Almaty airport. Here I met the Russian team (Jannu expedition): Ruchkin, Mikhailov, Bolotov... So, I'm not alone. They are my good friends, as you know. Today morning we run here at the hills, and are resting now. They're crazy, my friends...
Bye, Denis, 28 March, 13-05
28 March, 2004 Simone started to Kathmandu from Italy.
24 March, 2004 Denis started to Kathmandu from Almaty.
| | |
| --- | --- |
| | The route we planned before the expedition. |