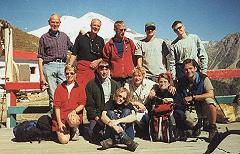 during trekking to Mt. Cheget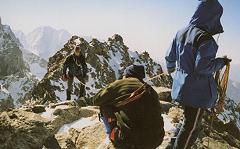 on the summit of Mt. Gumachi, 3805 m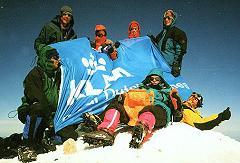 on the summit of Mt. Elbrus, 5642 m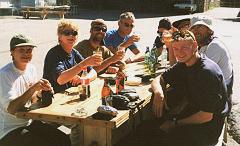 after successful climb of Mt. Elbrus
On September 11 we reached the summit of Mount Elbrus together with our guide Andrey Ershov.
We started organizing this trip one year ago and after 30 faxes and 2 telephone calls we reached Moscow where we stayed for one day before travelling to the city of Mineralnye Vody in the Caucasus region.During the organization we had questions about the safety of the region and the war with Chechnya. Andrey explained us how big the region was and the surroundings of Mount Elbrus were not included in the fights. The area was stable.
We based in the village of Terskol in the Baksan Valley and had some climbs in the area (Mt. Cheget, Mt. Viatau, and Mt. Gumachi) for acclimatization.
On September 9 we started out for our climb of Mount Elbrus. Because it was Sunday we could take the cablecar on all the way from Azau Glade at 2200 m to Garabashi Station at 3750 m. We had one night in the drums and took off the next day to the camp at the glacier at 4300 m. Next morning at 04:30 we started off for the summit. Weather conditions were good. Clear sky and little wind and after the sunrise it became a sunny day.
We reached the saddle (5200 m) at 09:45 and after a rest, hot drinks and some vomiting we all, 3 women and 4 men, reached the summit at 11:45. Well within our deadline of 13:00 hours!!!
All the way from our tents to the summit we walked on our crampons. The way back took us 3 hours to the tents, where we had a rest until 17:00. We broke up the campsite and went down for a good night sleep to Garabashi Station and the next day back to Azau Glade for the first beer and vodka.
We had a very successful climb. All of us reached the summit, no accidents, little illness and a very safe trip, in spite of a war that was going on somewhere...
Gerry Bouma
team leader of the Dutch Elbrus expedition - 2001
September 2001