KONGUR (7719 m) by the Bonington route - Saint Petersburg Expedition
July- August , 2003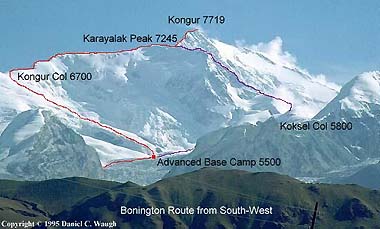 Bonington's route (left) - the single successful attempt to this Mount.
Right - failed attempt of another expedition later.
17 July, 2003 Valery Shamalo: I'm afraid, there won't be relations with us after our departure from Bishkek... We plan to climb Lenin Peak July 19 - August 4, than we'll move to Irkeshtam, and will begin the climb from August 8. We hope one month (we have visa only for such period) and our budget $6000 for 5 persons will be enough. For the comparison: Bonington's expedition costed $400 000 and lasted two monthes... Our chances are poor, but it's the main interest point in this project :). Best regards. Valery, July 16.
---