KONGUR (7719 m) by the new route (North Face)- Saint Petersburg Expedition
July- August , 2004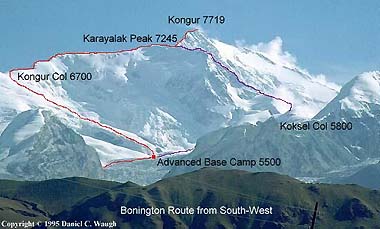 Bonington's route (left) - the single successful attempt to this Mount.
Right - new route.
There was one successful expedition (Chris Bonington, 1981) and 26 unsuccessful attempts. We heard about Japanese team, ho summited in 1989, but it wasn't confirmed.
The route isn't very difficult technically, but the mount is surrounded by some belts of ... icefalls and steep slopes. This had stopped previous expeditions - all routes are very avalanche dangerous, avalanches fall down and cross your way some times every day. In addition, the weather in the region are bad almost all season - stream winds blow when the sky's clean too.
We set our base camp (3500) July, 10.
July, 11 - Camp 1 (4750)
July, 12 - climbed till 5250 and went down to BC
July, 14 - up to 4750.
July, 15 - the weather was worsened, our camp met the first avalanche - we lost only one snowstep. e bagan to seach of it and the second avalanche set off our tent...with our gear, food, gaz etc. - all it came to bergs and fallen down along slopes. Alexey has lost his jacket where his passport and back ticket were. We went down to BC
July, 17 Our friends Latvian climbers came to BC. Then Moscow team arrived too, and due to help all teams, which were at the bottom of the route (gear and food) we could to continue our expedition.
JUly, 18 5300
July, 19 5800
July, 20 6000
July, 21 Up to 6500 and back to 6000
July, 22 Descent to BC.
July 26 5300
July, 27 6000
July, 28 6700
July, 29 up to 6800 and down to 5300
July, 30 Descent to BC
August, 5 Together with Latvian climbers: 5300
August, 6 6000
August, 7 6700
August, 8 7200
August, 9 We started at 8-30 a.m. The strong wind. Alexey felt soon (after 150 m of ascent) he frozen too, and turned back. It became very difficult after 7400 - very steep snow slope, , the weather worsened....avalanche danger became too hard. At 3 p.m. local time the team summited Kongur (plus two Latvian climbers - Oleg Silin and Valdas), made pictures
August, 10 We were back to BC in late evening. Moscow team met us at the glacier. THanks to all teams who were in BC: Moscow (led by Yuri Khokhlov), Krasnoyarsk (led by Nickolay Zakharov), and Andrey Labedev's THey are on the Mount yet. Good luck fot them!
Photos will be later.
Valery Shamalo
August, 19, 2004
Saint Petersburg.
---
Купить обувь Российского, мужская обувь отечественных производителей смотрите здесь.