NUPTSE EAST (7804m)
(South-East Ridge: Valery Babanov and Yuri Koshelenko)
Himalaya, September-October, 2003
It's the third attempt to Nuptse East by Valery Babanov - now with Yuri Koshelenko, climber from Rostov-Don. They hope to finish the work which Valery began the year ago and them continued with Vladimir Suviga in the last Spring.
Expedition chronicle
27 October, 2003 Message by Irina Agarkova from Namche Bazaar:
I left Valera with Yura in Tengboche several hours ago. They both are up to the mark, though, obviously, their mood is spoiled slightly with a barren attempt. Weather has broken and they decided to spend several days in Tengboche and to have a rest there. I'm going to move to Lukla tomorrow and to fly immediately to Katmandu, Deli, Moscow and Zurich from it. Not so easy, but I'll try to. I'm overwhelmed with impressions as it was my first Nepal travel.
PS Here is a message from Valera:
"Hi! It the 24th of October today. Our push to summit was terminated two days ago (i.e. on the 22nd of October). We were stopped with a hurricane at 7000 m. After it, we descended to our base camp. Nevertheless, we are still in high spirits and are looking forward to try the summit again.
Our American friends (Fabrizio Zangrilli and Billy Pierson – ed. note) will close their expedition tomorrow (October 25) and go down. One of them broke a leg during a stone-fall. Irina goes home too, so we'll be left alone here.
Now we are having a rest in a famous "Amadablam Garden Lodge" in Deboche. We got two or three leisure days. Weather made a nasty turn. It was raining this night. It is a depressing overcast now. We hope for the best, though. That's all for today, our thanks to all who think and care of us,
Valera and Yura. Deboche, 24.10
Information received from BASK

22 October, 2003 "Hi! It's Babanov on the line. We returned to BC this evening. Yesterday we spent a night at 6900 m. Hurricane and frost there. We'll be waiting it out for several days and watching for a change of weather. Obviously, we'll attempt the summit again. We are in high spirits and feel Ok. We are 100% sound, no frostbites."
The message was written by BASK voice mail on October 22, 2003 at 17:30 (Nepal time).
Editorial note: Valera's voice was cheerful; no fatigue detected.
21 October, 2003 The second day of final attempt.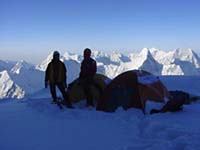 Picture is from the May expedition of Kammerlander on Nuptse.
Now the Camp 2 located in the same place.
Irina Agarkova reports from BC:
"Today the strong storm wind has started in the night time. it tried to tore tents even in BC. The huge snow flags are on the ridge of Lhotse and Nuptse. But in spite of all these, boys have started from the Camp 1 ander the Devil Tower and till 4 p.m. they reached Camp 2 at 6900m. The camp set at the bright snow plase situated between the top of Tower and the upper buttress - here the route line located. In the evening report climbers siad that the wind was hurricane like and the moring plans would depend on the weather.
Valery and Yura feel good and wish good luck to all in the valley. That's all"
Irina Agarkova, 5 p.m. local time
Translation from Russian: www.babanov.com
Information received from BASK

20 October, 2003 First message from a support team (Irina Agarkova):
First day of the assault.
"Our climbing duo left a base camp at 7:30am (local time). At 13:30 they were near a tent at 6200 m (- it's a bottom of the tower - ed.). This night they'll spend there. Weather was clear today. However, yesterday there was strong wind and because of cirri we expected a turn in the weather, but fortunately nothing bad has happened. Now sky is clear and we may even see an advanced camp of our team.
Next communication session will be tomorrow at the same time. Hear you soon, Irina."

October 20, 2003, 16:20 (Nepal time)
This Sunday (October 10) Valery Babnov called us from Nuptse:
Our team will start an assault of the summit on Monday (October 20) about 6am (Nepal time). Their attempt should take not less than four days. Weather is fine at the moment. Irina Agarkova from a support team will keep connection alive. Now she is at a base camp. We plan to get daily messages from her at 7pm (Moscow time). To provide this connection Irina had to sacrifice her air tickets. We are very grateful to her as many people in every corner of the globe are eager to keep up with current events on the mount.
We wish good luck and fine weather to Yuri and Valery!
Information received from BASK

17 October, 2003 Valery Babanov from Nuptse Base Camp:
As you can guessed, today on October, 17 we have day of rest, and tomorrow too. Last night have gone down after the acclimatization push: it has borrowed three full days, and even day we went down to the Base Camp. Have finished the rest of the Southern edge and have spent the night on 6900.
All time of an output weather accompanied us - the sun shined, and it was not so coldly. I couldn't find something from the equipment left in the spring on Mountain. However, already it is not important, all works are done anew. Now we are in the Base.The small group of support has approached to us led by Irina Agarkova.
On October, 18 we plan to go down in Dingboche for rest on couple of days. The assault push is planned for October, 21 and on our preliminary calculations will borrow 5-6 days. But do not forget, that we depend on weather, and frequently she solves, to be or to not be. Physically and psychologically we are ready, morally adjusted. It are necessary to receive a permission from God and to ask sanctions from the Mountain.
That's everything, greetings to relatives, friends and all, who worries about us.
Valery, Yuri, October, 17
Information received from BASK
11 October, 2003 During our last break-out we completed work at the tower. However, dirty weather prevented us from realizing our plans and pitching the highest camp at 7000 m. Tomorrow (October 12) we'll go off again and we still hope to fix the camp. Weather is fine now. We are safe and sound and if we do everything tomorrow, we'll attempt a summit during our next getting out.
Americans are going out tomorrow too. They are still at 6000 m (British route). Our kindest regards to all who think of us!"
P.S. Just now a support team (friends of Valera and mine) from Switzerland is approaching the base camp. Valera asked them to `keep connection alive' during the final bid. They'll have radios and will keep us informed too. So we hope to get cool news after the team takes-off, but not to wait several days as it was last time.
Valery, Yuri, Nuptse Base Camp, October 11, 2003
Information received from BASK

7 October, 2003 Hi!
Last night we descended to the Base Camp after 4 days working on the route. We have set the Camp at 6200 and pushed the route up till 6450m. We climbed the most part of the route on the Diamond Tower. It's not so bad...Ropes, which I had fixed last spring there during spring attempt were torn up or are under the deep snow. We are fixing new ropes here. It seems to me that I already know each meter of these Walls.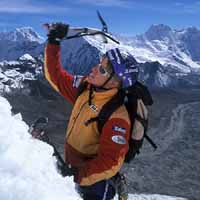 All these days weather was goog, and today tooo, while we're resting, the sun shines too. The next push is planned for October 8: we want to finish the working the Tower and climb up to 6900-7000 m - it's necessary for the best acclimatization. This push will probably take us 4-5 days.
Snow conditions are very difficult because of sunny weather the Wall. American climbers Fabrisio and Billy have ascended the altitude 6000 m and they have the same problems with the snow - they are climbing via the British route on the South Face of Nuptse.
Today I went down to the nearest village Chukung and bought there some ropes and snow stakes for belay. In the morning our Base Camp was checked by officials to supervise the cleanliness and the order in the Camp. All were OK.
Greetings to our friends,
Valery, Yuri, Nuptse Base Camp, October 6, 2003
Information received from BASK
2 October, 2003 Good day,
Today we have a day of rest and a `ceremonial' day of opening of our base camp. Weather is a bit better now: it is warmer and rainfall is lower.
After two more days of work (September 26, 27) we reached 6000 meter altitude. There is much snow on our route now and up-going snow ridges are our main obstacles there. We failed to find most gear we left in spring. Old ropes are tattered with monsoons, so we are making a fresh start.
We plan to leave a camp for two or three days on September 29. Weather permitting, we'll try to reach our advanced camp at 6200 m. We still hope that the rope we left on the tower maybe used.
American climbers are acclimatizing at British route and their further plans are not certain yet.
Valery and Yuri
The South Face of Nuptse, base camp.
28 September.2003
Information received from BASK
25 September, 2003 Valery Babanov's phone message from September,24:
On the 22nd and 23rd of September we made two routewalks and were processing the lowest part of a wall. We reached 5700 m altitude. It is raining and snowing every day. We wish to meet a probable weather window as high as possible. Today American team started acclimatizing at Bonington route while we were having a rest.
We plan to continue our work tomorrow and to return to a base camp in the evening. A `ceremony' of official opening of our base camp is to take place on the 28th of September as we were prescribed to do so by Pangboche lama.
Our kindest regards,
Valera and Yura.
The South Face of Nuptse, base camp.
BASK Company is the general sponsor of expedition.
Sponsors: Beal, Canon, Simond, Boreal, Julbo.
22 September, 2003 Yuri Koshelenko called on Sunday at 11-40 a.m. and reported fresh news:
We have reached Base Camp under Nuptse. There are American team near us. Valery and American climbers are discussing variants of future climb. We're fine. It's rainy very intensively every day - it's the rest of Monsoon. The wall is in good conditions.
18 September, 2003 About political situation: we are sitting in Namchebecause of our loads. As for maoists: we don't see them. There a lot of tourists from Russia...
17 September, 2003 Yuri Koshelenko from Namche:
We are in Namche. The expeditionis going according to the plan. It's rainy but no dust. We are bying vegetables and fuel and will start to Deboche tomorrow. Greetings to all...

Information received from BASK
16 September, 2003 Expedition on the South face of the Mt.Nuptse is begining
Hi everybody why has an interest to us and our expedition on the South face of the Mt.Nuptse,
Our expedition is begining !!!!!
So, now we are in Kathmandu. We are OK! But we are a little bit tired.
Today, it was so long day and night. We leaved from Moskow yesterday at 18:50 PM and we arrived in Kathmandu just today morning at 08:00 AM. So, it was about 14 hours without stopping and with change a plain in Dhaka.

And also we had fly about one hour around Kathmandu with no
possibility to make landing. The pilotes say us because it was bad weather in the airport area.
Today was a Sunday... so it was not possible to make a lot of things. Tomorrow will be a very busy day... in the morning we are going to buy a foods and some equipment. In the afternoon we will go to the Ministry of the Tourism to get a permit ascent brieffing. We will fly to Lukca on the Tuesday, 16 in the morning.
| | |
| --- | --- |
| In this evening we met with Fabrizio and his partner named Billy. They are americans. Bouth guys are so nice. Ours Base Camps will be stay in the same place on 5200 meters and we will be able to associate there without problems. We will be felling not so lonely. | Yuri Koshelenko |
Valery Babanov

But anyway we will be climb a differents routes. They are not desided yet which route the will be climb. Maybe a newone. The have a good high altitude experience. They leave Kathmandy tommorow to Lucla and then we will meet in Dingboche or in Base Campe Nuptse.

Also today we had meeting with miss Elizabeth Hawley. Why climb in the Himalayas...they know this name. She wishes us good luck and successful.

Continue tommorow...

Valeri Babanov, Yuri Koshelenko.
Information received from BASK

V. Babanov's solo first ascent of the North Face of Meru Central (Autumn 2001) was awarded for the most important mountaineering achievement in 2001 at Piolet d'Or 2002
---