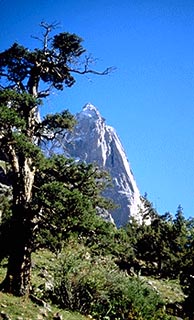 The Pamir Alay and the Asan-Usan region
The Pamir Alay, wedged between the republics of Kirghistan and Tajikistan, contains a mountain chain that extends for over 800 km from the Pamirs to Tian-Shan. Here there are more than thirty-five 5000m peaks, the highest of which, at 5621m, is Mount Skalistiy.



This region is in some parts still completely unexplored (many valleys have no roads and the few that exist are often in a precarious condition). Up to just a few years ago it was mapped out only because of Soviet helicopter reconnaissance which was interested in discovering its geological make-up.

The mountains here are not only situated in a wild and fascinating natural habitat, but they also contain many precious metals and minerals; gold and silver can be found in Tajikistan, petroleum in Uzbekistan and uranium in Kirghistan. Conflicting interests arising from these probably sparked off many of the crises that have occurred here.

In recent years though the situation has changed considerably, for the Pamir Alay has received increasing attention by fascinated alpinists, attracted by its numerous unclimbed peaks. They have focused their efforts on the Asan-Usan region, thanks to its extraordinary granite monoliths. Asan-Usan, in the shepherd dialect Kirgisi, means "twins". This name derides from the incredible granite towers which face each other in the Ak-Su valley, close to Pic Pyramidali (5540m).